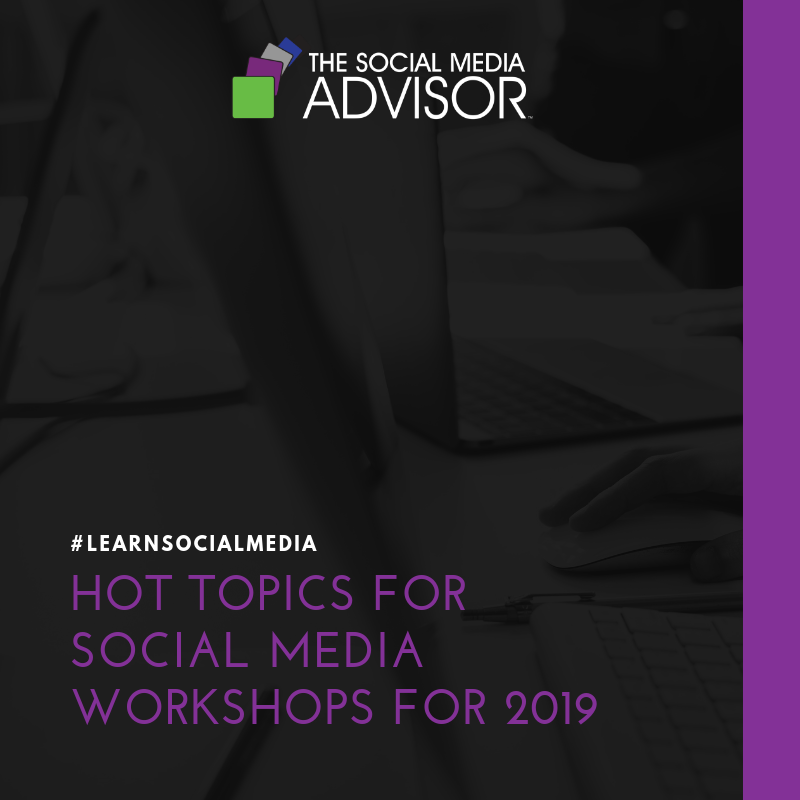 #LearnSocialMedia – Hot Topics for Social Media Workshops for 2019
If you use social media then you know it's an ever-changing challenge. Both you and your team need to stay up to date on what works and what the trends are. One great way to do that is to hold regular workshops where you and the other members of your company who use social media can exchange ideas and information.
Here are five hot workshop topics that can help you make the most of social media.
Building Relationships
Social media is all about establishing relationships and cultivating them. The trouble is, managing those relationships isn't always easy. It takes authenticity, timeliness, and a great deal of attention. Like all talents, maintaining that type of interaction is easier for some people than it is for others. Luckily, the skills that are needed to do just that can be learned.
Storytelling
A big temptation when using social media is to try to tell people what they want to hear. Today's social media users, however, are savvy and can spot inauthentic content immediately. When you tell stories, you have to dig a little deeper, so your content is more likely to ring true. The fact is, being an effective storyteller can be hard.
Generating Leads
Let's be honest, using social media as a marketing tool is about getting sales. If you aren't using it effectively, then you're wasting your time. Knowing the strengths and weakness of each platform, what type of content works best, and how to leverage it, is critical in meeting your goals. You also need an actual strategy for converting leads into paying clients or customers. Without it, you are eliminating a form of hope marketing – hoping that your audience will do what you want them to do even though you didn't get them clear direction.
Using Facebook Live
If you believe that your social media content should be fresh, unique, and authentic (spoiler alert—yes, you should believe this), and you are not taking advantage of Facebook Live, then you're missing out. Live broadcasts can increase your brand awareness, highlight the elements of your products and services, and drive traffic to your page.
Video
The trend toward using video is not new. Neither are the challenges of incorporating video into your social media strategy. It's important that your team understands your video strategy and how to keep it consistent with your brand.
Keeping yourself and your team up to date on the trends and issues driving social media success offers a great deal of value. You'll help your team stay interested and excited, you'll improve engagement with your social media followers and, with any luck, you'll increase sales.
If you would like to learn more about how to use social media effectively or get help planning your workshops, we can help. Ready for one on one training on social media marketing? Looking for the right social media trainer for your team? Book me for a free discovery session: https://hollieclere.youcanbook.me/
Be sure to Follow us and Let's Engage!
Hollie Clere of The Social Media Advisor is a "#BeAwesome" Developer, Social Media, Brand Builder, Content Manager, Trainer and Author in LinkedIn, Facebook, Twitter, Blog, Google+, YouTube, Pinterest, Instagram, and the tools to manage them.
Click here for Social Media Training, Speaking and Strategy Consultations.
#LearnSocialMedia, corporate training, Sales Training, Social Media Training