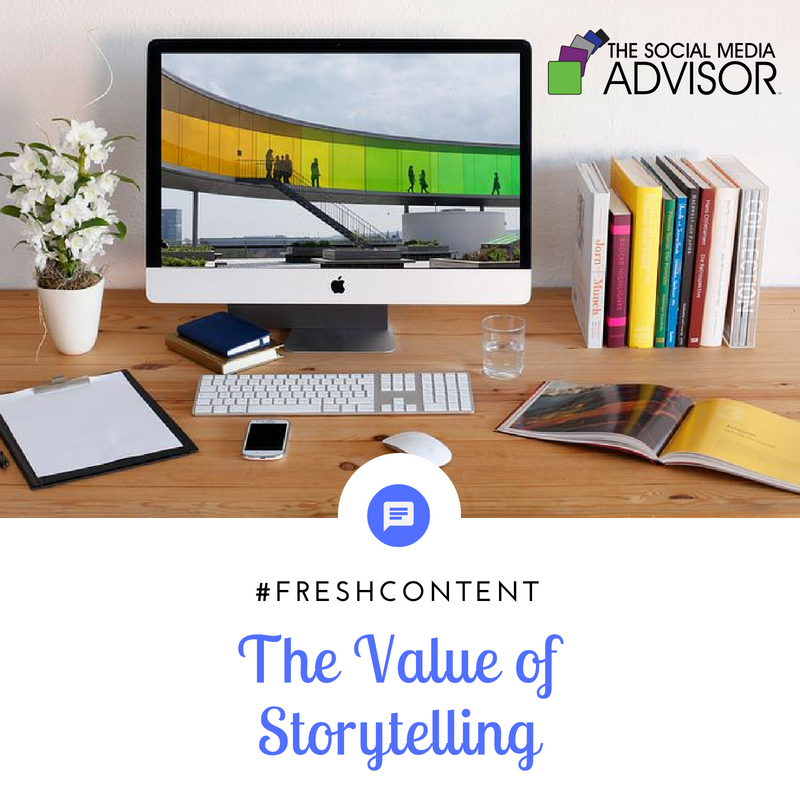 #FreshContent – The Value of Storytelling
As a social media marketer, you know how important it is to have content that is high quality, frequent, and consistent. Sounds easy enough, doesn't it? The truth is, it's not easy at all. In fact, it's pretty hard to keep producing quality content that is engaging, well written, and offers something useful to the reader. What's the solution? In a word: storytelling.
In marketing terms, storytelling means that your copy makes a connection with the customer BEFORE it introduces the product. You can probably think of many TV commercials that use storytelling that way. Think of the ones that catch your attention because they hit your emotions. You may not even see what they are selling until the very last frame.
Focusing on the story rather than the product may sound counterintuitive, but the goal is to create a connection with the customer, not necessarily to drive them to run out and pick up the product. A good story will create trust and stay with a potential customer when it comes time for them to choose a product in your niche.
Once you begin to think in terms of telling a story rather than showcasing what you're selling, you'll find fertile ground for building new content. From stories that relate to why you started the business to educational experiences, your stories can provide your customers with new insights into your business and your products.
Before you start to build your stories, you need to make sure that you really know your customers and what type of information they will make a connection. For some, educational stories will work best while for others, stories that tie to the news of the day will make the most sense. Whatever type of story you believe will work best for your audience, your stories should follow some simple rules:
Be Truthful: If your message is contrived, it will show. Use your own experiences to craft your stories.
Write Well: It may seem obvious, but your stories should not only be expertly worded, but they should also hold together by having a beginning, a middle and an end.
Be Consistent With Your Brand: Like all your marketing materials, your stories should communicate the image you have designed for your brand. If it is not consistent, your customers won't believe it.
Make it Personal(ity): To help your customers connect to the story, make it personal and fill it with a personality that is compatible with your brand image.
To help trigger your creative juices, take a look at some of the best storytelling campaigns: Apple, GoPro, Allstate, McDonald's, and State Farm are all master storytellers. Once you are inspired, get to work on your story and be sure to make storytelling a crucial part of your social media campaign. Remember, it's not always about the short-term sale: you are building for the long run.
Be sure to Follow us and Let's Engage!
Hollie Clere of The Social Media Advisor is a "#BeAwesome" Developer, Social Media, Brand Builder, Content Manager, Trainer and Author in LinkedIn, Facebook, Twitter, Blog, Google+, YouTube, Pinterest, Instagram, and the tools to manage them.
Click here for Social Media Training, Speaking and Strategy Consultations.
Brand Storytelling, storytelling, storytelling in social media