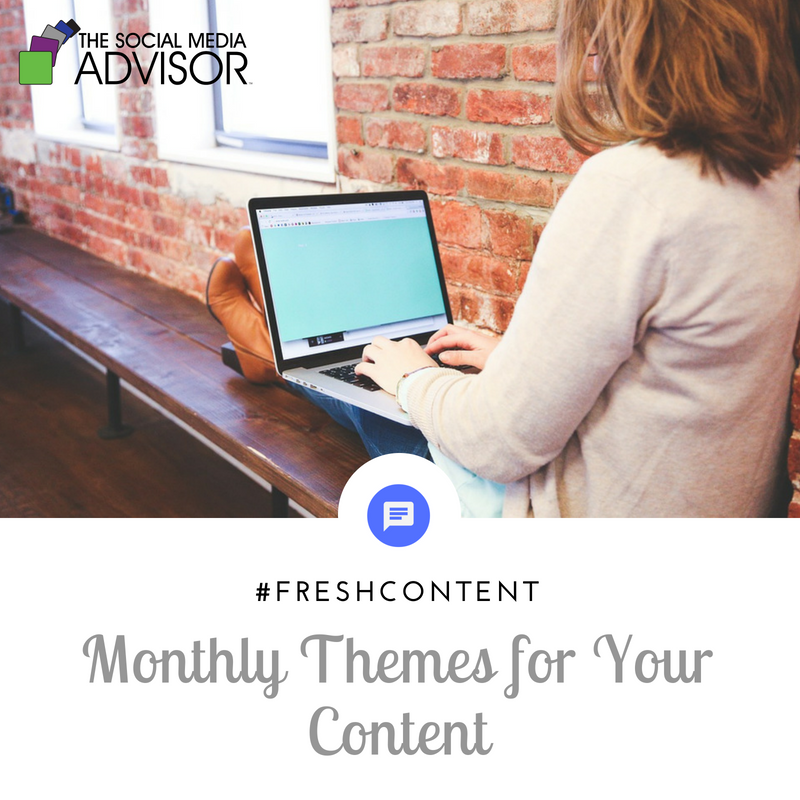 #FreshContent – Monthly Themes for Your Content
A key challenge for social media managers is keeping the creative juices flowing. Even the most imaginative content developer can get caught in a rut from time to time. Fortunately, there are ways to avoid finding yourself stuck. One great technique is to set a monthly theme for your content.
The beauty of themes is that they provide you with a framework for your content and can help you narrow your focus. Even if even if you have no shortage of ideas, themes can help you stay on track so that you post consistently.
So now that you are sold on using themes, how do you get started? No surprises here, you create a plan! Of course, that's easier said than done. No need to worry though. Here are seven steps you can follow to build a successful strategy for incorporating monthly themes for your social media content.
Assess what currently works – Take a look at which platforms work best for you now and the type of content that is getting the most traction. Remember that your objective is to get people engaged. You want to do more of what is working best.
Restate your social media goals – It is always helpful to remind yourself of your goals. If your primary objective for social media is to strengthen your relationships with your clients, then a customer appreciate theme is appropriate.
Think about your customers – What type of content will interest and help your customers? Do they need information on your products? If so, a monthly "how-to" theme will work well. Could they benefit from getting to know your company better? Try a monthly "getting to know us" theme.
Brainstorm – Spend some time documenting a variety of possible themes. Get your entire team involved. Each one will bring a different perspective to the task.
Prioritize – Once you have a good list, prioritize the topics according to your goals and what is likely to be most successful in engaging your customers.
Decide how you will measure success – Set some targets so that you'll know whether or not your theme campaigns are working. Useful metrics can include shares, likes, follows, conversions or whatever works with the goals you have set.
Rinse and repeat – Evaluate your campaigns periodically to see what is working. Revise your plan to strengthen the themes that aren't quite hitting the mark.
Working with themes won't just help you keep writing, it will help your customers know what to expect. They'll appreciate your consistency and come to depend on you for insight, inspiration, or a smile. Themes also give you the chance to incorporate content that is unexpected. One month you may focus on a technical topic, the next you might express gratitude or profile a customer or employee. The point is, you can take advantage of themes to keep your content fresh, engaging, and fun. So get started with themes now!
Be sure to Follow us and Let's Engage!
Hollie Clere of The Social Media Advisor is a "#BeAwesome" Developer, Social Media, Brand Builder, Content Manager, Trainer and Author in LinkedIn, Facebook, Twitter, Blog, Google+, YouTube, Pinterest, Instagram, and the tools to manage them.
Click here for Social Media Training, Speaking and Strategy Consultations.
#BeAwesome, Content, Content Management, Content Marketing, Editorial Calendar, Social Media, Social Media Management, Social Media Marketing