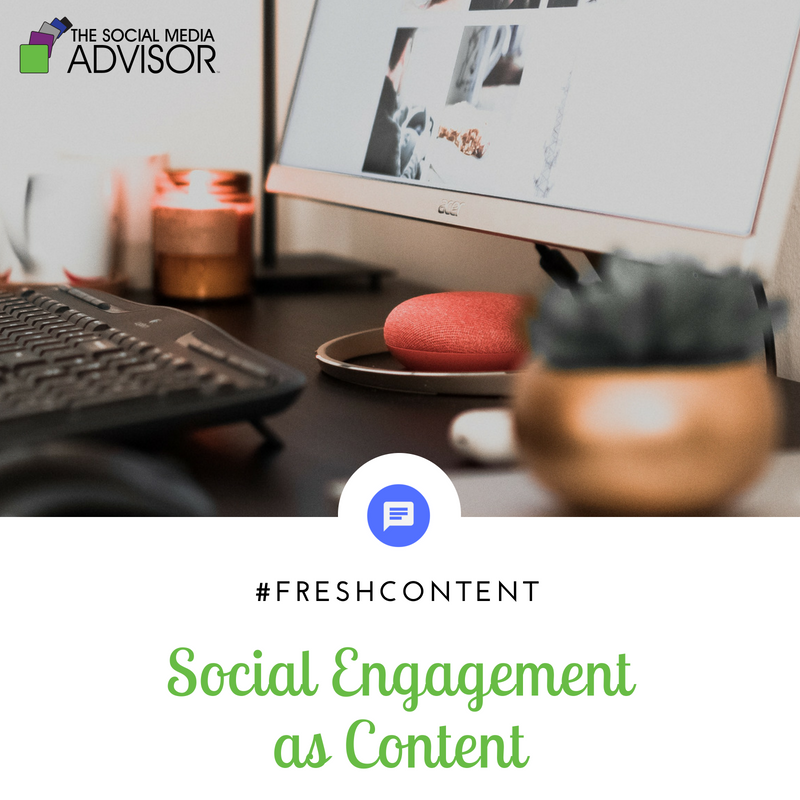 #FreshContent – Social Engagement as Content
For social media managers, two things are critical—engagement and content. What if you could combine the two? The good news is, you can! But you'll have to work at it a little bit. You'll also need to come up with a plan.
What we mean when we talk about adapting social engagement and converting it to content is asking our users to supply us with content—videos, stories, images, etc. In other words, they are engaging with us, and that engagement becomes content. There are lots of reasons to approach content generation this way, but one of the key reasons is that you'll find your audience engages more readily with the content generated by their peers. Engagement, then, begets more engagement and so on. In this way, you'll have lots of fresh content, and you have not had to create it yourself.
So how do you go about soliciting social engagement to use as content? Here are eight steps to help you make this part of your social media strategy.
Define Your Goals
Like any element of a marketing strategy, you need to know what you want to accomplish. Do you want clicks, shares, likes, sales? You'll need to keep this in mind when you ask for content.
Know Your Audience
What type of content is successful in engaging your audience? For one audience, how-to videos may work best, for others, storytelling may be more effective.
Select Your Approach
To encourage engagement, you can run a contest, offer a giveaway, launch a survey, or simply ask. Use the method (or combination of methods) that works best for your particular audience.
Update Your Toolbox
The tools for developing and attaining content improve every day. Make sure that the tools you have access to are the best for what you are trying to accomplish.
Develop Your Call To Action
How you get your audience to act is critical in any campaign. Come up with your calls to action and test them. Don't forget that you'll not only need to ask for the content to be submitted but you'll want it shared, commented on, and otherwise acted upon. You'll need more than one way to ask.
Decide How to Measure Success
To evaluate if your effort is working you need to how you'll judge success. Success might look like the number of entries, how many times something is shared, or new sales.
Repurpose Your Engagement Content
One of our favorite ways to use social engagement is to pay attention to what people are posting. This is especially true when it comes to what our audience is asking – as these are great topics for future content! What better way to ensure you are delivering the content your followers are looking for than to respond to their comments and questions with high-quality content?
GO!
Once you are ready, take a deep breath and launch your campaign.
Do It All Over Again
Successful social media campaigns are as much art as science. Take what you learn, make adjustments and try again.
The ever-changing landscape of social media is exciting AND exasperating! You'll need to be imaginative, flexible and persistent in your efforts. In this way, you'll learn a lot about your customers, your products, and your company, and perhaps even yourself.
Be sure to Follow us and Let's Engage!
Hollie Clere of The Social Media Advisor is a "#BeAwesome" Developer, Social Media, Brand Builder, Content Manager, Trainer and Author in LinkedIn, Facebook, Twitter, Blog, Google+, YouTube, Pinterest, Instagram, and the tools to manage them.
Click here for Social Media Training, Speaking and Strategy Consultations.
#FreshContent – Social Engagement as Content
engagement, Social Engagement, Social Media Engagement, Social Media Marketing