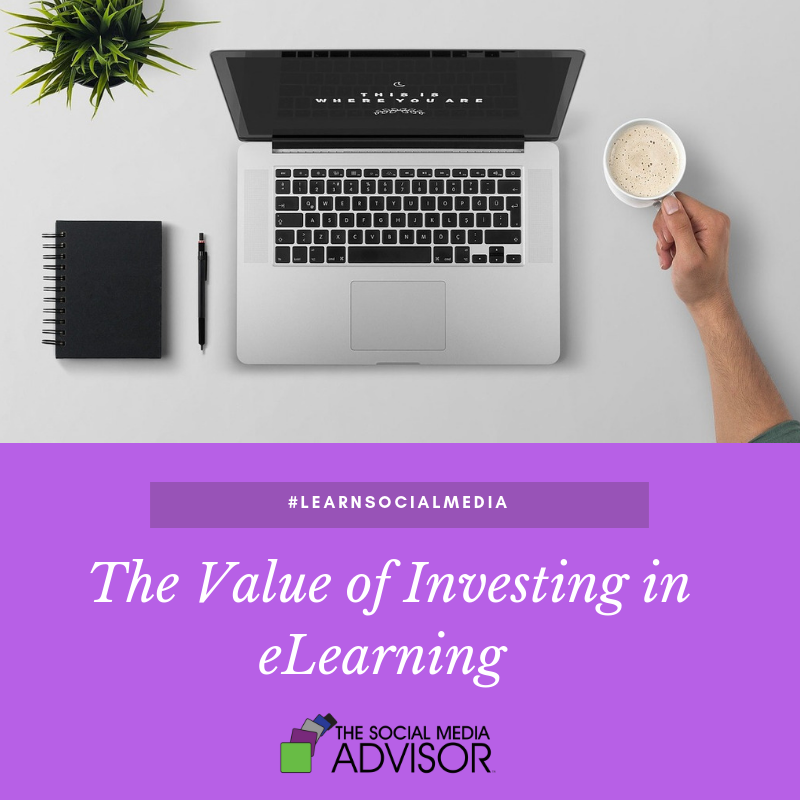 As a social media marketer, you know how important it is to stay up-to-date with the latest trends and techniques. As a business owner, you know the value of investing in your company so that it becomes stronger, better and more profitable. But are you combining these two essential tools—staying up to date while investing in growth? If the answer is no, then it's time to take a hard look at eLearning.
When done right, eLearning can help you achieve your business objectives, enable your employees to do their jobs better, be more productive, and stay in their jobs longer. That applies to social media as well as other areas of your business.
Setting Up An eLearning Program Is Quick and Efficient
If you are already providing your employees with training, then you know how difficult it can be. If they go offsite, you'll experience significant lost time. If you bring experts in-house, you are likely spending valuable resources on document production, and other preparation.
ELearning can eliminate the need for your employees to travel, remove the overhead needed for creating manuals, and get rid of the expense of hiring professional trainers.
eLearning Is Cost Effective 
With the tools that are now available, setting up eLearning programs has never been more affordable. Numerous studies indicate that eLearning is much less costly than in-house training with some companies reporting a savings of as much as 60%.
eLearning Can Help You Retain Employees
People leave their jobs for many reasons, but we know that burnout and lack of engagement are key contributors. An effective eLearning program not only gives your employees the tools they need to succeed in their jobs while learning new skills, but it also lets them know you value them. As a result, they are less likely to look for greener pastures.
If you're looking for a good place to start when it comes to eLearning and social media, then turn to The Social Media Advisor's Social Power Program. Social Power Program is an online eLearning and accountability program that is designed to teach you and your team how to take advantage of social media to grow your business. You'll receive a new training module from a powerhouse team of experts each month plus you'll be part of a community where you can get support when you need it.
If you aren't taking full advantage of available tools when it comes to eLearning and social media, now is the time. You'll see better engagement with your social media followers, happier and more productive employees, and you'll be taking a big step forward when it comes to accomplishing your business objectives.
Be sure to Follow us and Let's Engage!
Hollie Clere of The Social Media Advisor is a "#BeAwesome" Developer, Social Media, Brand Builder, Content Manager, Trainer and Author in LinkedIn, Facebook, Twitter, Blog, Google+, YouTube, Pinterest, Instagram, and the tools to manage them.
Click here for Social Media Training, Speaking and Strategy Consultations.