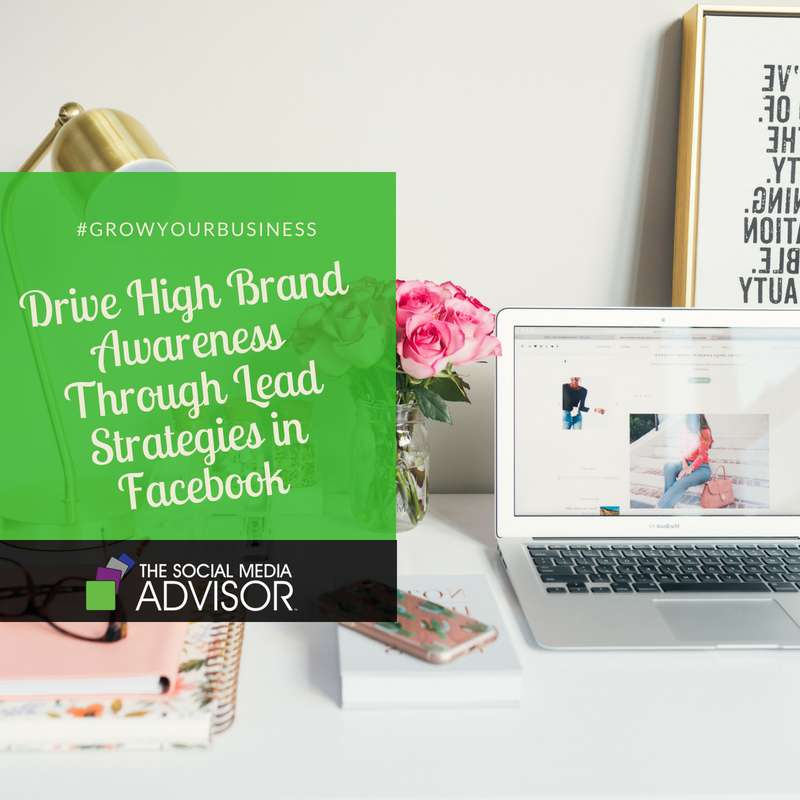 #GrowYourAudience – Drive High Brand Awareness Through Lead Strategies in Facebook
For anyone with a product to sell one of the first things on our list of strategic action items is to build brand awareness. The question is, what's the best way to do that? Luckily, there is one tool out there that is right at your fingertips. In fact, you are probably already using it—Facebook. The question is, how do you get started?
One of the quickest ways to use Facebook to help build brand awareness is to adopt the same tried and true techniques that are used for generating leads. Here are five common lead generating ideas that can be effectively applied to creating brand awareness.
Post Compelling Content: If you've been working with social media for awhile then you know that saying you will post compelling content is easier said than done. The good news is that it can be easier to create content that is all about image than it is to sell a particular product. Blog posts, stories, and other narrative posts can all do an excellent job of telling the story of your business and your brand. Keep it personal and post consistently. You want to engage your audience as well as educate them.
Use Facebook Live: Live streaming to your audience can be quick, cheap, and extremely effective in helping you get your brand name out there. You can stream from an event, educate your audience on how to use a product or have an employee talk about themselves or their job. Pro Tip: Practice before you go live.
Run a Contest or Giveaway: A contest such as a scavenger hunt or a free sample of your product can be very engaging if it is well managed. Plus, you'll be able to beef up your mailing list with verifiable data.
Run Targeted Ads: If you haven't used Facebook advertising then now is the time to learn all about it. With the help of the platform's targeting features, you can reach a whole new set of potential customers. Depending on your particular situation, boosting that compelling content you've been creating can be just as effective as traditional ads.
Create Special Landing Pages: Combine a strong call to action with a custom landing page, and you can help your audience learn all about you. While you've got your audience's attention, present your case for why you are the best in the business.
Like all sales and marketing tactical efforts, using lead strategies to drive high awareness of your brand will take planning and work. Before you get started, decide how you will measure success. Then put your plan in place, watch the results, and adjust as you need to. With a well-executed plan, you'll find your brand garnering a whole new level of attention.
Be sure to Follow us and Let's Engage!
Hollie Clere of The Social Media Advisor is a "#BeAwesome" Developer, Social Media, Brand Builder, Content Manager, Trainer and Author in LinkedIn, Facebook, Twitter, Blog, Google+, YouTube, Pinterest, Instagram, and the tools to manage them.
Click here for Social Media Training, Speaking and Strategy Consultations.