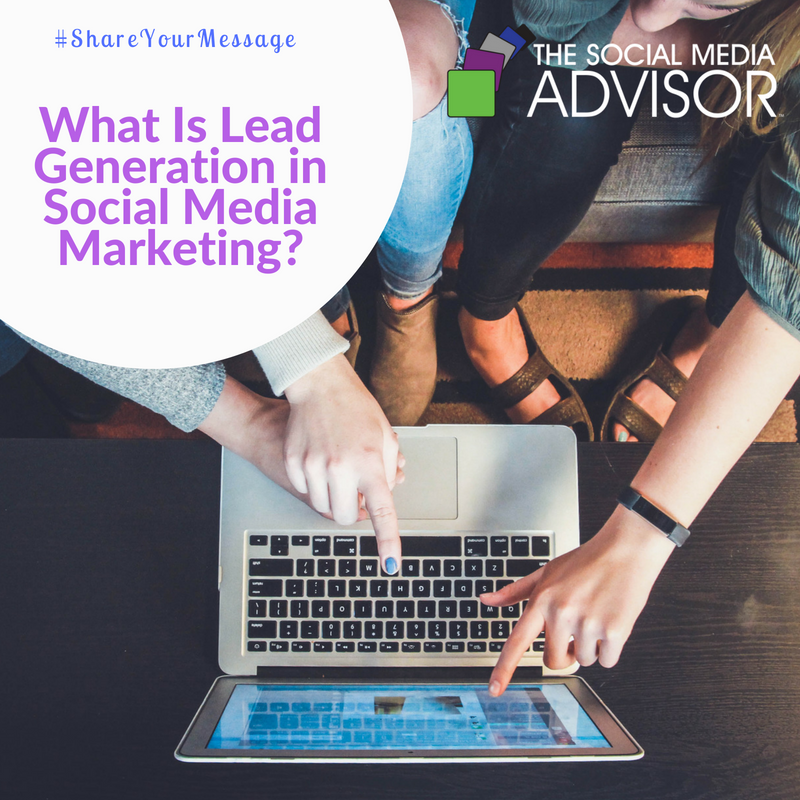 #ShareYourMessage – What is Lead Generation in Social Media Marketing?
As a social media manager, one of the common questions (or complaints) I get from prospective clients is about their return on investment (ROI) when it comes to social media marketing. There is a common misconception that lead generation isn't possible on social. This stems from the fact that SO many business owners approach social media marketing as a sales tool and ignore the reason the platform or channel exists in the first place. Social media IS meant to be a social experience. However, that doesn't mean that you can't use it for lead generation. It just means you need to get clear about your social media strategy and how you want it to work for your business.
According to Quicksprout, using social media reduced marketing costs for 45% of the businesses surveyed. It has also increased revenue for 24% of those companies when they chose to implement a lead generation strategy.
What Is Lead Generation Anyway
Before we jump into the deep end, let's go over lead generation as a sales tool. Lead generation is how you attract potential clients and customers into your business sales funnel. It's how you narrow down your focus to the right people, grab their attention, and lead them to your offer. Don't have an offer yet? Clearly, you'll need to start with what you want to sell and pick a place to post your offer.
Whether it's your website site or a landing page, building out the copy and graphics for your sales site will be the deciding factor in whether or not someone hits the buy button. Lead generation is about getting the right people to that page so that you can sell them.
The prep work needed to promote lead generation on social media:
Build your online presence and brand awareness
Know your target audience and how to find them
Uncover the pain points of your leads
Build your offer based on the information gathered and post it online
Then create a social media strategy to guide that audience to that offer
Why Social Media?
Since I work in social media management, I'm going to let some recent statistics do the convincing for me here.
39% of Americans spend more time socializing online than in person.
People spend 50 minutes of their day, every day, on Facebook.
71% of consumers are likely to purchase an item based on social media referrals.
For B2B companies, 44% have generated leads through LinkedIn, 39% through Facebook and 30% through Twitter.
I hear stories all the time about how companies are bailing on their website to focus entirely on social media marketing because it's working so well for them. (I don't recommend that by the way – rented land!) This is relevant because social media DOES work for lead generation, if you have built it in the right way.
Where to Start
Once you have your online offer in place, have narrowed down your audience and know where to find them, then it's time to pick a social media platform. Picking the right channel can make or break your lead generation efforts. If you pick Facebook, but most of your audience is on Instagram, then they aren't going to see your content.
If you already have a built-in audience or community, then this answer is simple. If you don't, it's time to start building one.
Lead Generation Strategies
When it comes to social media marketing, there are multiple lead generation strategies you could explore.
Page Optimization
Brands that understand the value of their Internet real estate, also understand the importance of optimizing each of their social media profiles. Your Facebook business page should strongly resemble your website with buttons that direct visitors to where you want them to land. Keyword research is imperative here as each of your profiles should incorporate as many searchable keywords as possible. Make it easy for the right people to not only find you but follow through on the appropriate call to action.
Opt-Ins & Freebies
The whole point of a sales funnel is to get an individual's permission to market to them and then move them through the whole process. If you don't have a sales process, that's where to start. The most common way to get someone into your funnel is to offer them something they want for free in exchange for their contact information. Make it clear that you'll be contacting them in the future, not just to send them the freebie. Then use email marketing to target them directly. How do you increase awareness of your free offer and your opt-in? You use social media. If you have taken the time to build an online offer and sales funnel and you aren't directing those who are consuming your social content to those – then you aren't set up for lead generation on social.
Paid Advertising
The most common lead generation strategy on social media is to invest in paid ads. Each of the social media platforms has its own version of this – whether it's boosting content on Facebook, promoting Pins on Pinterest or straight up buying ads on Twitter – there's an option for each of the most popular social channels. You can either invest the time in figuring out how to optimize your own advertising or you can seek out the help of someone who specializes in paid ads.
Lead generation is possible on social media and it works! Brands are gaining traction and success every day by incorporating a social media strategy that is built around a lead generation and sales process.
Why aren't more small businesses setting up their online marketing this way? Because it takes work, effort and often a budget. Can you just share another brand's content on social media and convert followers into consumers? Not likely. The ROI you seek is hidden behind the strategy you've yet to implement.
Social Power Program
If you want more support in building out your social media strategy, I encourage you to check out the Strategy Series on the Social Power Program.
The Social Power Program is designed to be a "work at your own pace" program incorporating video training and worksheets. The Program uses videos, tools of the trade, bonus "diving deeper" sessions and accountability to assist you with your online marketing strategy.
Be sure to Follow us and Let's Engage!
Hollie Clere of The Social Media Advisor is a "#BeAwesome" Developer, Social Media, Brand Builder, Content Manager, Trainer and Author in LinkedIn, Facebook, Twitter, Blog, Google+, YouTube, Pinterest, Instagram, and the tools to manage them.
Click here for Social Media Training, Speaking and Strategy Consultations.