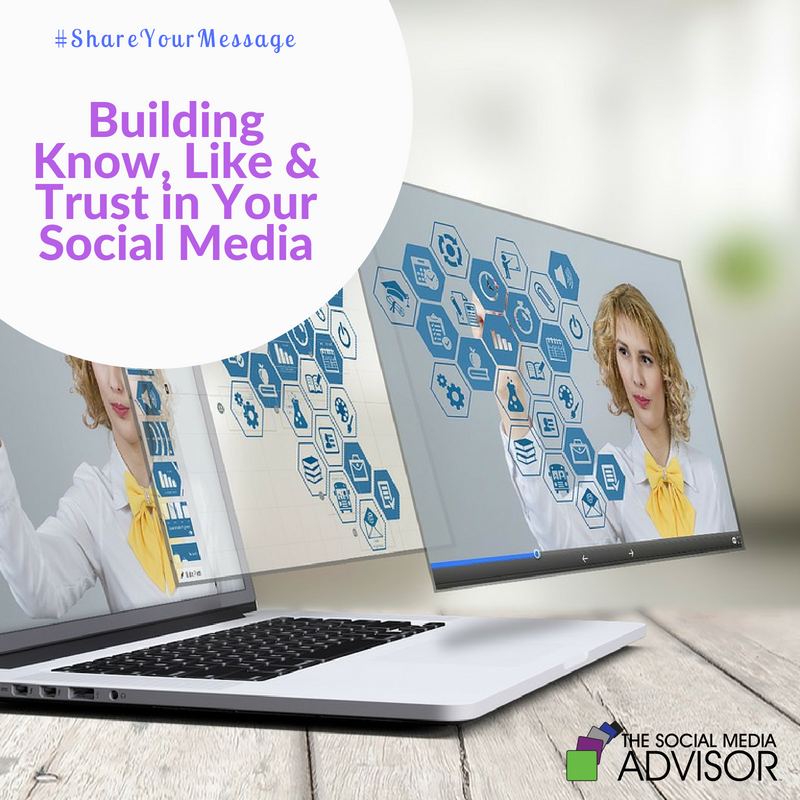 #ShareYourMessage – Building Know, Like & Trust in Your Social Media
Know, Like, and Trust: it's a concept that salespeople have always embraced—you have to get people to know you, to like you, and to trust you. That part has never changed. What has changed is how we get people to do that. One key tool we can use to build the Know, Like, Trust Factor is social media. But how?
Let's break it down:
The KNOW
Social media is all about engagement. When we engage with the members of our community, they spread the word. Whether it's by sharing our content, offering reviews, or commenting on something they've seen, when people engage with our content we become more broadly known.
Think about a viral post. It's called viral because its visibility spreads. Long story short, we need to post content that people want to engage with.
Good "Know" Content: Solutions to key problems, shareable content such as infographics, and customer profiles.
The LIKE
Getting our content shared isn't enough. People have to share it because they like it. Think about it: something can go viral for lots of reasons. Some of the most widely shared posts and videos are passed along because they are negative or unattractive. That is not the best kind of exposure to get. Notoriety is one thing, being notorious is quite another. In other words, be nice and keep your content positive.
Good "Like" Content: Content that is personal, responses to comments and questions, content that focuses on building relationships.
The TRUST
It doesn't really matter how good your content is if the people who see it don't trust you. That means you need to be authoritative, reliable, and good at what you do.
Good "Trust" Content: Product giveaways, case studies, employee profiles, reviews, and testimonials.
You can't create a strong Know, Like, Trust Factor overnight. It takes time, experimentation, and persistence. Your space may be crowded with others trying to do the same thing. But if you are patient and dedicated, you can do it!
Be consistent, be genuine, and value your relationships. Over time, your customers will come to know, like and trust you. It will be worth the effort.
Be sure to Follow us and Let's Engage!
Hollie Clere of The Social Media Advisor is a "#BeAwesome" Developer, Social Media, Brand Builder, Content Manager, Trainer and Author in LinkedIn, Facebook, Twitter, Blog, Google+, YouTube, Pinterest, Instagram, and the tools to manage them.
Click here for Social Media Training, Speaking and Strategy Consultations.
#ShareYourMessage, engagement, Know Like Trust, Social Engagement