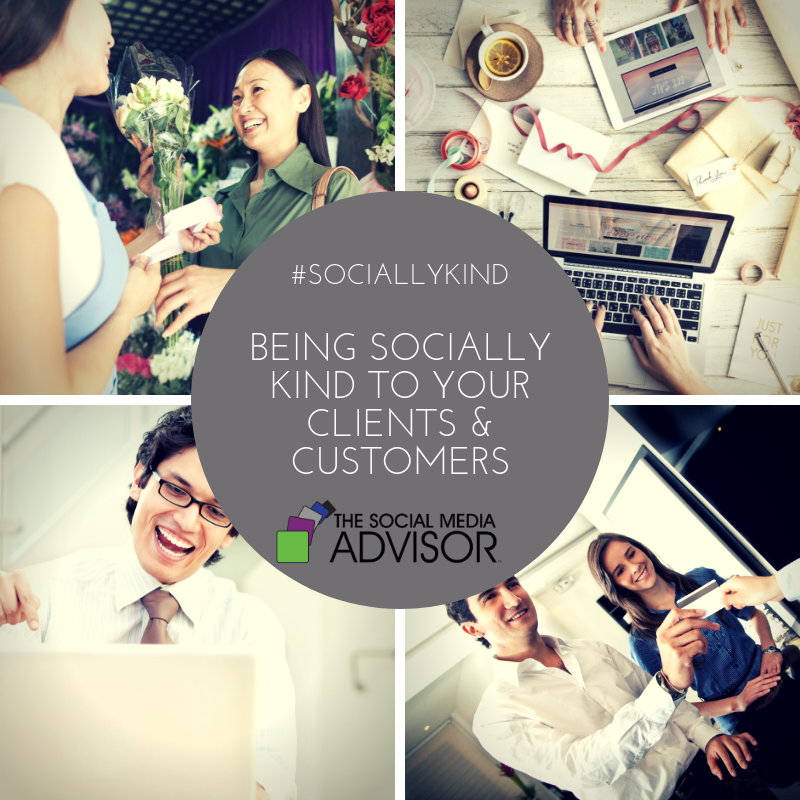 #SociallyKind – Being Socially Kind to Your Clients & Customers
When you think about showing kindness to your clients what comes to mind? Do you think of how you interact with them in person or over the phone? Probably. But did it occur to you to consider how you communicate over social media?
There's a good chance that most of the interactions you have with your clients and customers are now through platforms like Facebook, Twitter, and Instagram. If you aren't showing kindness through your social media, then you are losing a great opportunity to strengthen and build relationships while putting your best face forward.
As you develop and execute your social media strategy, keep these top 5 tips in mind for being socially kind to your clients.
5 Ways to be Socially Kind to your Clients:
Be Responsive – When your clients contact you over social media, they expect to get an answer promptly. If you don't reply or you are slow to get back to them, they'll stop checking in. From there it's just a step away from losing their business.
Be Consistent – Your engagement with clients over social media should be in alignment with what you say on other channels. If, for example, you give an answer on your website or over the phone, it should be the same as what you offer on social media. Not only should your replies be consistent, but your branding and other messages should also be the same across platforms.
Be Grateful – Social media is the perfect place to let your clients know how much you appreciate what they do for you. A simple thank you will go a long way.
Be Generous – Help your clients expand their community by introducing them to your followers, sharing information about their products, and engaging with the content they publish on their social media. Where appropriate, send them referrals.
Be Positive – One of the kindest things you can do for anyone who engages with you is to be positive. Remember to take a moment before posting to determine if the content is true, if it is useful, if it sets a good example, and if it does no harm. Unless it passes all those criteria, don't post it. 
Being kind to your clients on social media does not have to be difficult. It may take a few seconds to make sure that whatever you are posting passes the kindness test but it will be worth it in the long run. Not only will you feel good about your content, but your clients will feel good about it, too.
Be sure to Follow us and Let's Engage!
Hollie Clere of The Social Media Advisor is a "#BeAwesome" Developer, Social Media, Brand Builder, Content Manager, Trainer and Author in LinkedIn, Facebook, Twitter, Blog, Google+, YouTube, Pinterest, Instagram, and the tools to manage them.
Click here for Social Media Training, Speaking and Strategy Consultations.