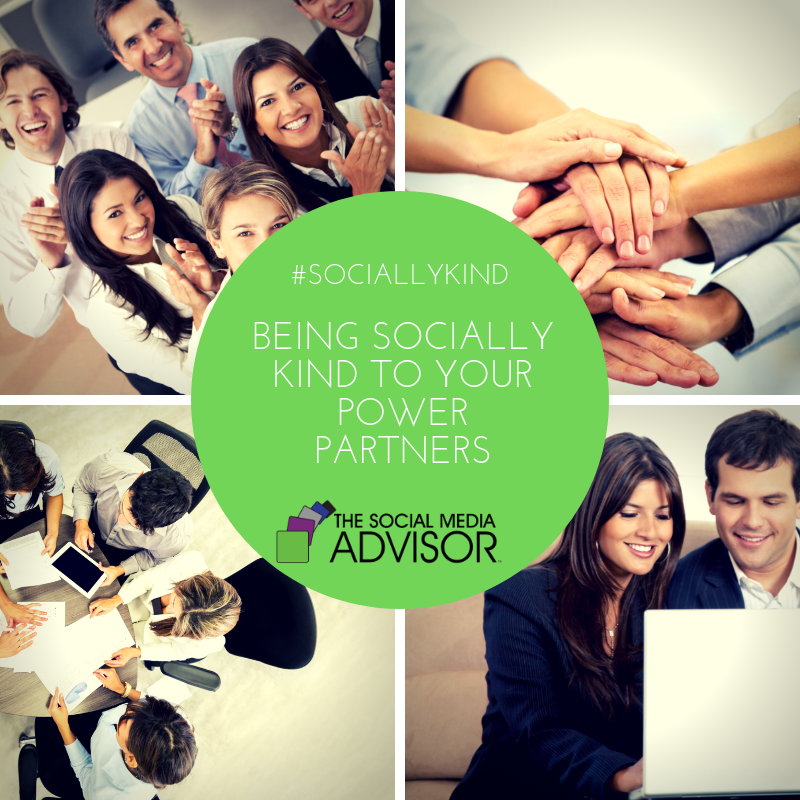 #SociallyKind – Being Socially Kind to Your Power Partners
We often hear how it "takes a village" to properly raise a child. When it comes to running a successful business, this couldn't be truer. We cannot do it alone. We need customers, of course, and suppliers and all the other people who make the work happen.
There's also another group of people that you may not think about much — power partners. Power partners are people who are a lot like us. We don't compete with them, but we work in in the same industry and may even have the same customers. These people are something else, too — underrated.
Power partners are a pretty important part of our network. They offer both moral and physical support, send business our way, and help us maintain a rock-solid reputation. So unless you are already showing this important group of people significant love, then you are taking them for granted.
You may not be sure how to best display your appreciation, but it's actually very simple. The number one way to show your power partners how much they mean to you is to be socially kind to them.
Five Ways to be Socially Kind to Your Power Partners
Say thank you. You might not be surprised to hear that the top way to show kindness is by saying thank you. Yes, a simple shout out to express your appreciation can go a long way.
Make referrals. Let your community know what your partners have to offer. You never know, you may be solving the problem of two people.
Share their stuff. Keep an eye on your partners' social media feeds and pass along the information you think might be valuable to your followers and subscribers.
Help people get to know each other. Offer profiles of both your customers and partners when it is appropriate. This can help them connect.
Be nice. No matter what you are doing keep in mind that how you use your social media is a reflection of both you and the people with whom you do business.
The main rule you should keep in mind when using social media is that you should always be considerate of the people who are affected by what you say and do. This is just as true for how you handle your power partners as it is for dealing with customers. Be authentic and kind, and you'll help all the members of your network.
If you need help in order to make the most of social media, there's no better place to go than the Social Power Program. This self-paced online program can help you and your team make the most of all your social media channels.
Be sure to Follow us and Let's Engage!
Hollie Clere of The Social Media Advisor is a "#BeAwesome" Developer, Social Media, Brand Builder, Content Manager, Trainer and Author in LinkedIn, Facebook, Twitter, Blog, Google+, YouTube, Pinterest, Instagram, and the tools to manage them.
Click here for Social Media Training, Speaking and Strategy Consultations.