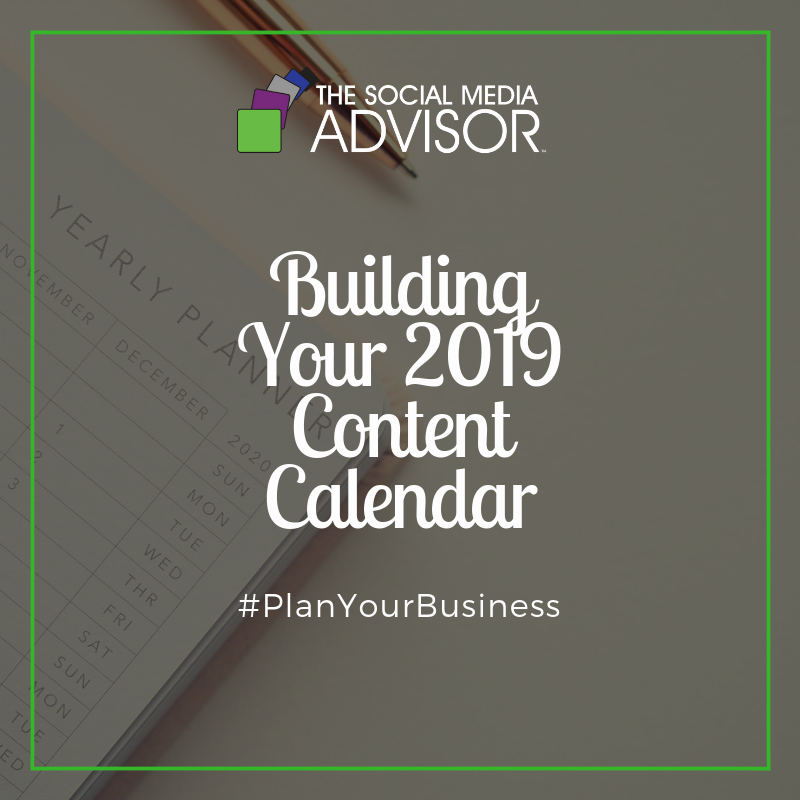 #PlanYourBusiness – Building Your 2019 Content Calendar
As we say goodbye to one year and wave hello to a shiny, fresh new one, it's a great time to set about taming our wild and wooly world of social media. The best way to do that is by spending some quality time putting together our content calendar. If you are dreading this task, don't!
Spending time now to create a comprehensive editorial content calendar will save you hours throughout the year and help you avoid those awkward moments spent staring at a blank screen looking for inspiration.
To get started on creating a comprehensive content calendar, take a few minutes to map out your strategy (yes, you are creating a plan to create a plan). Here five essential elements you should consider:
Your Audience
As a social media marketer, you know that it is critical that your content be consistent and authentic. To ensure that, you need to know who you are writing for. If you don't know your audience take the time to find out more about them right now.
Your Goals and Objectives
Here's that word "consistent" again. Your social media content should carry the same message that the rest of your content does and be consistent with your overall goals and objectives.
Your Timing
Should you post on a daily, weekly, monthly basis? That depends on what you want to achieve and how much time you can afford to spend, but it is something you should determine with a strategy in mind. Otherwise, you risk ending up with a haphazard approach.
Your Resources
Most of us have limitations on money, staff, and time. Balance your social media needs with the rest of the needs of your business and determine what your priorities are.
Your Platforms
Whether you use Facebook, Instagram, Twitter or other platforms is something you need to determine. Each platform has its strengths and weaknesses and is better suited to various populations and purposes. You may not need to be using all of these. Consider your audience and your resources and determine which is best for you.
Social media is a useful and powerful marketing tool but, left untamed, it presents an unpredictable set of challenges. You can (and should) control how you manage it. Dedicating a bit of time up front can save you a great deal of time down the road and ensure that you are not wasting your time.
Be sure to Follow us and Let's Engage!
Hollie Clere of The Social Media Advisor is a "#BeAwesome" Developer, Social Media, Brand Builder, Content Manager, Trainer and Author in LinkedIn, Facebook, Twitter, Blog, Google+, YouTube, Pinterest, Instagram, and the tools to manage them.
Click here for Social Media Training, Speaking and Strategy Consultations.