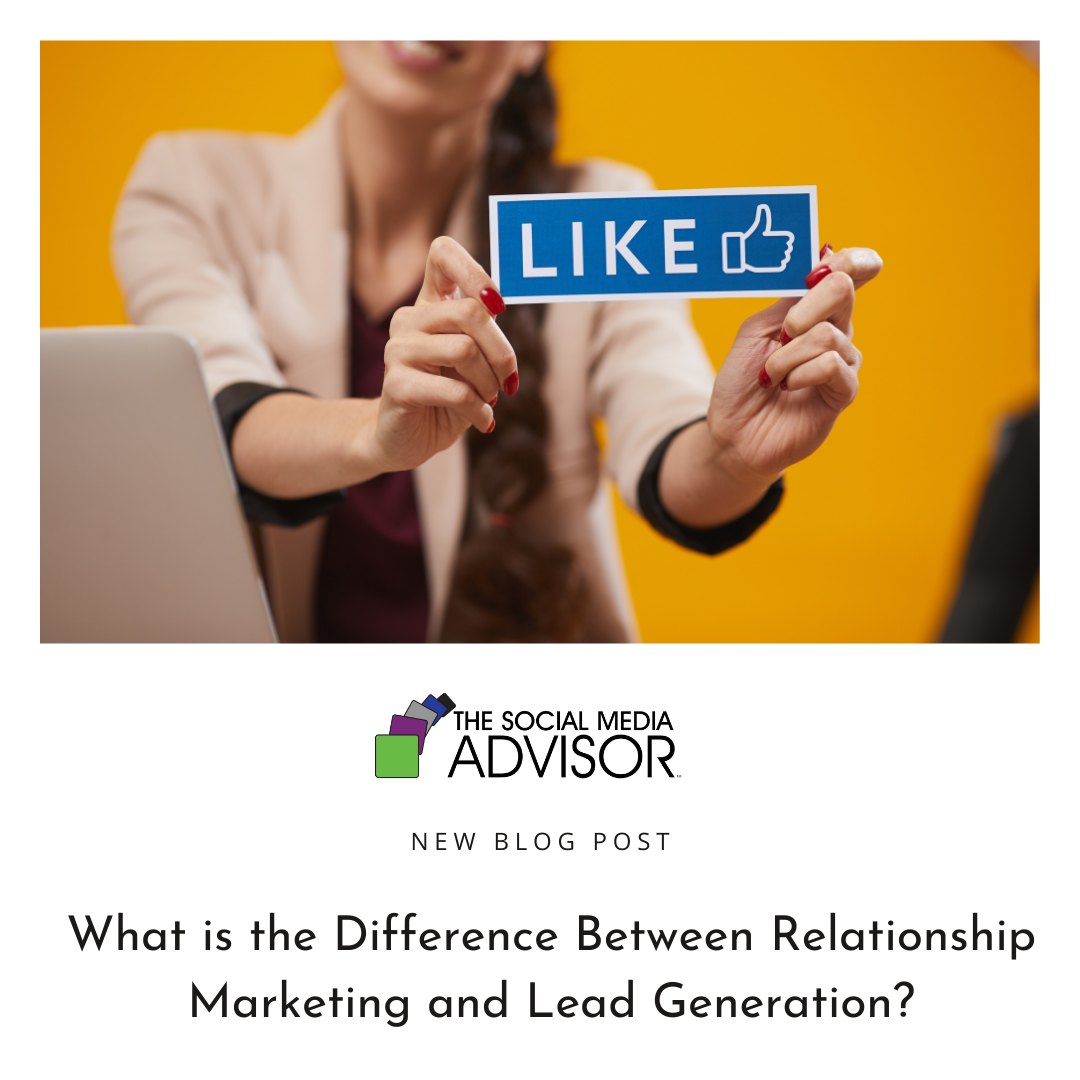 What is the Difference Between Relationship Marketing and Lead Generation?
Business owners often enter social media marketing with the expectation that simply showing up and posting about their products and services is enough to convert strangers into customers. They are being told that they 'need' to be on social media because that's the way to market their business and find more people. While this is certainly true, it's also misleading. 
If you come to social media only to sell, you'll walk away disappointed in your results. In fact, I've had many business owners tell me that social media marketing doesn't work at all! I know when I hear this that this individual approached social media with a lead generation approach and didn't take establishing and nurturing relationships into the equation.
When Social Media Marketing Goes Wrong
People have come to believe that you can use social media as JUST a marketing tool to sell your widget, product, or service.  This is false.  Social Media was always intended to be a social experience, meaning you were always to build a relationship through conversation and that these interactions could lead to a business relationship.  
Back when Mark Zuckerberg created Facebook, it was a connection tool for college students. It is still intended to be a connection tool today.  When people wonder why their $2,500 workshop doesn't sell on FB, I tell them it is because it isn't a low-cost widget and people want a bit of foreplay before they purchase something so big.  
To benefit from social media marketing, you must build relationships through consistent posting of value-added content (in other words, content that your target audience actually wants). When you try to sell something on social, offer a low-dollar way to engage with you (an online workshop, an informative, whitepaper, an interesting video or a way to opt-in and get something desirable). Once people opt-in or follow you, then you'll need to nurture your relationship with them by creating a welcoming environment and posting content that encourages them to respond and engage with you.
Social media marketing is not advertising. It is not now, nor was it ever intended to be, a place where people go to buy stuff. However, with the right connection and relationship, you can, over time, convert your followers into buyers.
Lead Generation
In the days of old, salespeople worked a system called lead generation to drum up new business. You could create or acquire a list of leads and then reach out to those people through visits, cold calls, direct mail, and advertising in an effort to convince them to buy. However, the best salespeople will tell you that high-ticket items like coaching, masterminds, and retreats would require more than a cold call. For higher investments, there was always a need to establish a relationship with a lead by taking them out for dinner or drinks, inviting them to a ball game, playing a round of golf, and other means of wooing leads into becoming customers.
This same process is even more true for social media. You can run some Facebook ads for your $9.99 product to drum up interest and build your list but you will struggle to sell your $500 package to strangers no matter what marketing tool you use. Why? Because your audience doesn't trust you yet.
Trust is the key to making a buying decision.
And you can't build trust by spamming your audience with sales posts on social media or in emails. It's a sure-fire way to get someone to disengage with you, lose trust, and forget you exist.
Relationship Marketing
If you are looking for a quick fix to filling your client list or selling out your program, class, or event – it doesn't exist. Sorry to disappoint you. Marketing doesn't work that way and neither does social media.
Relationship marketing is just the modern-day terminology for that old-school sales technique of getting to know your leads better and establishing a connection with people before going for the big ask. If you think of your audience as your own community, then engaging with and nurturing that community is paramount to success. Will there be people in your audience that take years to say yes? Absolutely. Some of them may never pay you a dime. However, they may mention you and what you do to a family member, friend, or co-worker. 
Once you gain attention from your audience and then earn trust, what you want will fall into place.
Is it a struggle each month to create and post social media content for your business? Do you just not have enough time in the day to get it all done? The Social Media Advisor team is experts in helping you stay consistent online! We'll work with you to create an editorial calendar, messaging, and branded images aligned with your culture and promoting your business so you don't have to worry about it anymore! Find out more about our Monthly Social Media Support package on our website.
Be sure to Follow us and Let's Engage!
Hollie Clere of The Social Media Advisor is a "#BeAwesome" Developer, Social Media, Brand Builder, Content Manager, Trainer and Author in LinkedIn, Facebook, Twitter, Blog, Google+, YouTube, Pinterest, Instagram, and the tools to manage them.
Click here for Social Media Training, Speaking and Strategy Consultations.
lead generation, Relationship Marketing, Social Media Marketing