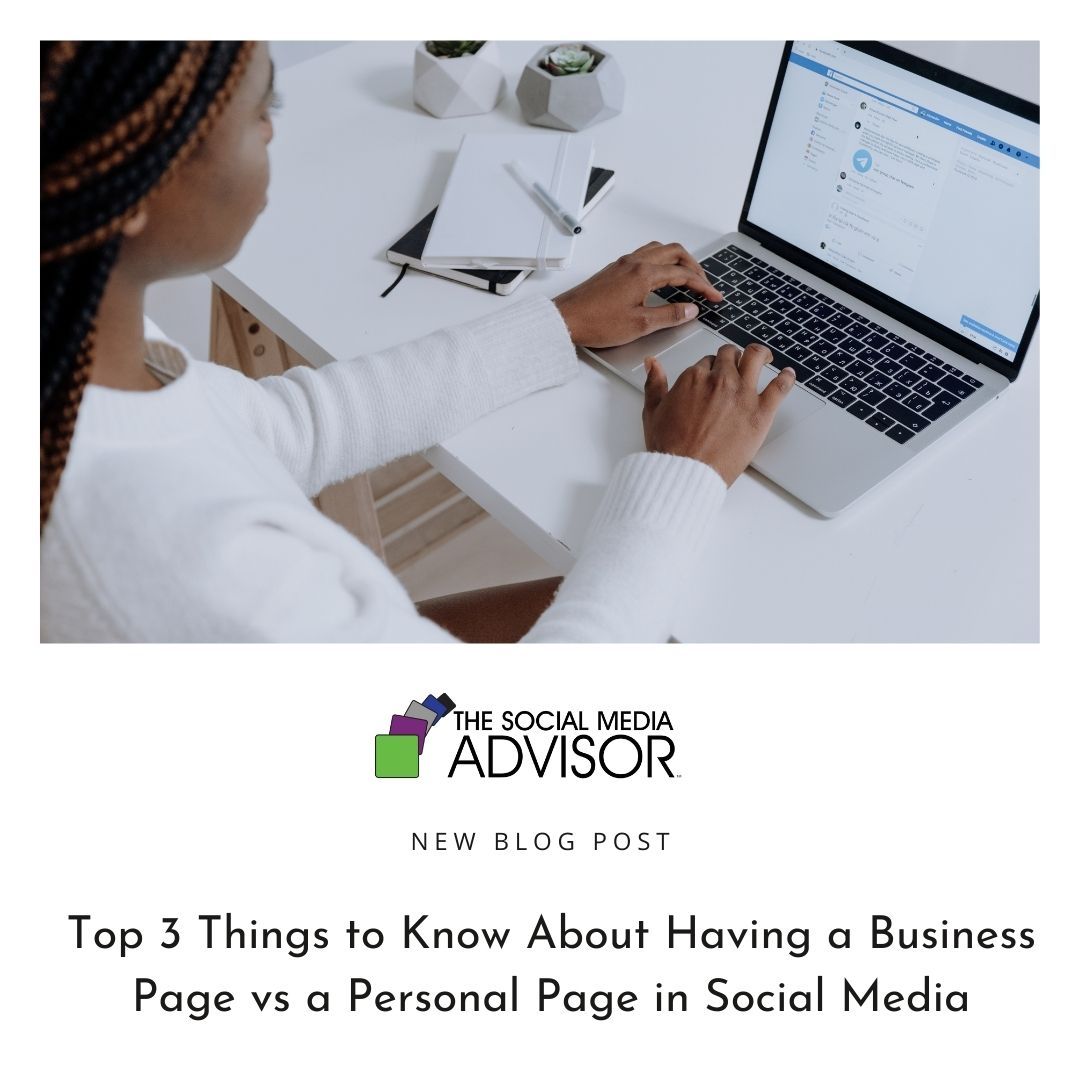 Top 3 Things to Know About Having a Business Page vs a Personal Page in Social Media
When it comes to social media, there's two main components when it comes to visibility: personal visibility and professional visibility. Anyone with a social media account has some level of personal visibility on social media. While some small businesses use their personal feeds and accounts to market their business, most companies create a separate professional account or feed for their promotional posts. 
We are often asked: is it okay to post business content on our personal pages and do we really need a professional presence for our business on social media?
This is a good question. Here is our best advice.
No One Likes Spam
You are probably connected to a lot of people who have started a small business who use personal accounts to market their businesses products or services and who add you to groups (without notice), and private message you at random about their products wanting you to buy them based on the fact that "they have seen a result and you should buy because you trust them". This is called spam. And no one likes spam.
Too many small businesses, especially MLM salespeople and network marketers, use their personal feeds to market their products and services. The idea behind this approach is many small businesses have a much bigger following on their personal pages than they do on their business feed (if they've set up a business feed at all). Plus, if you are selling for another company, there can be rules against representing yourself as more than just a salesperson for that business. 
While it's a sound theory, it has some flaws. 
People, unless they are also trying to sell you something, don't become your friend or follower on social media to get spammed by your advertising. This is an instant turn-off causing your followers to not engage with your posts and, therefore, teach the algorithm to not show them any of your content.

Just because they know you or are related to you, doesn't mean that they are your target audience. You could be spending a lot of time and energy advertising to the wrong crowd.

Social media users are smart and they can see a salesperson a mile away. If you want to lose social media friends, start treating them like walking wallets.
You Don't Own Your Audience
Facebook's Terms of Service state clearly that you aren't to use your personal profile for business purposes. If enough people report your posts to Facebook, they can shut down your entire account (and there goes your entire audience with it). 
Because you don't own your audience, at any time, a social media account can change their algorithm, change their rules, or shut down completely – and your entire marketing list vanishes. There are popular social media channels that no longer exist today. 
It's much better to provide value-added content that your audience enjoys and engages with and then convert those people to a platform you own – like your email marketing list.
At least with a business profile, you know those individuals want to hear what your business has to say and they are more likely to tolerate a few promotional posts or be tempted to join your email list than random folks on your personal feeds. 
What You Should Do Instead
Top 3 things you can do to build your professional social media audience the right way: 
Network with people, actually get to know them and build trust through your relationships and knowing things about their lives. These are warm leads that will be more interested in what you have to offer. 

Don't add everyone to your FB groups, instead post about your group and ask people to join of they are interested.  You can even private message them, inviting them that way to join (but only ask once).  Give an incentive, offer a fundraiser to host your party or host an event with a collaborative partner to co-host something instead.  (P.S. – a Handwritten note or mailed invite goes a long way and is way better than spamming!)  

Having a business page or profile will actually help you track numbers, sales, and engagement vs tossing spaghetti at a wall on your personal account to see what fits (and losing people you actually care about.)
Is it a struggle each month to create and post social media content for your business? Do you just not have enough time in the day to get it all done? The Social Media Advisor team are experts in helping you stay consistent online! We'll work with you to create an editorial calendar, messaging, and branded images aligned with your culture and promoting your business so you don't have to worry about it anymore! Find out more about our Monthly Social Media Support package on our website.
Be sure to Follow us and Let's Engage!
Hollie Clere of The Social Media Advisor is a "#BeAwesome" Developer, Social Media, Brand Builder, Content Manager, Trainer and Author in LinkedIn, Facebook, Twitter, Blog, Google+, YouTube, Pinterest, Instagram, and the tools to manage them.
Click here for Social Media Training, Speaking and Strategy Consultations.
Relationship Marketing, Social Media, Social Media Management, Social Media Marketing