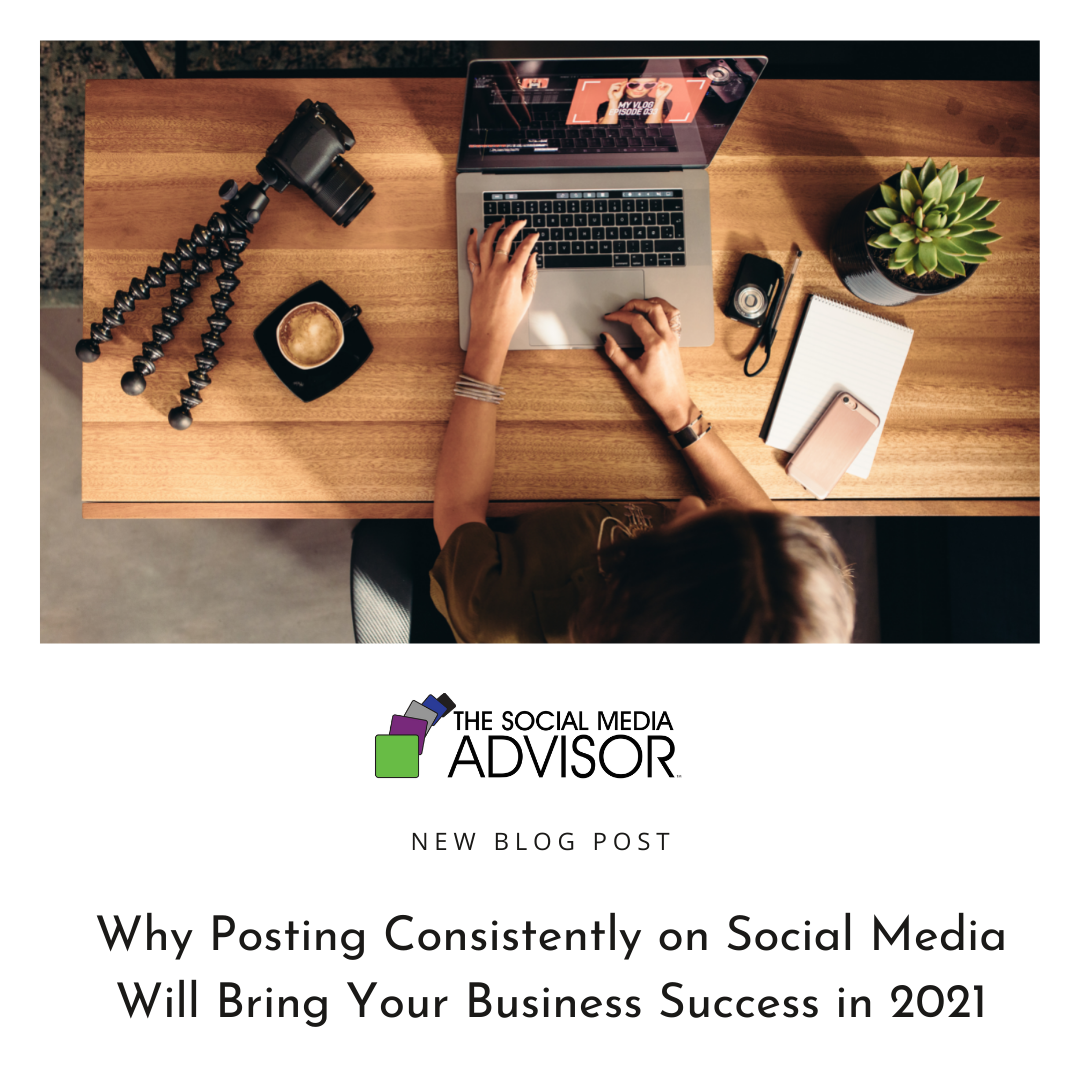 Why Posting Consistently on Social Media Will Bring Your Business Success in 2021
It's a saturated world out there and it's easy to become discouraged about social media marketing. We see a lot of business owners give social media a try when it comes to their business strategy but they give up early because they don't really understand how to make it work for them and they aren't seeing the results they'd hoped for.
They either:
Post less than 3x a week.

Have no posting plan or strategy.

Aren't using hashtags at all.

Not engaging with other people or accounts regularly.

Post consistently for a few weeks and then give up. OR

Fail to fully build out their profile areas.
If you are ready to ROCK your marketing and enhance your business success this year, posting consistently is the first step.
Building Trust
Your audience is easily distracted, tired of being sold something everywhere they turn, and seeking support and community. By consistently posting on social media, you are earning trust with your audience. They know you will show up and be there for them when they open up their device. They'll get a feel for your posting schedule and make an effort to interact with you and your content. However, if you are not consistent – it teaches your audience something else entirely. It tells them that you aren't reliable. That you may not be there for them and that you aren't taking your online marketing seriously. Perhaps you aren't a serious business owner? Assumptions, whether they are accurate or not, can damage brand trust.
Encourages Growth
The growth you may be thinking of is business growth – more money and more clients. However, social media marketing can contribute to another type of growth as well – it teaches you about your audience, what appeals to them, and what doesn't work when it comes to marketing your business. Posting consistently on social, and then paying attention to the analytics, is an effective way of getting a feel for what does and doesn't work for your people. When they engage with your content, you are also getting valuable feedback that you'd be unlikely to receive without an online presence.
Algorithms
The social media algorithms do not exist to keep you down. They exist because there is more content being shared in a day than any human could possibly consume. How does the software determine what does or does not get into feeds? Well, it's complicated but the basics are that the system pays attention to how people use the platform and ranks all the content based on the likelihood of an individual engaging with it. The top possible options are what people see in the limited time they are browsing their feeds.
As someone who shares content on social media, and wants their audience to see what they post, it's imperative that you are creating and sharing content that your audience actually enjoys enough to like, comment, share, save, or click. Each time they interact with your posts, it trains the system to show more of your posts to that individual. However, the system will downplay your content if you aren't posting consistently.
If you want to be taken seriously, you have to post on a consistent basis.
Is it a struggle each month to create and post social media content for your business? Do you just not have enough time in the day to get it all done? The Social Media Advisor team are experts in helping you stay consistent online! We'll work with you to create an editorial calendar, messaging, and branded images aligned with your culture and promoting your business so you don't have to worry about it anymore! Find out more about our Monthly Social Media Support package on our website.
Be sure to Follow us and Let's Engage!
Hollie Clere of The Social Media Advisor is a "#BeAwesome" Developer, Social Media, Brand Builder, Content Manager, Trainer and Author in LinkedIn, Facebook, Twitter, Blog, Google+, YouTube, Pinterest, Instagram, and the tools to manage them.
Click here for Social Media Training, Speaking and Strategy Consultations.