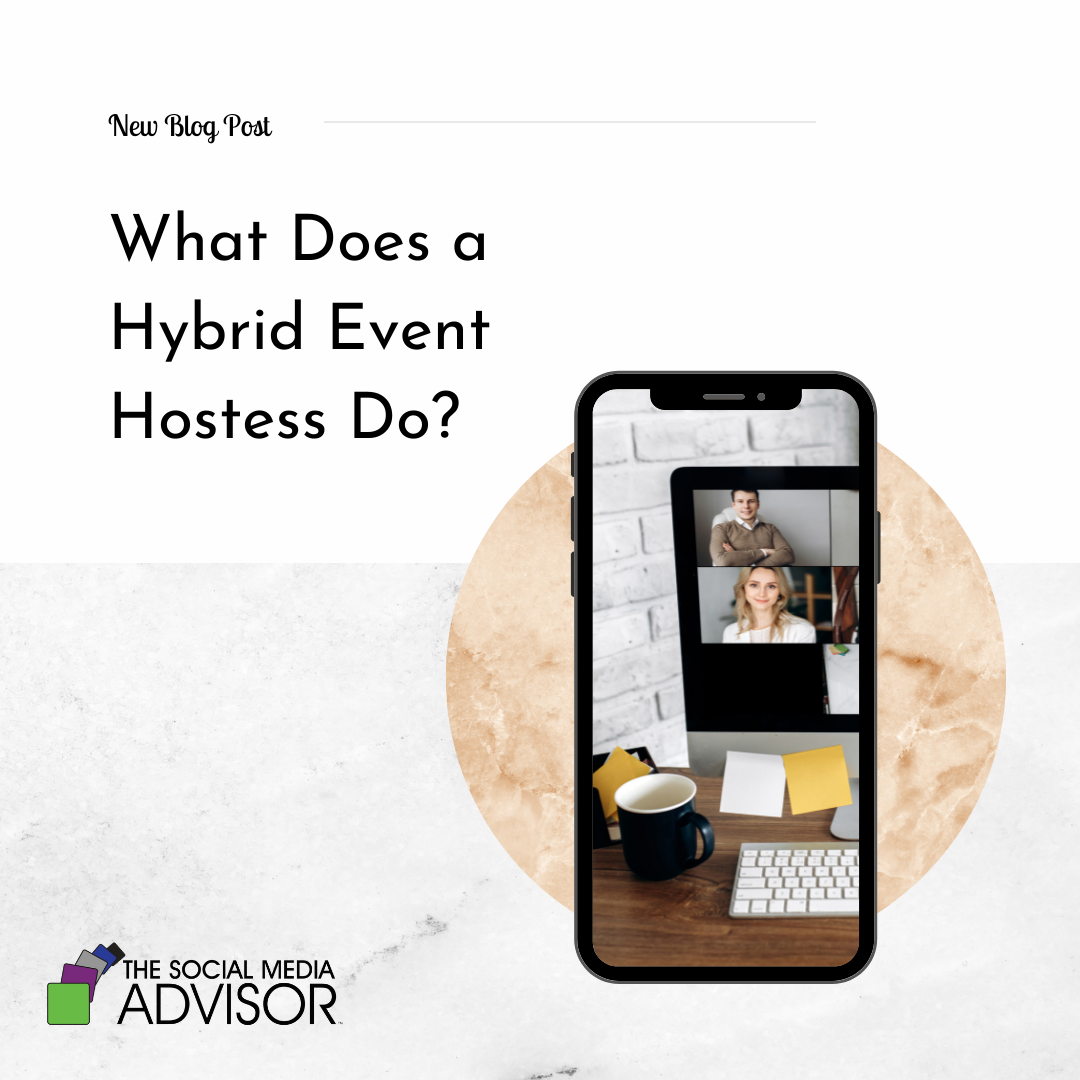 What Does a Hybrid Event Hostess Do?
Even with all the chatter about Zoom fatigue, virtual meetings, conferences, and other events aren't going away. They were popular before the pandemic and even more people (and business owners) are comfortable and familiar with how they work. There is still appeal to a virtual event whether the attendee is out of the area, overscheduled, can't find child care, or simply prefers a more introverted environment for learning and connection.
Regardless of the reason, hybrid events (events that have both in-person and virtual components) aren't going away anytime soon.
However, hybrid events come with their share of challenges as well:
Tech Issues
Imagine you are rolling into the second hour of your hybrid event and suddenly your online audience loses connection. Are you even aware that they are gone? Who is there to ensure they can see, hear, and interact with the event? What if the sound is too low or too loud, the screen isn't sharing, your mic isn't working, or that key video isn't playing? 
Hybrid events require an individual that can spot these problems quickly, touch base with your tech person or team, and get things resolved without needing to disrupt the entire program.
Audience Neglect
The biggest offense when it comes to hosting a hybrid event is to neglect your virtual audience. As someone who has hosted many in-person events, it's easy to get caught up in the energy, connection, and Q & A in front of you and forget about your online audience.
Just because an event is virtual, doesn't mean that attendees don't always want to feel seen, heard, and connected. Simply hooking up some A/V equipment is not enough and you can't be in two places at once. You need someone dedicated to engaging with, connecting with, and working with your online attendees.
Social Engagement
You need to do more than simply show up for your online audience, they need to be engaged. You want them to walk away from your event amazed at the experience they've just had. How can you manage engagement with your virtual attendees from the stage? You can't. In trying, you'll find that you disappoint both your in-person and virtual audience at the same time. For a superior experience at your hybrid event, hire a person dedicated to engaging with, communicating, and entertaining your virtual audience.
A hybrid event can be an excellent experience and a wonderful opportunity for people to attend that wouldn't have been able to attend in-person. However, you want the takeaway to be just as amazing for your virtual audience as it is for your in-person folks.
Do you host events, workshops, seminars or conferences? Many people still want to attend virtually for convenience. However, many event hosts are offering hybrid events and not taking into consideration the experience of the virtual attendees. A hybrid hostess is the gatekeeper; keeping things safe for attendees, working with on-site tech for high quality sound and visuals, communicating with the on-site team remotely, maintaining engagement with polls, breakout rooms, chat moderation, and facilitating games. Let's chat about how this could benefit your virtual and hybrid events and keep your audience engaged so they keep coming back!
Be sure to Follow us and Let's Engage!
Hollie Clere of The Social Media Advisor is a "#BeAwesome" Developer, Social Media, Brand Builder, Content Manager, Trainer and Author in LinkedIn, Facebook, Twitter, Blog, Google+, YouTube, Pinterest, Instagram, and the tools to manage them.
Click here for Social Media Training, Speaking and Strategy Consultations.