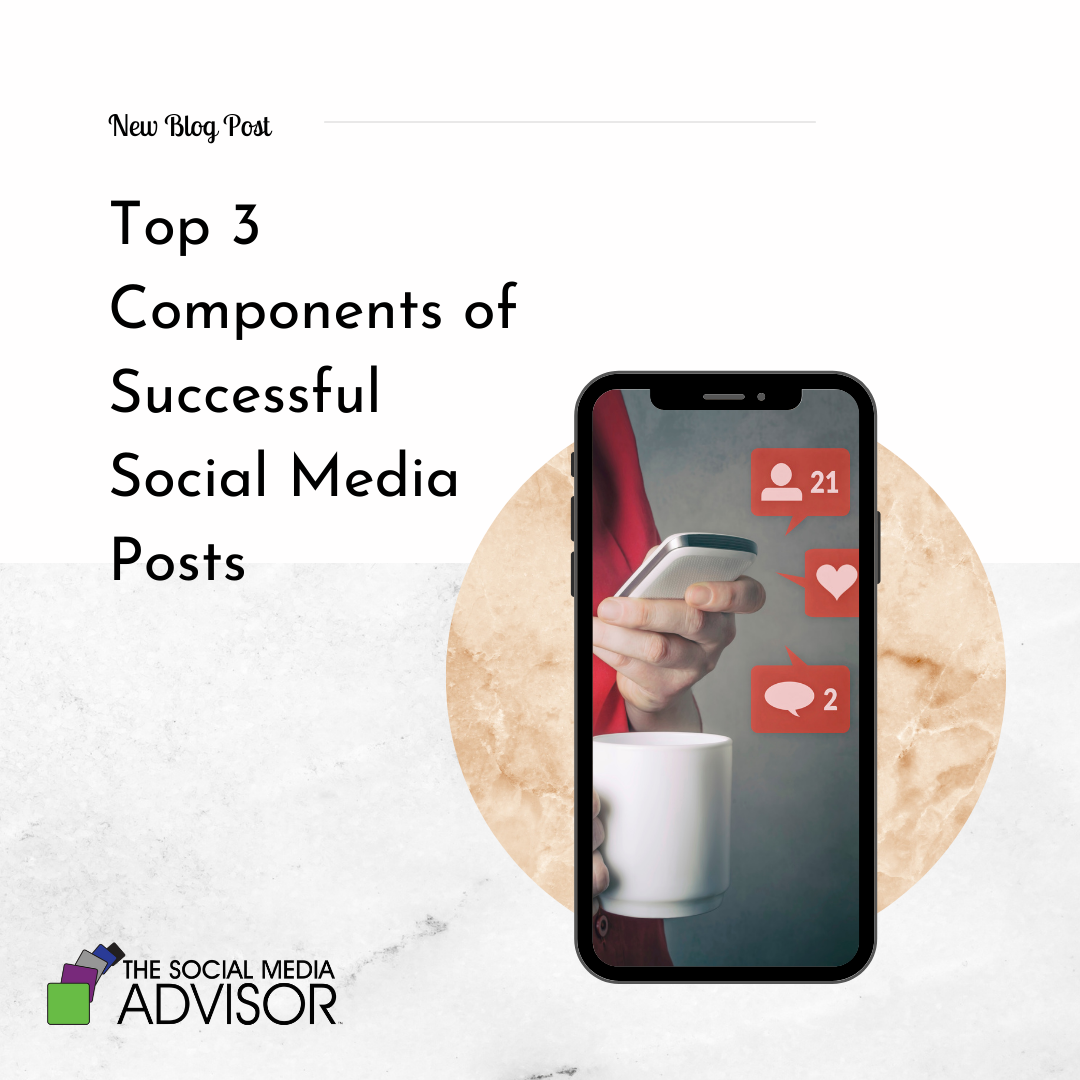 Top 3 Components of Successful Social Media Posts
Telling an effective brand story has many layers but is important to map your content strategy out properly as to not overwhelm your audience with too much information at once. There are many moving parts, bells, and whistles for creating content for social media. 
Where should you start? What takes priority? What will ensure your social media marketing efforts are successful?
Editorial Calendar
There are businesses out there that will tell you they decide in the moment what to post and that it feels more authentic. Posting in the moment has its perks but it's no strategy. Not only is it not a strategy with targeted goals and objectives, many struggle with what to say or post. This level of disorganization can lead to confusion, frustration, and disappointment. 
By creating an editorial calendar, business owners will know what they are posting, when, how often, and what the goal is supposed to be or that post. It doesn't mean you can't post in the moment but spontaneous posting should be a bonus, a supplement to your content strategy. 
Know the audience. Know the content that works best for them. Know the best time to post. And, above all, have a plan. What do you want that post to accomplish? What's the goal? Where are you directing traffic? What's your call to action? The more information you decide in advance, the more on point you'll be with your social media marketing.
Plan for Engagement
It doesn't matter how hard you work on creating and scheduling social media content if no one in your audience ever likes, comments, or shares your work. Engagement is the #1 goal for any social media strategy. Develop a plan in advance by polling your current audience and asking them what type of content they'd like to see from you. Your die-hard followers? Ask them to engage with your posts often so more people are likely to see them. Create conversations (which requires you to check-in and respond). Your audience wants to interact with you, not just a graphic or a quote. Plan for sharing content that will attract new people and keep your current audience coming back again and again.
Hashtag Strategy
Yes, silly hashtags exist and they are mostly for entertainment purposes. However, that is no reason to dismiss hashtags altogether! Since every social media channel is its own search engine, learning how to use hashtags is key in attracting new people to your social platforms. Research popular and effective hashtags for your industry and use them often. If you preferred platform is Instagram – experiment with 15-30 hashtags per post, either in the post itself or as the first comment on the post. For other platforms, 3 to 5 hashtags per post is more than enough.
Overwhelmed? The Social Media Advisor team can help you create a social media strategy and start being consistent online with your business.
Prefer a DIY approach? The Social Power Program exists to help small business owners learn to navigate social media marketing and all its various components and challenges. Members have access to a Private Facebook Support Group, Monthly Ask the Expert Mastermind Sessions, a FREE Ebook, and regular new videos posted to our library to support their marketing efforts as well.  Learn everything from creating an editorial calendar, to designing custom branded images, to use of hashtags, to paid ads and reporting, how the algorithms work, and MORE! Find out more about the Social Power Program here.
Be sure to Follow us and Let's Engage!
Hollie Clere of The Social Media Advisor is a "#BeAwesome" Developer, Social Media, Brand Builder, Content Manager, Trainer and Author in LinkedIn, Facebook, Twitter, Blog, Google+, YouTube, Pinterest, Instagram, and the tools to manage them.
Click here for Social Media Training, Speaking and Strategy Consultations.