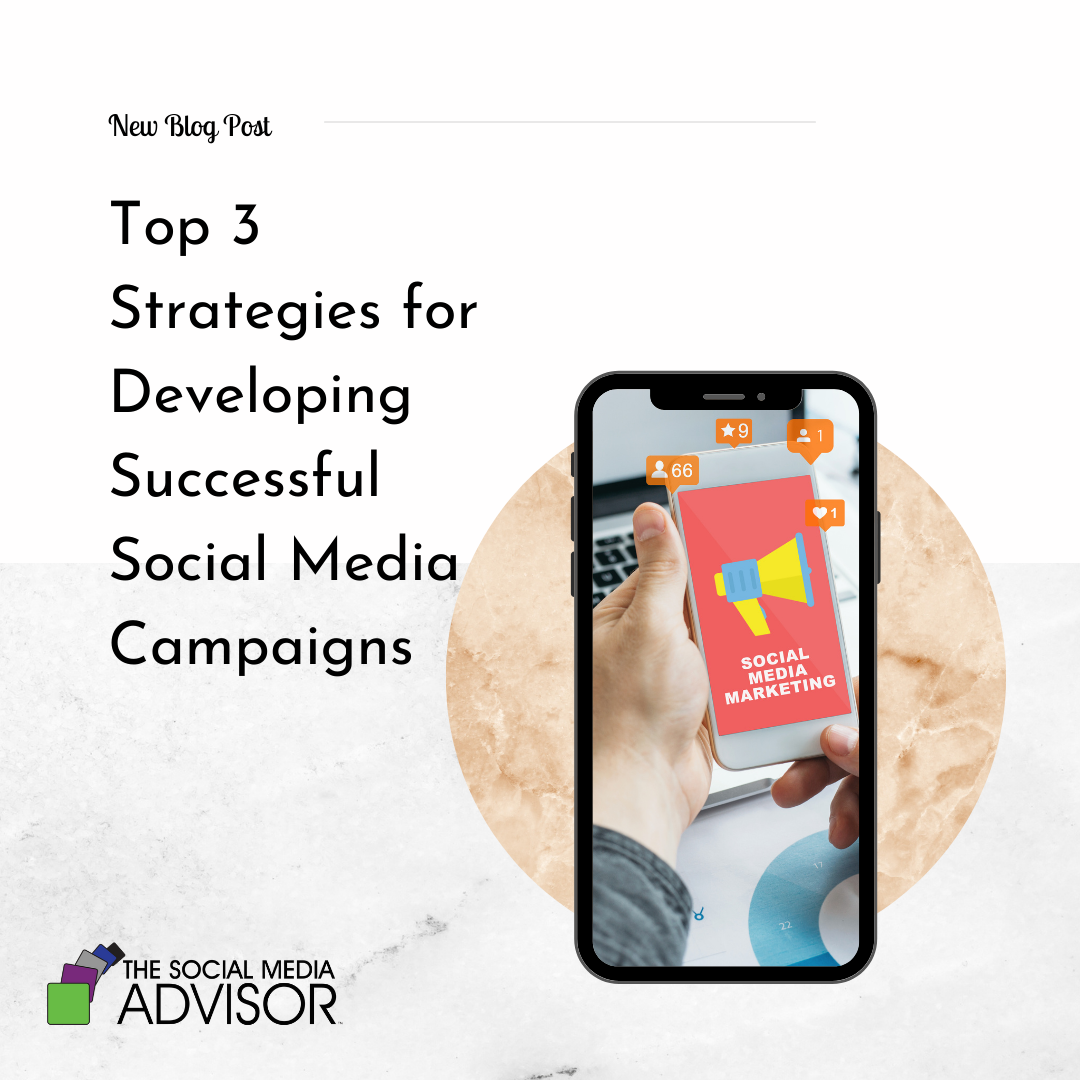 Top 3 Strategies for Developing Successful Social Media Campaigns
A solid social media strategy involves building your audience growth both organically and through paid activity.  There are a variety of components to consider when creating social media campaigns including a blog strategy, editorial calendar, content that inspires engagement, video that grabs attention and builds trust, and working on audience growth both in-person and online.
Social media is part of a comprehensive marketing strategy and the most successful campaigns take the entire marketing strategy into consideration. 
Know What You Want
Finding new clients and making more money is not a strategy. It's a result. Have a clear goal. If you are looking to sell $1,200 widgets, social media is not the place to ask for high-ticket sales. You want an easier barrier to entry for people who have just found you. This new audience needs to get a task of how you will serve them. You'll need to build trust with a person before trying to sell your high-dollar package, session, ticket, or retreat. Then you can nurture that audience into larger purchases over time, preferably by convincing them to join your email newsletter. 
However, if you don't have a funnel, strategy, or goal for converting strangers into followers and then converting those followers into customers, you are throwing spaghetti at the wall and hoping something will stick. 
Finding Your Audience
Organic growth, while not impossible, is much harder than it used to be. Finding and convincing strangers to follow you or sign up will require a small, regular investment in social advertising. You want targeted advertising though. This means you don't want to boost a post or get more website traffic by selecting anyone in the United States. You need to think specifically about your buyer, their behavior, and who they really are.  What are their ages? What do they do in their free time? Where do they shop? What do they post about on social media? Specific characteristics will make a world of difference in getting your ads in front of the right people.
Track Your Analytics
Schedule time to regularly review your social media reports and analytics. This includes Google Analytics. If you are getting traffic to your website from advertising, but nothing happens next, you'll need to adjust your call to action on your website.  If you aren't getting click throughs on your ads, then adjustments need to happen in your ad.
The difference between posting on social media and a social media campaign is all about your strategy. A content strategy, call to action, and a specific goal will do wonders for both your organic and paid marketing efforts. Track what is working (and what isn't) and adjust often. This is the difference between lackluster results and success on social media.
The Social Power Program exists to help small business owners learn to navigate social media marketing and all its various components and challenges. Members have access to a Private Facebook Support Group, Monthly Ask the Expert Mastermind Sessions, a FREE Ebook, and regular new videos posted to our library to support their marketing efforts as well.  Learn everything from creating an editorial calendar, to designing custom branded images, to use of hashtags, to paid ads and reporting, how the algorithms work, and MORE! Find out more about the Social Power Program here.
Be sure to Follow us and Let's Engage!
Hollie Clere of The Social Media Advisor is a "#BeAwesome" Developer, Social Media, Brand Builder, Content Manager, Trainer and Author in LinkedIn, Facebook, Twitter, Blog, Google+, YouTube, Pinterest, Instagram, and the tools to manage them.
Click here for Social Media Training, Speaking and Strategy Consultations.