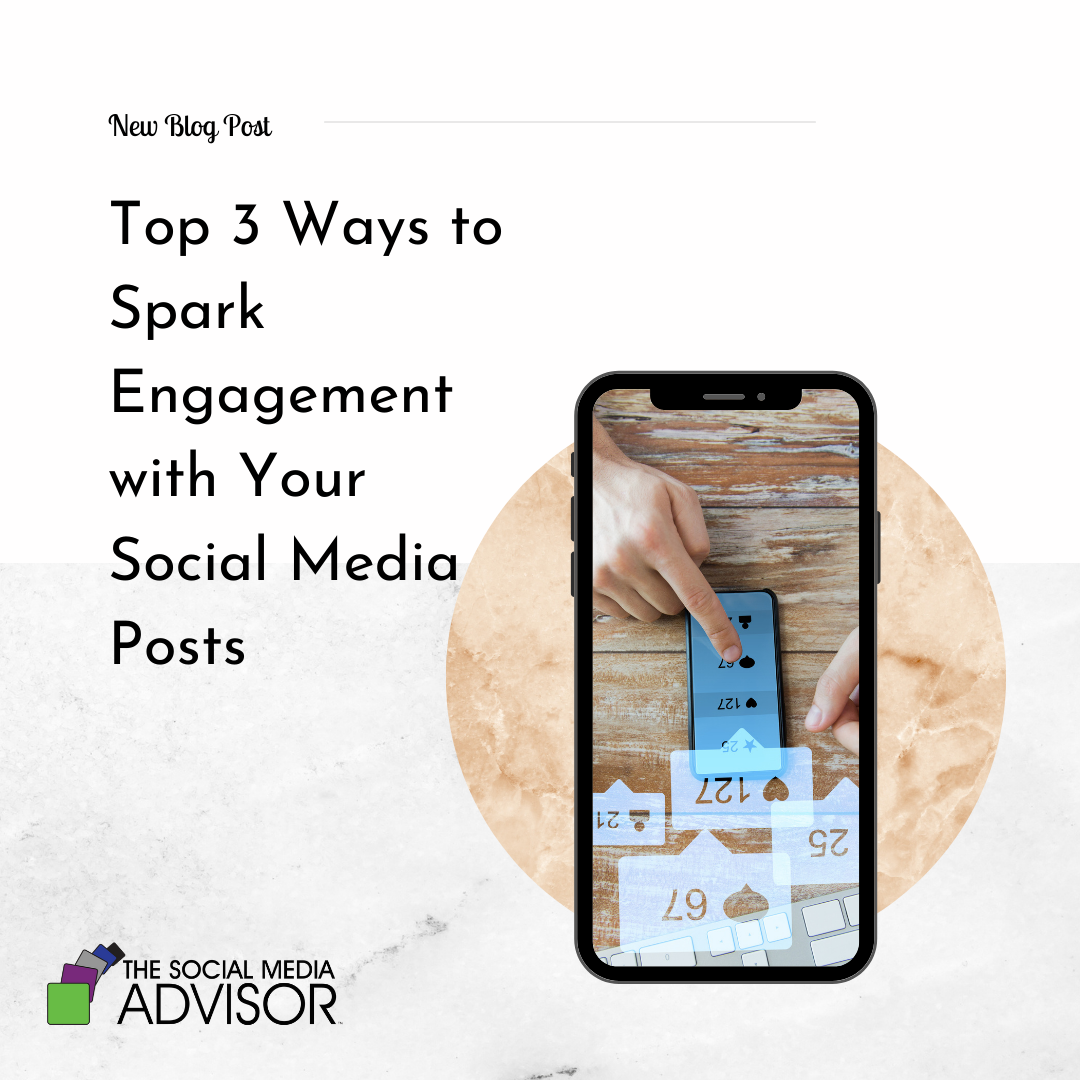 Top 3 Ways to Spark Engagement with Your Social Media Posts
Engagement is the key to all of your social media activity.  If your audience isn't engaging with your content, there's a chance they aren't seeing it or aren't interested in what you're posting.
If you want a measurement of successful social media, head to the comments. Are you starting discussions? Are people having conversations on your page? Are your followers asking questions or commenting on your comment? If not, social media engagement is your #1 priority!
Engagement comes in the form of Like, Comment, and Share. Depending on which social media platform you are on, clicks and saves also count.
To increase engagement, we've seen trends around these 3 elements:
The Right Visuals
Stock photography looks great but your audience will engage WAY MORE when you post photos of you, your business, your team, or any behind-the-scenes images. Audiences are beginning to grow numb to stock imagery. While it may be pretty, it does nothing to connect with your brand or earn the trust you need to convert your viewers into followers or customers.
Ask Questions
Ask your audience to engage with things by posing various questions. Examples include: "Would you rather?" graphics, "which do you like better?" with photos, or "Share a selfie or picture of…" Asking your audience to respond with a GIf to a question is popular as well. SOmetimes, a simple "What are your thoughts about…" can get people talking.  People love to share their lives if asked to do so. This type of engagement is great for making sure people see your posts and algorithms share your content.
Invite People to the Conversation
When appropriate, and without being spammy, invite people to the conversation by tagging or mentioning them in the content. This will extend your reach to new audiences but should not be overused. Business owners that randomly tag groups of people without considering whether or not they'd be interested are perpetuating the spam culture that makes it so difficult for brands to reach people. Use tagging as a way to share something relevant, celebrate a milestone, promote collaboration, or post a review or testimonial. If you have power partners or sponsors, talk about those projects and relationships and tag those businesses in the content.
Real social media engagement is the path to success when promoting your business online. Focus on engagement and you'll have a captive audience ready to hear from you.
The Social Power Program exists to help small business owners learn to navigate social media marketing and all its various components and challenges. Members have access to a Private Facebook Support Group, Monthly Ask the Expert Mastermind Sessions, a FREE Ebook, and regular new videos posted to our library to support their marketing efforts as well.  Learn everything from creating an editorial calendar, to designing custom branded images, to use of hashtags, to paid ads and reporting, how the algorithms work, and MORE! Find out more about the Social Power Program here.
Be sure to Follow us and Let's Engage!
Hollie Clere of The Social Media Advisor is a "#BeAwesome" Developer, Social Media, Brand Builder, Content Manager, Trainer and Author in LinkedIn, Facebook, Twitter, Blog, Google+, YouTube, Pinterest, Instagram, and the tools to manage them.
Click here for Social Media Training, Speaking and Strategy Consultations.