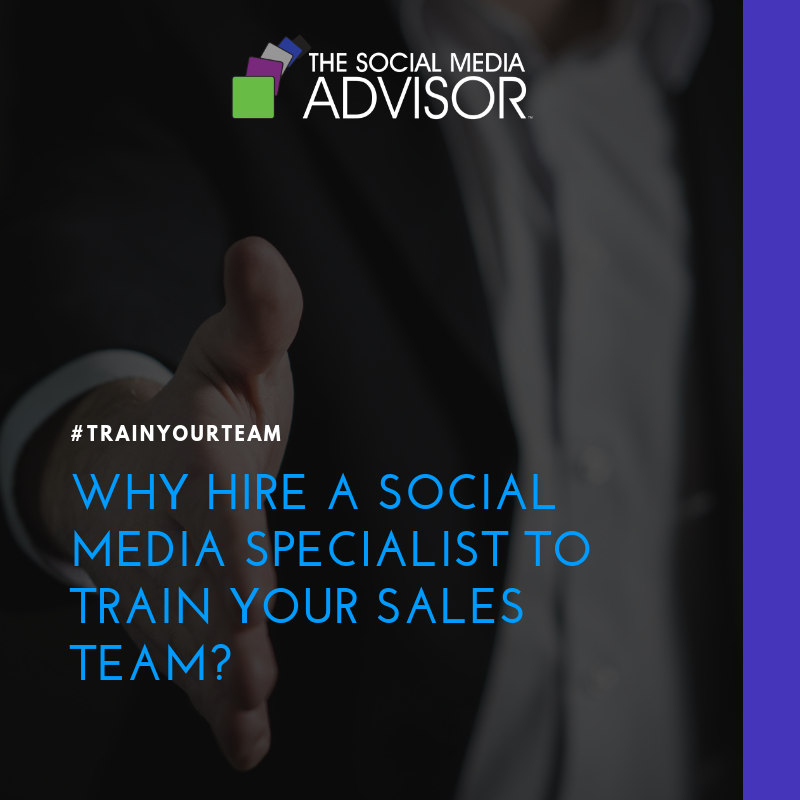 #TrainYourTeam – Why Hire a Social Media Specialist to Train Your Sales Team?
What's the value of having a social media specialist come in and train your sales team on social media marketing? Your sales team is the front line and your future success depends on this team knowing the brand message, the company culture, and the details of how the company is marketed both online and offline – this includes social media. This group of people is key when it comes to building know, like and trust – the secret to online marketing success.
Your Sales Team & Social Engagement
When your sales team is comfortable and confident engaging on your behalf online, you are organically building likes and follows on your channel. Each individual that is engaging with you is not only an addition to your audience but they also potentially promote that same content to their network as well. If your sales team doesn't understand how to engage with your audience online – or simply avoids it because they aren't sure what to do – you are missing out on some fantastic organic engagement and opportunities to connect with your leads.
Your Sales Team & Compliance
Do the members of your sales team understand the policies and procedures put into place for online interactions? Have you created compliance policies to protect your company online? It's vital that these procedures are in place and that your team is trained on the right and wrong way to engage with leads and customers in an online space, such as social media. It's essential that you teach your team to properly represent you on the Internet.
Your Sales Team & Their Public Presence
Since your sales team is the face of your business, their online presence does have an impact on your company. While you can't tell your staff what to post on their personal feeds, it's important to have a discussion about what it looks like to be appropriate in an online space since their public persona is a reflection on your brand. A social media specialist can come in and breach this topic with your team and give them guidelines on what they should or shouldn't be doing online.
Your brand needs someone who specializes in social media, keeps up with the latest trends and changes, and operates in this space daily to really equip your sales team on how to confidently and successfully organically grow your audience on social media.
Our team here at the Social Media Advisor offers social media training and workshops to companies here in Denver and has been doing this work for over 15 years! Hire the expert in social media to get your team ramped up this month and make 2019 an AWESOME year for your business. Find out more at my website or book an appointment with me to talk next steps.
Be sure to Follow us and Let's Engage!
Hollie Clere of The Social Media Advisor is a "#BeAwesome" Developer, Social Media, Brand Builder, Content Manager, Trainer and Author in LinkedIn, Facebook, Twitter, Blog, Google+, YouTube, Pinterest, Instagram, and the tools to manage them.
Click here for Social Media Training, Speaking and Strategy Consultations.
hire the expert, sales team, Social Media Expert, social media specialist, Social Media Training