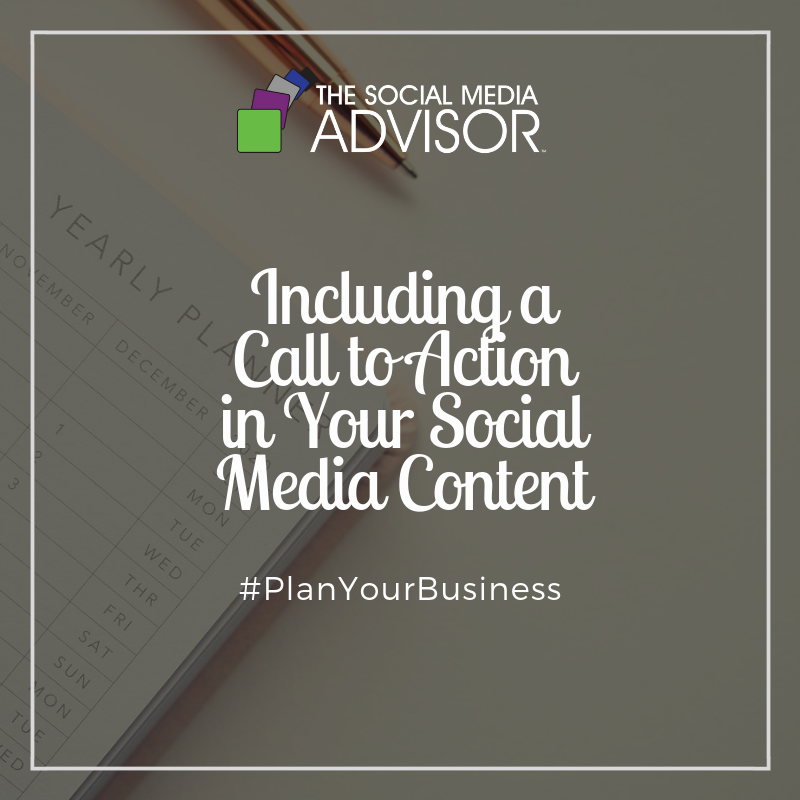 #PlanYourBusiness – Including a Call to Action in Your Social Media Content
When you post something to social media, what's your purpose? In other words, what do you want the person who is reading your content to do? If your answer to this question is that you don't know or that you never think about wanting your audience to do something, then stop – do not pass Go!
Instead, go back to basics and think about why you're posting. Unless you're passing along something for information purposes (yes, that's ok too), then you always need to have a clear call to action in your social media content.
Through your call to action, you let your audience know what you want them to do and how to do it. If you are trying to sell something then you want them to buy; if you want to add them to your database, then you want them to sign up. Or maybe you want them to comment or share your post. You get the picture. Everything you post should have a clear purpose, and your purpose defines your call to action.
5 Things You Need to Know About Calls to Action
CTAs should be straightforward – Your calls to action don't have to be boring, but they do have to be simple enough to understand so that your community will get the point.
CTAs should be strategic – Before you post you should consider your objective. If you know what you hope the content will accomplish, then you'll know how to frame the call to action.
CTAs can be creative – Your call to action can be funny, ironic, or different as long as it is true to your brand and clear enough to be understood.
CTAs should be consistent – Whether you choose to use a color theme, a button style, or some other element, your calls to action should be consistent with your other brand elements.
CTAs can (and should) be tested – It can pay to take the time to test your calls to action. Get a benchmark by trying it out to see if it converts. If not, try something else.
If you study the science of sales, then you know that a key tenet is that you have to ask for the sale. The same is true for your social media content. Your call to action is where you ask for the sale. Your CTA is your money shot. It lets your audience know what you want them to do and asks them to do it. So go ahead, don't be shy. Ask for the sale.
Be sure to Follow us and Let's Engage!
Hollie Clere of The Social Media Advisor is a "#BeAwesome" Developer, Social Media, Brand Builder, Content Manager, Trainer and Author in LinkedIn, Facebook, Twitter, Blog, Google+, YouTube, Pinterest, Instagram, and the tools to manage them.
Click here for Social Media Training, Speaking and Strategy Consultations.