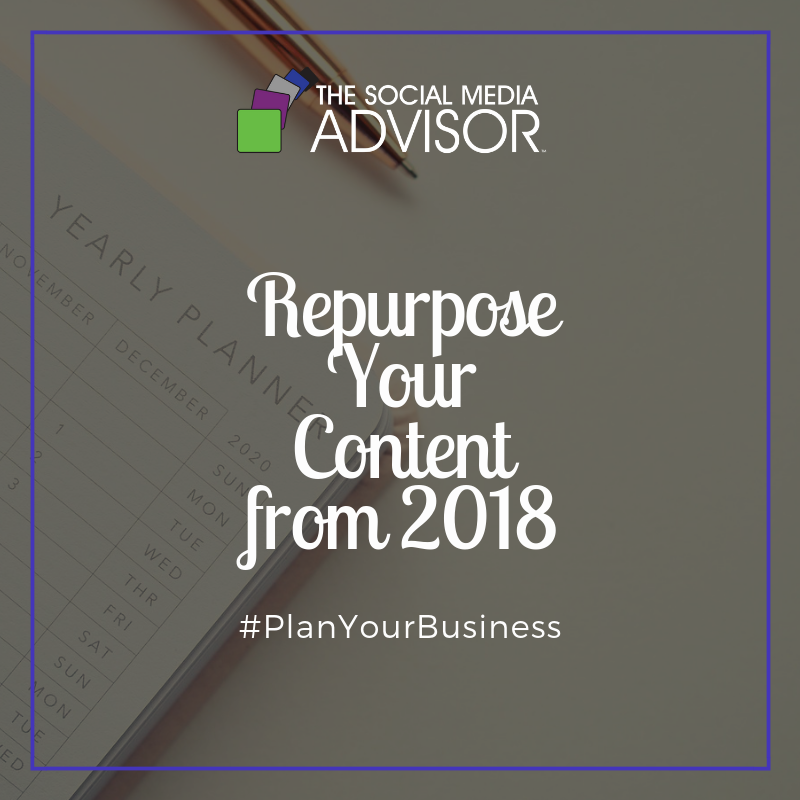 #PlanYourBusiness – Repurpose Your Content from 2018
You already know how important it is to create blockbuster content. You also know that it is not an easy job. That's why you no doubt commit lots of resources to it.
Here's a question for you, though. Do you have a plan for getting the most out of your existing content? If you're like many of us, once you've clicked that post or publish button you wipe that particular item off the list. Instead of considering it done, why not queue it up to use it again? Yes – to get the most out of your content you should be repurposing it.
Repurposing content doesn't necessarily mean you are recycling something old; it means you are taking something that works and giving it new life. Here are five ways to do just that:
Check your analytics – Before you get started, identify which items hit the mark. The most straightforward way to do that is by checking your analytics reports to see which content was the most engaging.
Try a new format – If you have identified a blog post that was popular or shared often, why not turn it into an email series, a video, an infographic, or a presentation? Of course, the proper format will depend on the type of information, but there are plenty of ways to repackage information so that it can find a new audience or reinforce the data to the existing audience.
Update and refresh – Perhaps the best way to use an old article or post is to update it with the latest statistics or give it a new perspective based on the latest thinking.
Bundle it – Have you ever thought of putting all the content you have on a particular topic into an e-book or white paper? Depending on the type of information you prepare, this may be the perfect way to offer it to your audience again. People love downloading free information and making it into a book may do the trick.
Repost it – In the content world we often hear the term "evergreen." Evergreen content never gets stale. Identify content you have that is still fresh and simply repost it or put it on a different platform.
As you begin your planning for the New Year, make sure that you capture the value of your existing content by including repurposing on your to-do list. Not only will you make the most of what you already have, you are sure to generate ideas for ways to create new content that supplements what you already have.
Be sure to Follow us and Let's Engage!
Hollie Clere of The Social Media Advisor is a "#BeAwesome" Developer, Social Media, Brand Builder, Content Manager, Trainer and Author in LinkedIn, Facebook, Twitter, Blog, Google+, YouTube, Pinterest, Instagram, and the tools to manage them.
Click here for Social Media Training, Speaking and Strategy Consultations.