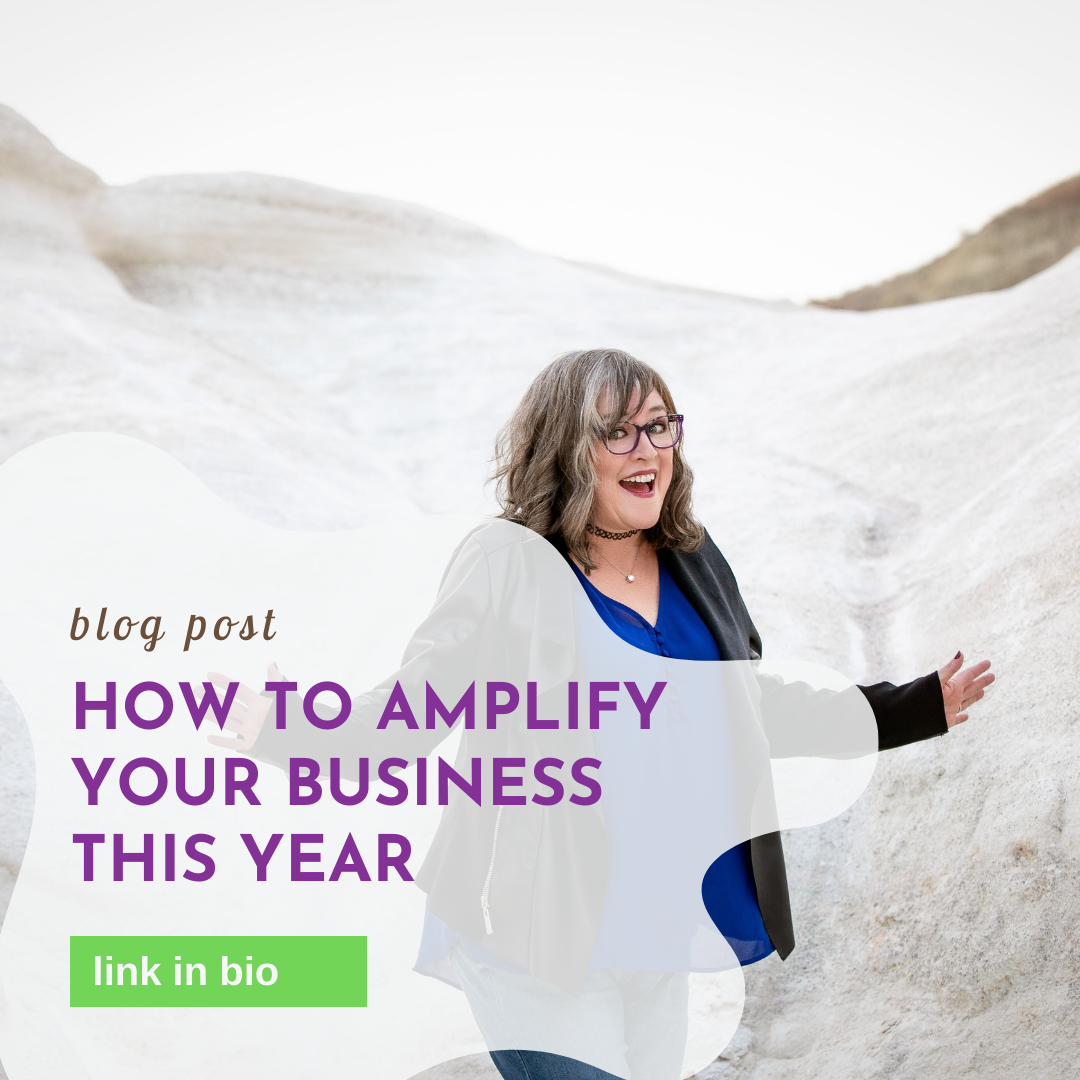 How to Amplify Your Business This Year
My word for 2022 is Amplify.
When you break down this word, it means to increase the volume of something. And, in 2022, I want to increase the volume in both my professional and personal life. I'm ready for more success AND to have more joy and abundance in my life.
Does this sound like a good plan for you as well?
Well, if you want to amplify your business this year – you'll need to ramp up your marketing.
Amplify Your Online Presence
Did you have a robust online presence? Can a complete stranger interested in your work find enough information about you online? Building out your online presence is all about trust. There are many ways to do this but I always recommend starting with your website.
If your business doesn't have a website yet, then begin there.
The more information people can find about you online, the more comfortable they become to reach out, connect, and ask questions about what you do.
Here are some other ways to amplify your online business this year:
Build your Google My Business (GMB) page and post to it at least once a week.
Submit your business information to relevant online directories.
Build out your social media profile(s) and post regularly.
Pitch what you do to content creators that do interviews with other business others so that you can get on their video show/blog/podcast.
Encourage your existing clients to post a great review about you on Facebook, Google, or Yelp.
Be patient. This is a long game. In fact, if you don't even have a website yet, the search engines may 'ding you' for the first few months to make sure you are a legitimate business that plans to stick around before they start showing your website in search results.
Amplify Your Social Media Marketing
Do you have a social media strategy for 2022? If not, it's time to sort that out as well. Creating a consistent presence on social media is a great way to amplify your business this year. We recommend starting with only one platform. Preferably, one that you will enjoy using and sharing content on.
Once you are consistently posting, it's time to look at social media advertising to get your content in front of more people who want to see it and engage with it. Social advertising is an affordable way to gain more traction and reach with your social media marketing.
Amplify Your Relationship Marketing
Making connections with other people in your community is the most effective way to amplify your business. Relationship marketing is all about connection, collaboration, and community. Bring your value to the table, get to know others who are sharing their value, and work together to support, lift, inspire, and motivate each other.
Once you start building relationships, as opposed to focusing solely on sales, you'll notice more word of mouth, more referrals, and more satisfaction in the work you do.
What better way to amplify your business this year than to find a group of people that inspire you to be the best you can be?
Amplify Your Impact
How can your business make an impact in your community this year? If you truly want to amplify your work, consider adding a philanthropic or charitable aspect to your work. Small businesses and community impact go hand in hand! People will be drawn to your mission and vision and will talk about the great work you are doing with others. It's a win/win/win situation for both you and the people around you.
Join me this year in amplifying our efforts to reach for even more success and impact in 2022! We gather in my Be Awesome in Social Media facebook group to support and encourage each other and collectively increase our impact together.
Be sure to Follow us and Let's Engage!
Hollie Clere of The Social Media Advisor is a "#BeAwesome" Developer, Social Media, Brand Builder, Content Manager, Trainer and Author in LinkedIn, Facebook, Twitter, Blog, Google+, YouTube, Pinterest, Instagram, and the tools to manage them.
Click here for Social Media Training, Speaking and Strategy Consultations.
amplify, Online Presence, Relationship Marketing, Social Media Marketing