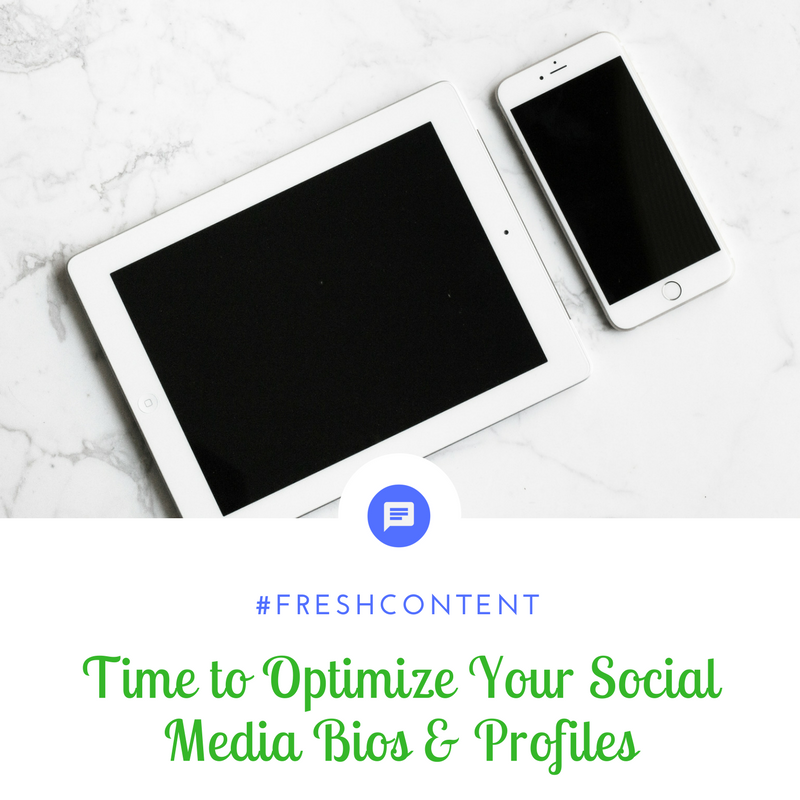 #FreshContent – Time to Optimize Your Social Media Bios & Profiles
If you use social media, then you know that the first commandment is "Thou Shalt Keep Your Content Up-To-Date." Your followers will stop checking in if they see the same thing over and over again. Though you're working hard to keep your feeds fresh and appealing, you might be overlooking these important elements of your social media channels: your bios and profiles.
If you have a social media strategy (of course you do!) is optimizing and updating your social media bios and profiles on the list? If not, add them to the top of the list. This to-do is easy to forget, and it's even easier to underestimate how important it is.
What Your Followers See
What do your followers see when they look at your profile photo? Do they see what you look like right now? If not then it's a good bet that some of your information may be out of date. Your picture should present a fresh look at your smiling face, and your profile information should be current. Even though you may think the photo looks fine if your hairstyle and fashion sense are dated then your community may interpret that as a lack of interest.
Remember, your profile photo usually has a prominent position so you can use it strategically as well. It doesn't always have to be a picture of you or your logo. It can be a new product, a special announcement, or something else you are calling attention to. Links must work, and the description of your business should accurately represent what you are doing right now.
What the Search Engines See
You may not have given it much thought, but your social media profile is important to your SEO. Your profile should include the keywords and terms that are crucial to people finding you. What you say should be consistent across platforms, be carefully crafted, and be engaging. Long-tail keywords are particularly important so that your customers can find you.
Each social media platform is viewed a little differently so it can pay to do a little homework on what works best for each. Algorithms have become particularly important in recent years so if you haven't updated your business description in some time you may not be making the most of it in SEO terms.
Freshen Up!
It's true that you don't need to update your profile as frequently as you do your content but your profile should not be neglected. Twice a year may be often enough to freshen things up. The specific schedule will depend on what is happening in your business and your industry. In any case, now is a great time to take a fresh look at both your bios and your profiles.
Be sure to Follow us and Let's Engage!
Hollie Clere of The Social Media Advisor is a "#BeAwesome" Developer, Social Media, Brand Builder, Content Manager, Trainer and Author in LinkedIn, Facebook, Twitter, Blog, Google+, YouTube, Pinterest, Instagram, and the tools to manage them.
Click here for Social Media Training, Speaking and Strategy Consultations.
#BeAwesome, #FreshContent, Bio Optimization, Build Your Bio, Social Media, Social Media Management