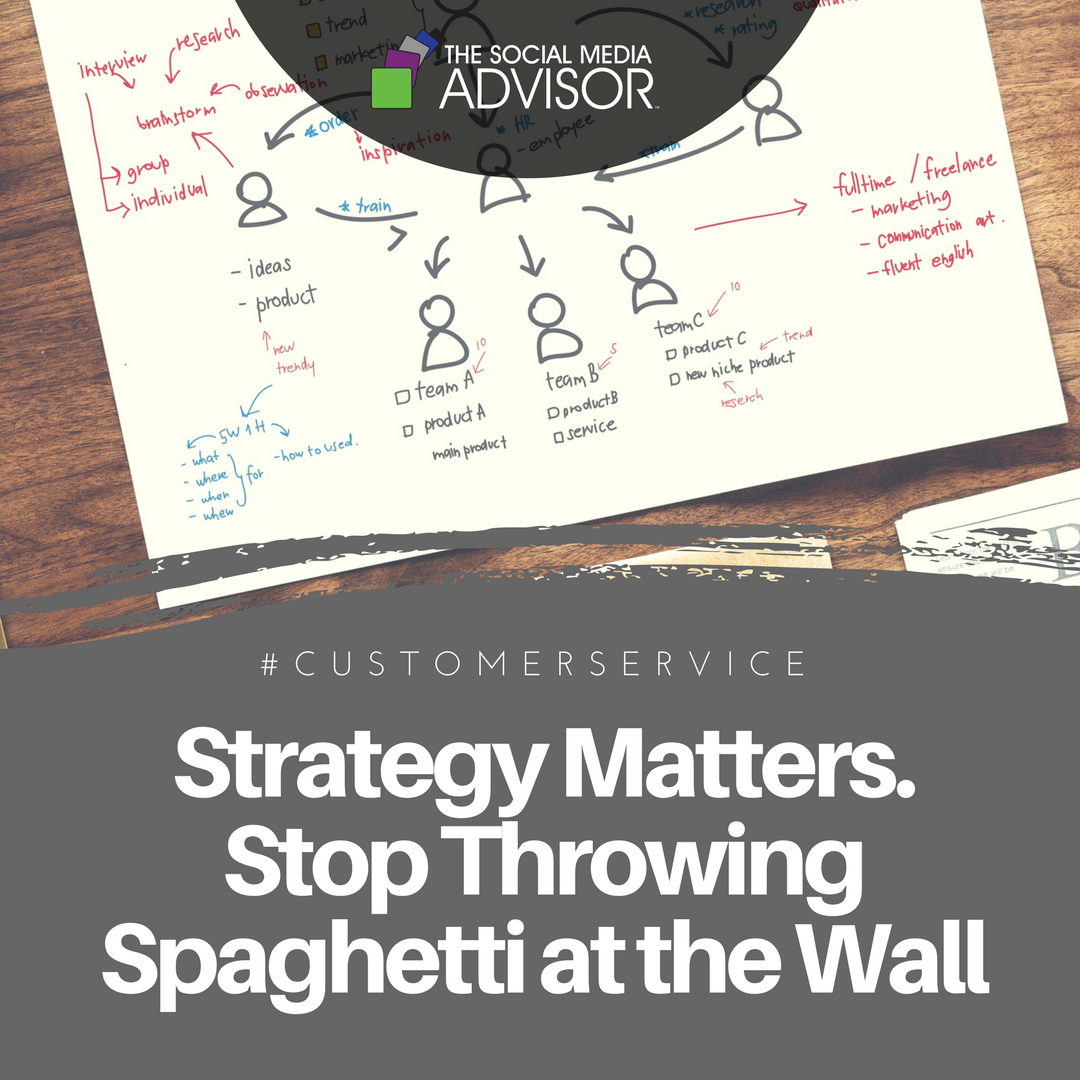 #CustomerService – Strategy Matters. Stop Throwing Spaghetti at the Wall
Do you have customers? That may sound like a silly question, but it's an important one. If you have customers but you don't have a customer service strategy, you may be crossing your fingers, rolling the dice and hoping that everything goes as it should. In other words, you are simply throwing spaghetti at the wall. Eventually, those noodles will fall off the wall, and you'll have no safety net to catch them before they hit the floor. That approach could end up being very costly since it can cost you customers and money.
Exceptional customer service doesn't just happen. It's the result of a customer-focused culture, and it takes planning and work. The first step in developing that culture is to have a strategy.
5 Steps to Creating a Customer Service Strategy
Understand your customers. Unless you know what your customers want and need you'll have a hard time figuring out what to give them. The best way to find out is to ask them. A detailed assessment of how your customers work, what they need to get their jobs done, and what kind of service they require will go a long way in helping shape your service strategy.
Have a mission. When your employees come in contact with your customers they need to be well informed of your mission and vision. Unless your front-line employees know what is expected of them, they may be unprepared when it comes to keeping customers happy. Be sure that your employees know and understand your mission, particularly with regards to developing customers and retaining them.
Set goals and establish how you'll measure success. Be sure that both you and your employees are clear on exactly what customer service success means. Once established, you can make adjustments and improve your strategy. Whether you use a customer satisfaction survey system or another type of measurement, you need to be able to see if you are meeting your goals.
Provide tools and training. If you expect your employees to be ready to give your customers excellent service, then you must teach them and train them to provide just that. If you provide a clear mission and appropriate training, then you can expect accountability.
Reward success. Verbal praise isn't just about positive reinforcement. It's also about saying "Thank you" and letting the people who create your success know you truly appreciate them and how they've embraced your mission.
It doesn't matter if you have five employees or 500 – you don't want to leave your customer service to chance. With a well thought out strategy, you can be sure that your employees know what you expect when it comes to creating satisfied customers. Instead of throwing that spaghetti at the wall to see if it sticks, consider turning it into a meal that tells both your customers and employees that you appreciate what they do to make you successful.
Be sure to Follow us and Let's Engage!
Hollie Clere of The Social Media Advisor is a "#BeAwesome" Developer, Social Media, Brand Builder, Content Manager, Trainer and Author in LinkedIn, Facebook, Twitter, Blog, Google+, YouTube, Pinterest, Instagram, and the tools to manage them.
Click here for Social Media Training, Speaking and Strategy Consultations.