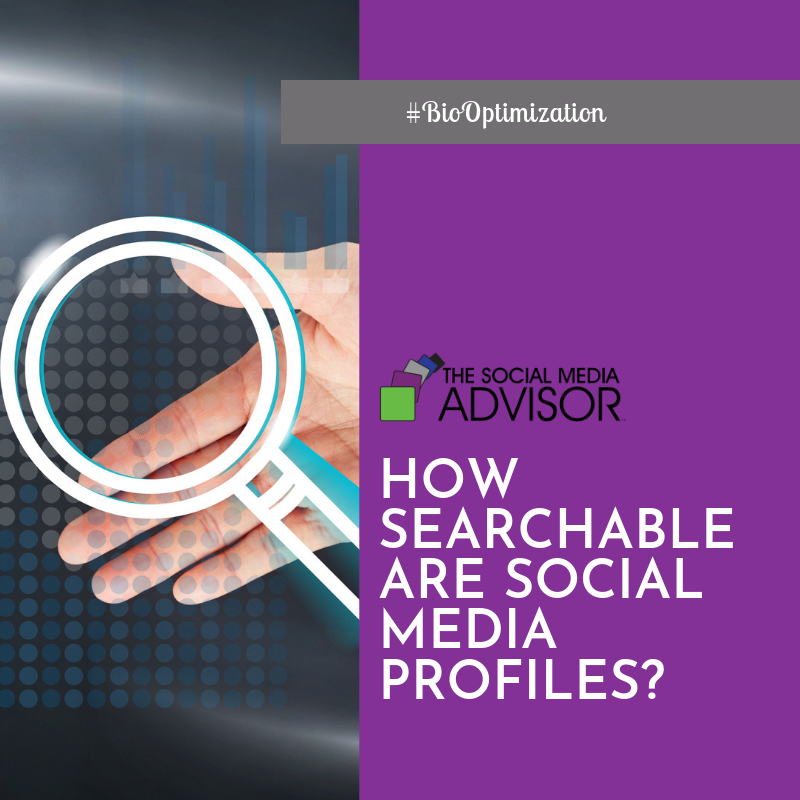 #BioOptimization – How Searchable Are Social Media Profiles?
When you think about doing an online search the first tool that comes to mind is probably Google. There's a good reason for that. Google remains the most significant player in the search engine market, and it has a lot of power. However, for all its dominance, Google isn't the only player out there. Bing, Yahoo, Ask, and some smaller engines all do their part.
Moreover, while some other important platforms may not come to mind, they shouldn't be ignored. Facebook, Twitter, Instagram, and other social media platforms are all important elements when it comes to search.
There are lots of statistics to back up the claim that social media platforms can be classified as search engines. When people are looking for information on companies or trying to make a buying decision, social media networks are often the first place they turn.
In 2010, for example, Twitter had 19 billion search queries a month, Facebook 1 billion, and YouTube 2.7 billion. Those are big numbers by any measure.
So it's fair to say that social media plays a significant role in terms of search.
What that means for social media managers is that you need to pay a lot of attention to what you are posting in terms of overall SEO. You must also know the mechanics of each social media platform so that you show up in their search results. So, if you don't already have enough to do, optimizing your social media profiles for search needs to be high on the top of your list.
One good way to see how well your profile is working is to search for yourself. The goal is to see what your potential customers see when they find you. Here are some key questions you should ask yourself?
Is your profile consistent across platforms?
Is all the information presented up-to-date?
Do you have engaging visuals?
Is the purpose of the profile clear?
Are you using appropriate keywords in a way that makes sense?
Does the most important information stand out?
Do you monitor what is posted regularly?
Even if you have done all the right things when it comes to creating and optimizing your social media profiles, nothing beats having an outside expert take a look and tell you what they see. Even better, why not consider outsourcing your social media. What could be better than having SEO friendly profiles that are maintained and managed consistently?
You owe it to yourself to see what the Social Media Advisor offers when it comes to managing your social media. Their top-notch social media revamp and management packages will help you go back to what you do best, managing your business.
Be sure to Follow us and Let's Engage!
Hollie Clere of The Social Media Advisor is a "#BeAwesome" Developer, Social Media, Brand Builder, Content Manager, Trainer and Author in LinkedIn, Facebook, Twitter, Blog, Google+, YouTube, Pinterest, Instagram, and the tools to manage them.
Click here for Social Media Training, Speaking and Strategy Consultations.