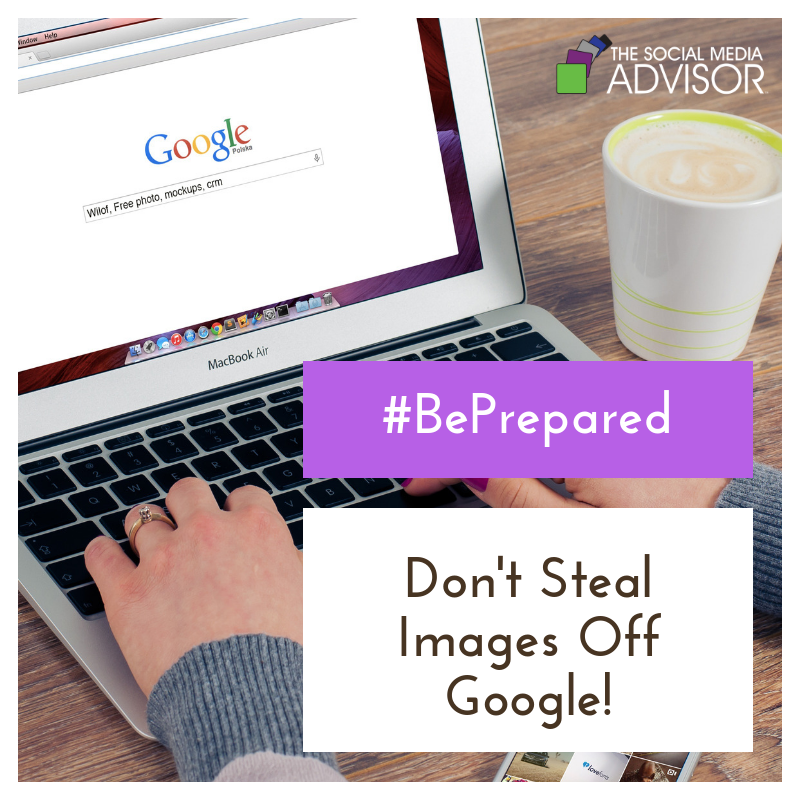 #BePrepared – Don't Steal Images Off Google!
We've all been there. A quick Google search and the perfect photo pops up. A couple of quick keystrokes and it's all yours. Your troubles are over. But are they? No, in fact, post that picture and your problems may just be beginning. Using a photo that is protected by copyright without permission is stealing. So, before you "borrow that photo" consider the following.
Taking photos that don't belong to you is not a victimless crime. Stealing a picture hurts the artist and deprives him or her of the royalties to which they are due. Remember, even though photographers may love what they do, it's still a job and how they earn a living. Artists deserve to be paid for their work.
It can cost you. If you "borrow" a photo and you get called on it you are subject to fines. Sure, having that picture solves a problem but is it worth it if you end up having to pay hundreds or thousands of dollars for it? Sometimes a copyright owner will be kind and simply send you a cease and desist letter. However, they don't have to warn you first. They can simply send you a fine for illegally breaking copyright laws.
You don't need to steal photos. There are many pay per use stock photo sites that charge a reasonable price for the pictures they carry. You can find some amazing images and pay their creator for the right to use them.
Free stock photography is a great option. Luckily, pay sites aren't your only option. There are plenty of free stock photo collections you can take advantage of. Let's talk about three of the best.
Canva – You may only know Canva as a powerful graphic design tool. In addition to being an excellent site for creating fliers, collages, and infographics, Canva has a substantial library of free stock photos that can be used for both personal and commercial use. Plus, if you use the tool to create your designs, using the photos within the site is quick and easy.
Pixabay – This site has over 1.5 million royalty free stock photos, and some videos, shared by their community of artists. They are public domain without licensing restrictions so you can feel comfortable using them for your business needs.
Unsplash – Similar to Pixabay, Unsplash has a large catalog of royalty free images gifted by their community of photographers. While Pixabay is a great tool if you are seeking specific photos for a project, Unsplash has beautiful images fantastic for attention-grabbing designs.
Without a doubt, finding free stock photography that is high quality and right for your specific needs can be a challenge, and it is always tempting to take the easy way out and grab something that you find through a Google search. There are tools that photographers use to track their images online and, eventually, your actions will be uncovered. This happens nearly daily. There are many small business owners that aren't even aware that what they are doing is illegal. Be aware and educated. There are plenty of legal alternatives and doing the right thing will save you a headache, and money, in the long run.
Be sure to Follow us and Let's Engage!
Hollie Clere of The Social Media Advisor is a "#BeAwesome" Developer, Social Media, Brand Builder, Content Manager, Trainer and Author in LinkedIn, Facebook, Twitter, Blog, Google+, YouTube, Pinterest, Instagram, and the tools to manage them.
Click here for Social Media Training, Speaking and Strategy Consultations.