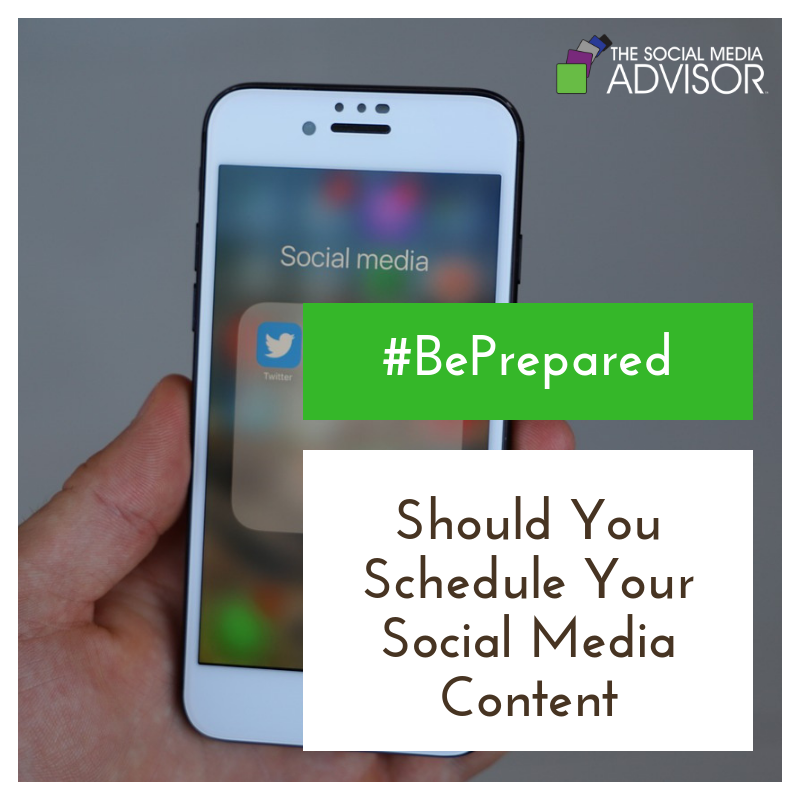 #BePrepared – Should You Schedule Your Social Media Content?
When it comes to social media marketing, there is an age-old debate. Should you schedule your content in advance or post it as you go? Honestly, there are valid points to both sides of this discussion that you should understand, as a small business owner, before making your decision on how to proceed with your social media content.
Posting As You Go
Just like in the writing world where there are plotters (those who create a plot before writing) and pantzers (those who just sit down and write without a plan), social media marketing is a world full of people who swear by either scheduling their content in advance or simply posting when they feel the need.
Those who fly by the seat of their pants make a good argument for being present. They are there for their audience. Their content is never stale. Since they just posted something, it's more likely that they will be there to engage with the audience and continue organically boosting the post by responding to followers. They are more likely to actually use the platform and not just post and disappear.
Many business owners that prefer this method argue that their engagement is way higher when they don't schedule content. Which makes sense if they are around giving their post traction as it goes live. Engagement really is the key to gaining ground on social media!
Scheduling Your Content
Does that mean you shouldn't schedule your content? Actually, there are plenty of solid reasons for scheduling your social media posts in advance. This is why so many businesses prefer this method.
Consistency
Consistency is so important when it comes to your online presence. It's hard to grab someone's attention at all online but once you have it, you need to take steps necessary to keep it. Maintaining a consistent, reliable presence on social media is the path to nurturing and growing your audience. The path to consistency is to schedule posts in advance. Then it doesn't matter how busy your day, week, month is – social media is working for you in the background. No more panics about forgetting to post something that day or last-minute brain drains trying to come up with good content on the fly.
Strategy
Do you have a social media strategy? To get the most ROI, or return, on your social media marketing it's important to create a strategy. If you don't have one of those, you are basically throwing spaghetti at the wall and hoping that some of it sticks. You'll struggle proving that the time you spend on social is valuable because you haven't determined which metrics truly matter for your business. If you are just posting as you go, it will be way more difficult to participate in social media in a strategic way.
Timing
The experts will tell you to check your analytics. Why? Because the best way to be successful is to track when social media success actually happens. What type of content is getting engagement? What time of day is your audience online?
Ideally, you would post your content at just the right time of day. The time that analytics has shown works well for your audience. It can be tough to do this well without scheduling your content in advance. If your audience is most active at 6:30 PM every night – then it's likely you'll be eating dinner at the most important time of day for your social media marketing. Wouldn't it be nice to just schedule the content for 6:30 and then go and enjoy a meal with your family?
Productivity
Also, when it comes to productivity – the ability to batch tasks all at once has long proven to be effective. Being able to sit down and create and post all your content at once and then move on to other initiatives for the month is amazing. You can schedule the time each month to work on your social media without feeling overwhelmed by the task. Many business owners start questioning the value of this marketing approach when they feel like they are spending an exorbitant amount of time working on their own social media marketing. Who could blame them? Efficiency is more appealing.
Our Best Practice Recommendation
Now you understand why there is a debate over scheduling your business content. Social media is supposed to be social so scheduling in advance and walking away from your content is a bad idea.
You can probably also see the popularity of being able to use a scheduler, like Hootsuite or Buffer, to batch your social media content in advance and feel confident about maintaining a consistent, online presence.
As a social media expert, our recommendation for best practices when it comes to posting your content online is… do both! Set aside a few hours each month to schedule strategic content on all of the platforms where you maintain a presence. We recommend at least 3 posts per week but don't overdo it. The more posts you create, the less likely people will see them (blame the algorithm and the billions of people using social media every day).
However, don't just stop there. Make it a point to pop in every day and engage with folks on social media and post something timely. Whether it's a picture of you at a conference or networking event, that blog you just published, or a live video – let your audience know that you are around.
This method of combining the two strategies ensures that you are consistent with your online presence but also reminds you that this experience is an exchange with your audience – not a one-way street. Social media is not a publishing platform where you post it, they come to read it and then they go away. It's an experience and a connection with you, the business owner. The best way to #BePrepared for social media success is to understand the value of both methods and then build a social media strategy that actually works.
Be sure to Follow us and Let's Engage!
Hollie Clere of The Social Media Advisor is a "#BeAwesome" Developer, Social Media, Brand Builder, Content Manager, Trainer and Author in LinkedIn, Facebook, Twitter, Blog, Google+, YouTube, Pinterest, Instagram, and the tools to manage them.
Click here for Social Media Training, Speaking and Strategy Consultations.
#BePrepared, consistency, scheduling your content, Social Media Strategy