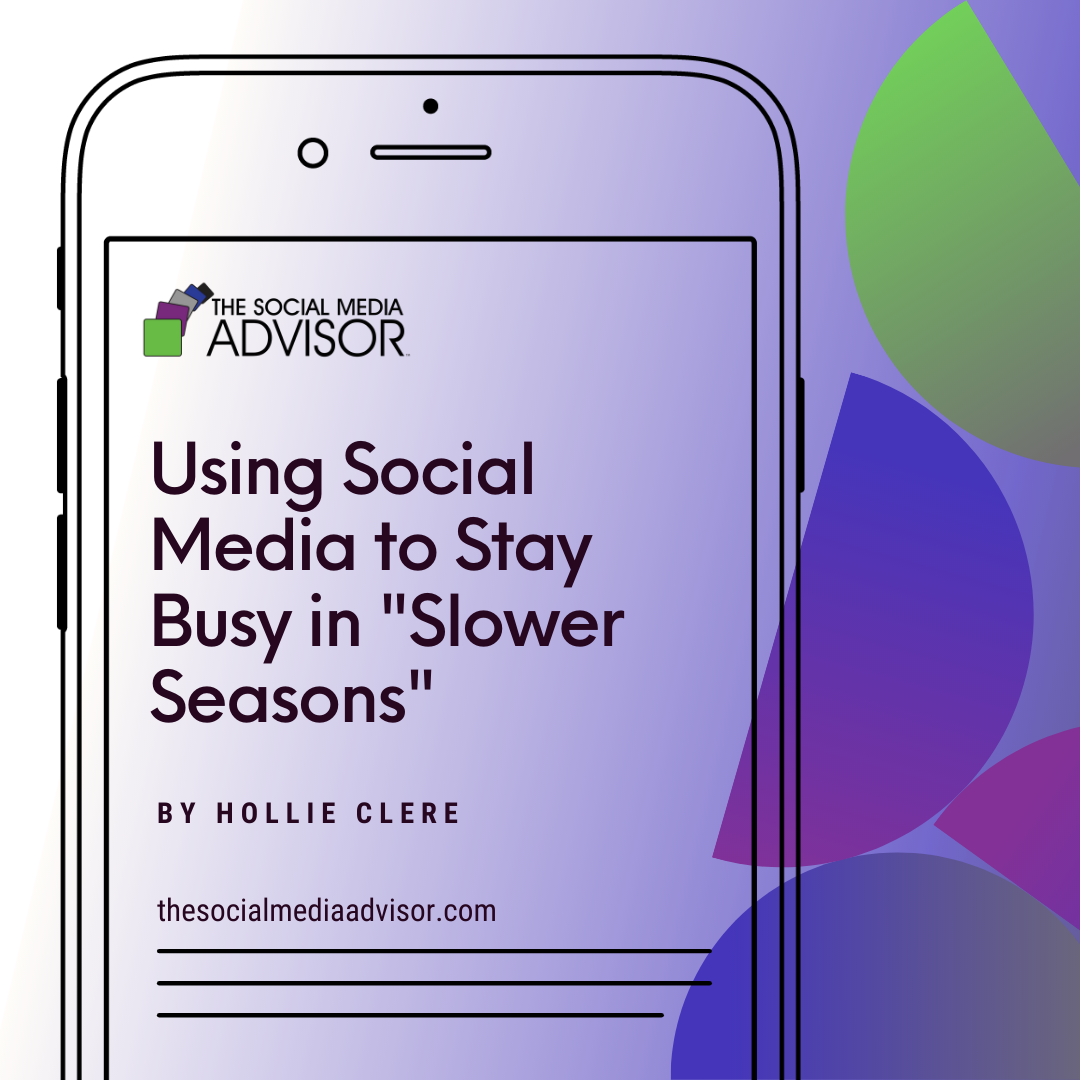 Using Social Media to Stay Busy in "Slower Seasons"
Depending on your business and industry, you may experience slow seasons throughout the year. For many B2B companies, the summer months are slower because potential clients are focused on getting outside, adventuring, and going on vacation. Perhaps, your company grinds to a halt after the new year or during the holiday season? 
Each business will experience their peaks and valleys throughout the year. The key is to understand when your slow seasons will happen and to plan for boosting your possible business during these times.
Save Your Best Ideas
Whether it's a contest, giveaway, large promotion, juicy discount, or simply the best content you've created all year, consider saving all those attractive social media posts for your slow season. 
You can still run promotions throughout the rest of the year but see if you can draw in clients or customers during your quietest time of year by saving the absolute best content for that time period.
Prep a Video Campaign
Really want to get your audience's attention? Design and develop a video marketing campaign. This tip is especially good for any small biz owners who haven't taken the plunge into video marketing yet. If you haven't put yourself out there yet, that's sure to get the attention of your audience during slow times!
Social Advertising
If you find that you, typically, don't need to invest in advertising to keep the dollars rolling in, you may not see the opportunity in creating and scheduling social media ads during the slow months to give your biz a boost. Plan for online and off-line advertising costs and build those into your marketing budget each year. This could be just the thing to save your bacon when things get slow and increase your bottom line for the year.
By intentionally posting videos and running ads during slower months, you can easily support the efforts you are doing through the use of newsletters, phone calls, handwritten notes, and attending networking events. If you are finding yourself slower, plan to increase your knee to knee activity by having virtual or in person meetings with more people and share your experiences with that meeting online.

If you are using social media yourself, you may have noticed that you engage with pages that share content you can relate with. Simply posting is not enough. You need engaging content that is easy to find and interesting enough to like, comment, or share. Are you ready to define your story and build a long term relationship with a loyal audience? Let's do a Discovery Session to see which of our programs best fit your social media marketing needs.
Be sure to Follow us and Let's Engage!
Hollie Clere of The Social Media Advisor is a "#BeAwesome" Developer, Social Media, Brand Builder, Content Manager, Trainer and Author in LinkedIn, Facebook, Twitter, Blog, Google+, YouTube, Pinterest, Instagram, and the tools to manage them.
Click here for Social Media Training, Speaking and Strategy Consultations.