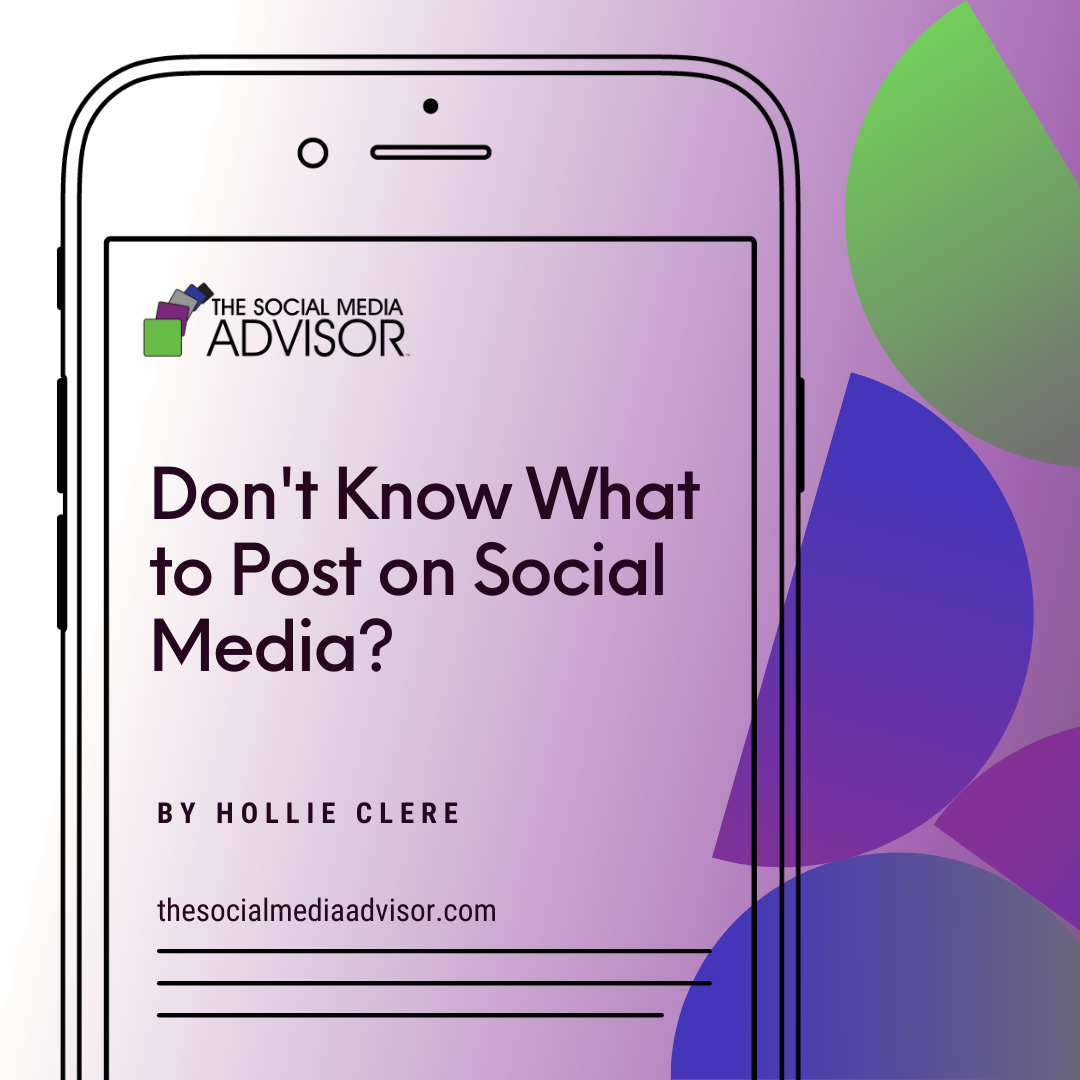 Don't Know What to Post on Social Media?
Have you ever found yourself in the mental space of, "Geex, it is 1:00 pm and it has been 3 weeks since I have posted anything on social media and I have no idea what to share?" Why is it so hard to come up with content for your social media channels?
A big part of the problem is that small business owners are trying to create content to sell their product, service, or event without considering their audience. Your social media marketing should be focused on building an audience of like-minded individuals and providing them value every week so they begin to know, like, and trust you enough to want to work with you. 
There's a simplicity behind what to share on social media that many biz owners overlook. It's as simple as creating content and social media posts where you spend time sharing your values, your ideas, and your best tips with people interested in the problem you solve.
The best advice we can give you right now is… create an editorial calendar. No more feeling uninspired or stuck when it comes to what to post next. Building an editorial calendar will help you get ahead of creating your content. 
Don't be that brand that feels scattered and all over the place! Picking a theme for each day will help you keep your values and topics in clear focus. Selecting weekly and monthly themes will help you stay on track towards your goals and ensure you stay relevant throughout all the seasons of the year.
If building your editorial calendar sounds confusing, frustrating, overwhelming, or downright scary, no worries. That is what we help you do in our Strategy Roadmaps or when you sign up for Monthly Posting Support.
If you are using social media yourself, you may have noticed that you engage with pages that share content you can relate with. Simply posting is not enough. You need engaging content that is easy to find and interesting enough to like, comment, or share. Are you ready to define your story and build a long term relationship with a loyal audience? Let's do a Discovery Session to see which of our programs best fit your social media marketing needs.
Be sure to Follow us and Let's Engage!
Hollie Clere of The Social Media Advisor is a "#BeAwesome" Developer, Social Media, Brand Builder, Content Manager, Trainer and Author in LinkedIn, Facebook, Twitter, Blog, Google+, YouTube, Pinterest, Instagram, and the tools to manage them.
Click here for Social Media Training, Speaking and Strategy Consultations.
Consistent Posts, Social Media, Social Media Marketing, Social Media Strategy