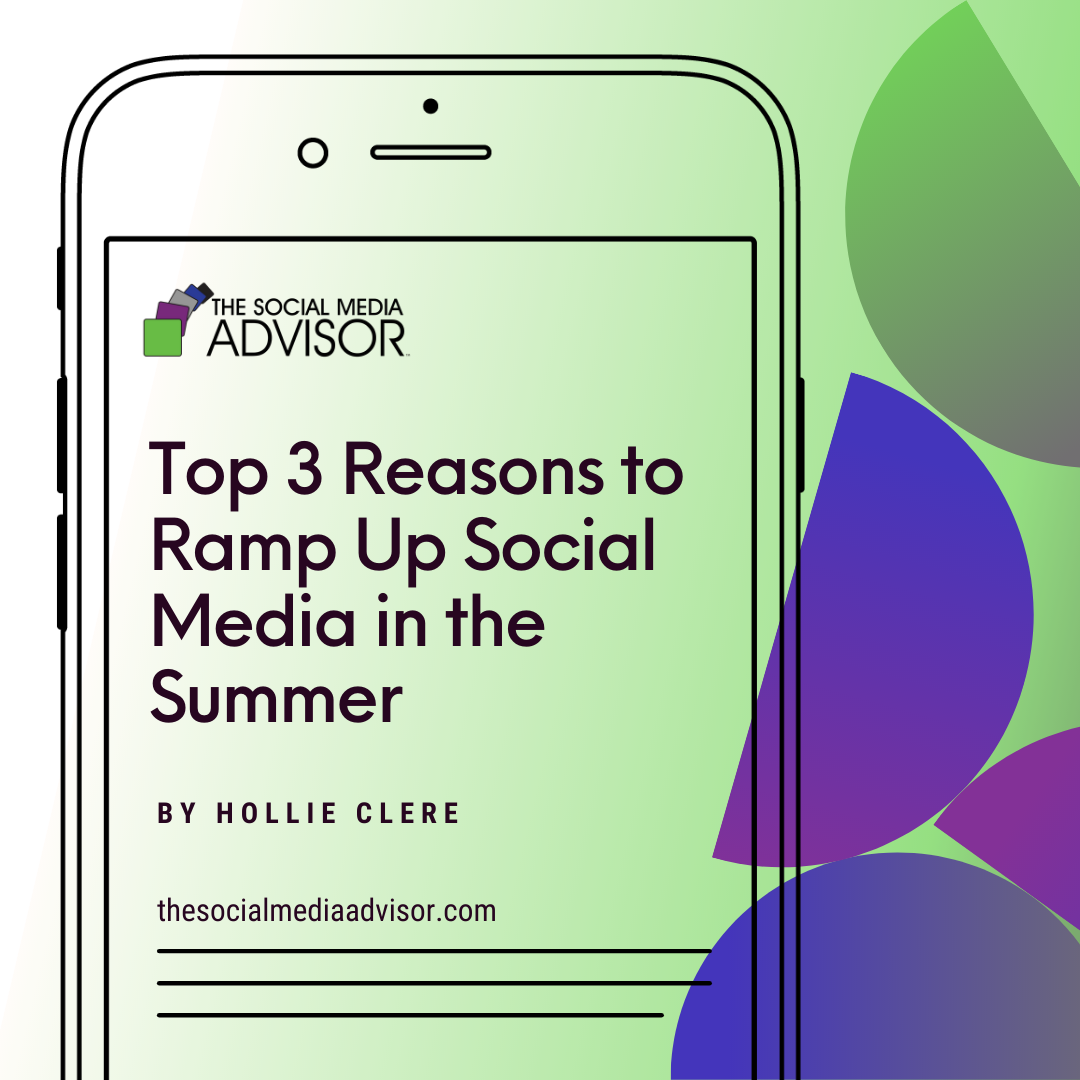 Top 3 Reasons to Ramp Up Social Media in the Summer
After decades of working with small business owners and coaches, we've found that many companies experience a dip in income once or twice a year. This can vary depending on the industry, location, and business but tends to occur in either the summer or winter months. 
However, this is not the time to abandon your social media marketing efforts! Everyone may 'be on vacation' but there are some solid reasons to keep at it this time of year. Here are our top 3 reasons to ramp up your social media marketing in the warmer months.
Planning Today, Impact Tomorrow
There's a valuable piece of business advice that makes the rounds in many of the networking groups I've been a part of and that is: what you do today is not likely to produce results until three months from today. That means you need to be thinking about your slow seasons way in advance. You'll have to give yourself enough time to plan and create content that you can share three months before you expect that annual dip. If you procrastinate on this, and then try to throw something together at the last minute, you'll often be disappointed in the result of your efforts.
Experimentation
If you are truly slow in summer, this could be a great season to test out content that you may have hesitated to post during your other launches or campaigns. Your slow season is an excellent opportunity to take some small risks, try something new, and get creative with finding new people and engaging your current audience.
Keep the Money Flowing
We've found that our clients that commit to social media marketing, even in slower seasons, find that they no longer experience a dip in income potential. Most of our clients have found that they no longer experience slow seasons and business is consistent throughout the year if they create and execute a social media strategy. We assist them in developing strategies around boosting posts and investing in paid ads to target new audiences while keeping an eye on specific outcomes and goals so that the business continues to grow all year long.
By posting consistently with a themed editorial calendar, busineses are able to strategically plan for those "slower" months so that the messaging isn't only relevant to the season, but relevant to what they can plan for in the upcoming months.
If you are using social media yourself, you may have noticed that you engage with pages that share content you can relate with. Simply posting is not enough. You need engaging content that is easy to find and interesting enough to like, comment, or share. Are you ready to define your story and build a long term relationship with a loyal audience? Let's do a Discovery Session to see which of our programs best fit your social media marketing needs.
Be sure to Follow us and Let's Engage!
Hollie Clere of The Social Media Advisor is a "#BeAwesome" Developer, Social Media, Brand Builder, Content Manager, Trainer and Author in LinkedIn, Facebook, Twitter, Blog, Google+, YouTube, Pinterest, Instagram, and the tools to manage them.
Click here for Social Media Training, Speaking and Strategy Consultations.