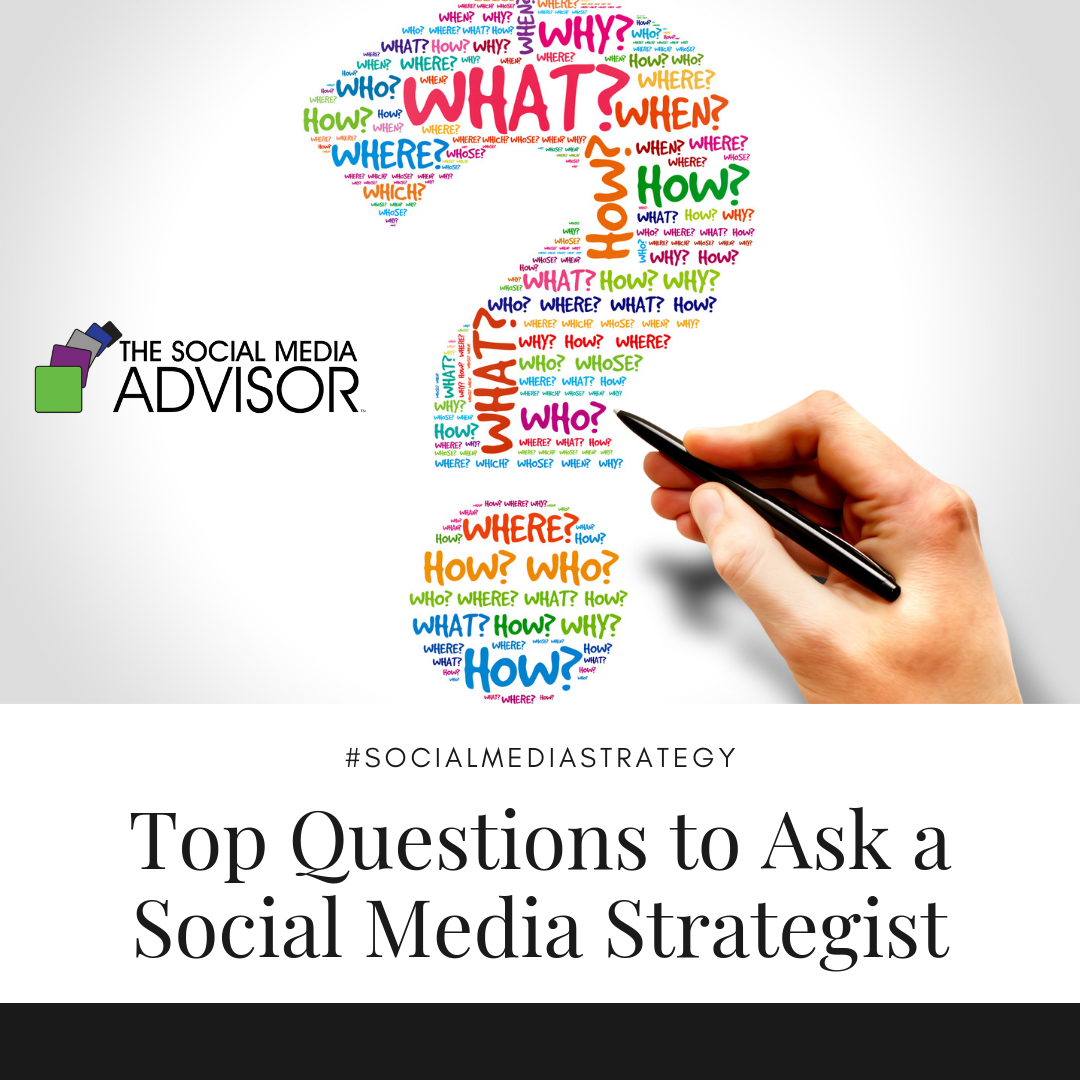 #SocialMediaStrategy – Top Questions to Ask a Social Media Strategist
Whether you are hiring a social media strategist to join your team full time or engaging a strategist on a contract basis, you need to make sure that the person who will be responsible for what the public sees on social media is a good fit for you and your company. Asking a series of key questions can also give you a head start on gathering the information you need for developing an effective social media strategy.
What are we doing right on social media, and what can we do to improve?
An experienced social media strategist can give you valuable insight into how your current efforts are performing. He or she will have an objective outlook that can help spot things you may have missed since you are so close to the content.
What is the best way to measure success?
There are a variety of ways to determine if your efforts are working, but clicks and shares only give you part of the picture. Your social media strategist can help you establish comprehensive metrics so that you can measure the success of your efforts both incrementally and long term.
What are some examples of successful social media strategies have you managed in the past? How are they similar to what we should do? How are they different?
An experienced social media strategist will be thrilled to describe the experience he or she has working under similar circumstances. Be sure to inquire about specific campaigns and how they made the most of the strengths and weakness of the various social media platforms.
How long will it take to get results?
Executing a successful social media strategy isn't magic and it won't happen overnight. A good social media strategist will give you a realistic picture of what kind of changes you can expect to see and how quickly.
What are the first three steps we should take in establishing our social media strategy?
There is no one right answer when it comes to how to get started on developing a strategy, but there are a few things that should be at the top of the list. Among these are understanding your audience, defining your goals and objectives, and determining how you will measure success.
If the prospect of determining whether or not a social media strategist has the answers you need seems overwhelming, then there is another option. You can take advantage of the Social Media Advisor's offer to provide you with their Quarterly Strategy Road Map Development program. This valuable program will provide you with insight into storytelling, strategy, and program development. You'll come away with practical tools that you can use to make sure you are making the most of social media to grow your business.
Be sure to Follow us and Let's Engage!
Hollie Clere of The Social Media Advisor is a "#BeAwesome" Developer, Social Media, Brand Builder, Content Manager, Trainer and Author in LinkedIn, Facebook, Twitter, Blog, Google+, YouTube, Pinterest, Instagram, and the tools to manage them.
Click here for Social Media Training, Speaking and Strategy Consultations.