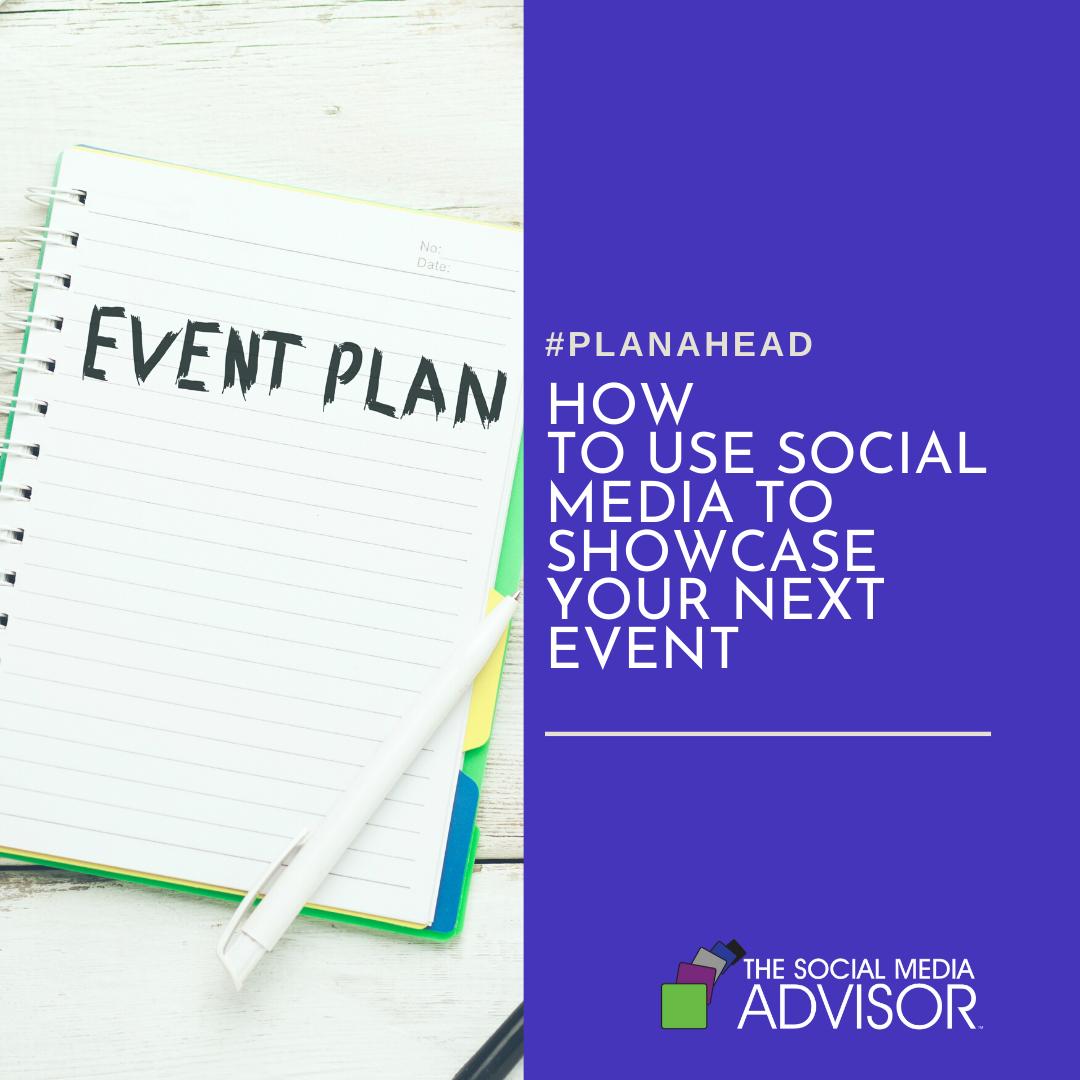 #PlanAhead – How to Use Social Media to Showcase Your Next Event
Event marketing, when done strategically, can be an effective way to build your brand, gain awareness for you and your business, and fill that client list. However, there are many events that end up with zero attendance. It's easy to get discouraged when it comes to event planning and marketing for growing your business. Here are some tips on using social media marketing to sell more tickets for your next event.
Highlight Your Speakers
By creating content around your speakers, you are demonstrating the value of attending your event. Not only should you announce your keynote and other speakers, but you should also be creating graphics with quotes or wisdom from each speaker, sharing their online content, and interviewing them to build up awareness and create the tension you need to sell those tickets!
Gather Media from Prior Events
If you've hosted this event before, pull out those photos and videos! This media is essential as it helps potential buyers to get a feel for what type of event it is and what they are in for if they purchase tickets. Make sure you are creating content for social media using these photos and videos. If you don't have any, prioritize getting these at your next event.
Testimonials
If you don't have written or video testimonials about how great your event is, start collecting them! These are great, not just for social media, but also for the event website or landing page. You can use them for Facebook advertising as well. Quite versatile and a great way to push people from indecision to action.
Create an Event Hashtag
One of the most beneficial uses for the hashtag is when it comes to promoting events. By creating an event hashtag, and encouraging others to use it, you are:
Grouping all of your event content, even content posted by attendees, in a way that makes it easy to search and find.
Encouraging attendees to share content about your event with their audiences.
Creating brand recognition for your event.
Making it easy to jump into the conversation and engage with your attendees online.
Let Folks See What's Behind the Curtain
It's easy to focus intently on all the planning, prep-work, and execution of the event and not even think about social media marketing. However, your audience builds excitement and interest when they get to see and engage with behind the scenes content.
Selling tickets to your next event is no small feat and, sometimes, can get lost in all the hustle and bustle of planning and executing the event. However, social media marketing is a great way to spread the message, remind your audience about your big event, and generate interest and excitement.
Be sure to Follow us and Let's Engage!
Hollie Clere of The Social Media Advisor is a "#BeAwesome" Developer, Social Media, Brand Builder, Content Manager, Trainer and Author in LinkedIn, Facebook, Twitter, Blog, Google+, YouTube, Pinterest, Instagram, and the tools to manage them.
Click here for Social Media Training, Speaking and Strategy Consultations.