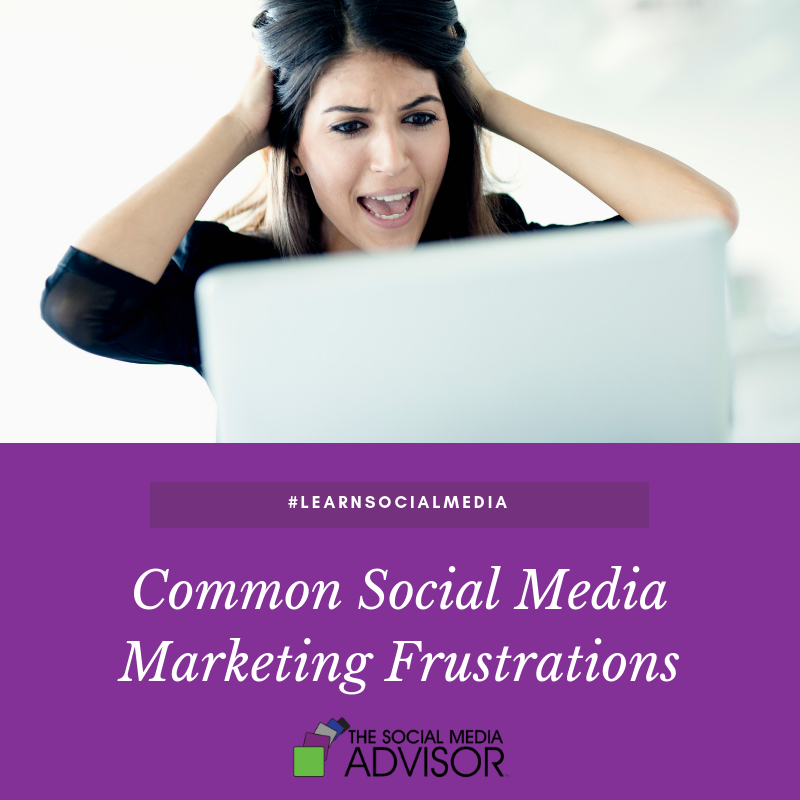 #LearnSocialMedia – Common Social Media Marketing Frustrations
Managing social media can be fun! You get to use your creative and analytical skills; you can make new friends, and get the adrenalin rush that comes with seeing your content get views. That's the good side. The downside is that in order to use social media successfully, you may have to overcome a variety of frustrations.
Luckily, there are things you can to do to ease the hard parts.
It's Harder than it Looks
The key to getting engagement is consistently creating compelling content. There are hundreds of resources available for how to do that and software to make your videos and graphics are easy to come by. So it should be easy, right? Well, coming up with content is harder than it looks. You need to set goals, know how you will measure success, and the content needs to be "good."
Prioritizing can be Tough
There is always something to do, and social media is no different. It can be difficult to determine what should be handled and when. When you try to balance that with your other priorities it can be tricky. The best strategy is to make a plan and stick to it. Also, a solid social media analysis done regularly can be eye-opening and help with prioritization.
It Always Takes Longer Than You Think
If you have ever created a video, then you know that it's never as quick as you think it will be. Writing quality content can also be more time consuming than you anticipate. Keep in mind that you will get back what you invest. Budget your time generously and press on.
It's Hard to Keep Up
Like everything in the tech world, social media is a moving target. Facebook, for example, is always looking for new ways to present its newsfeed, requirements for advertisers change, and platforms fall out of favor. Getting expert help can make it easier to keep up with the changing landscape.
Every Platform is Different 
Each social media platform has its own intricacies. What works on Twitter may not be effective on Instagram and vice versa. Your content needs to be tailored to the platform you are using.
If all of the above sounds discouraging it doesn't have to be. There are tools available that can help you navigate the frustrating world of social media management. One of the best is the Social Power Program. This online training system can help you fine-tune your existing strategy or create a brand new one. It can help you master what makes each social media platform unique and get the most from whichever ones you decide are best for your business.
The Social Power Program can help you learn how to create great content, prioritize your goals, and get the most from the resources you have. Whether you need training for yourself or for your team, it's one tool you can't live without.
Be sure to Follow us and Let's Engage!
Hollie Clere of The Social Media Advisor is a "#BeAwesome" Developer, Social Media, Brand Builder, Content Manager, Trainer and Author in LinkedIn, Facebook, Twitter, Blog, Google+, YouTube, Pinterest, Instagram, and the tools to manage them.
Click here for Social Media Training, Speaking and Strategy Consultations.