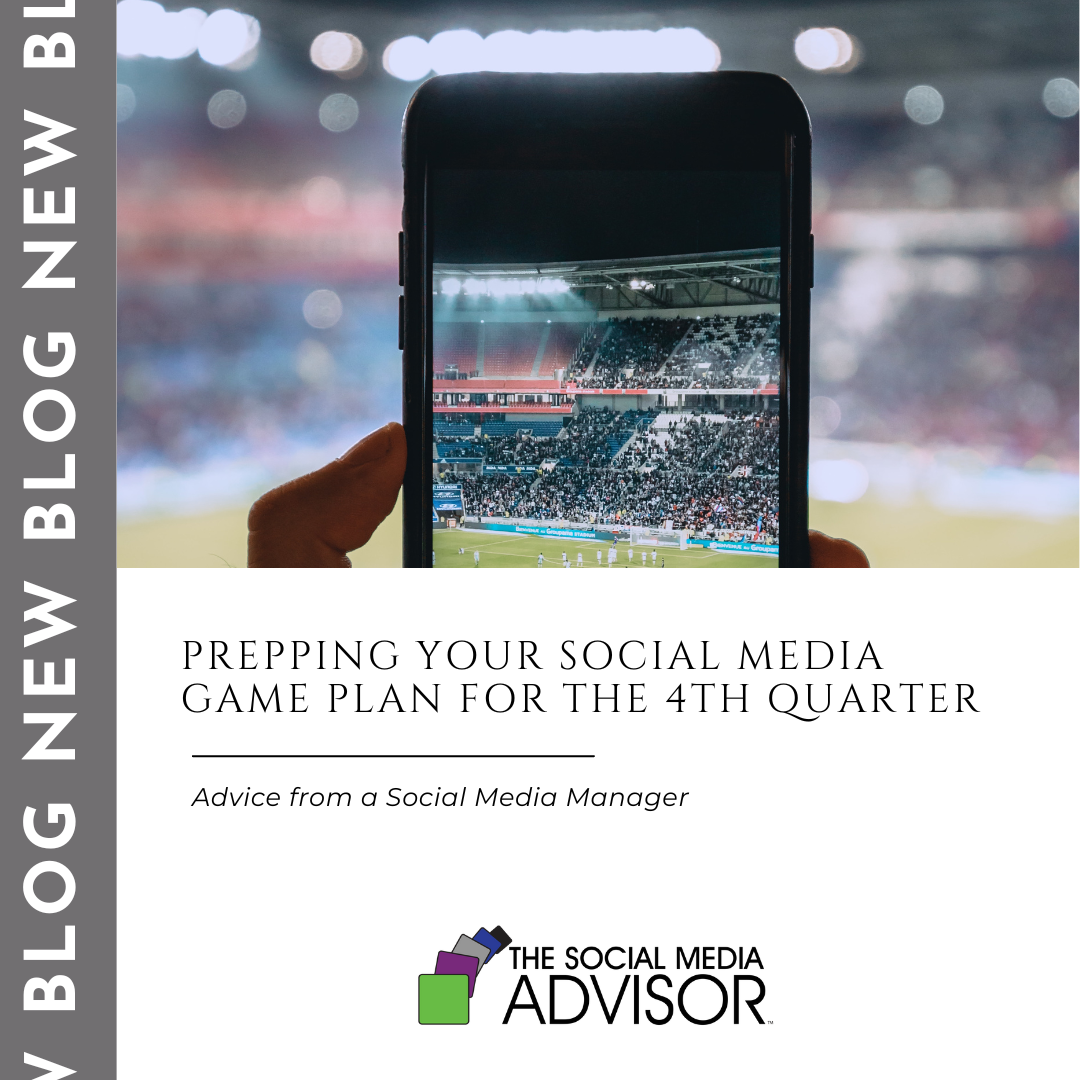 Whether you like it or not, we've reached the fourth quarter of your small business year. In a couple of months, you'll be able to tell whether you made your yearly dreams come true or if you fell short of your expectations for these past twelve months. If you haven't already, it's time to put together your social media game plan for the fourth quarter.
The End Zone
This is it. This is the last quarter of the year to make an impact with your small business. It's time to check your numbers and your goals. Are you on track to reach those milestones by year end? If not, then it's time to put together some marketing campaigns and promotions and try new things to get you over that finish line. If you are on track, is there anything you can do to stack the deck and go bigger than you even imagined? Now's the time to plot out your end game strategy for the year.
Blitz
This is the perfect time of year to go big or go home. If you have the motivation, energy, and resources, it's time to try new things and really put your business out there. Join a new networking group, create a new campaign, host a contest, finally start that email newsletter, buy some ads, or invest in support. Time is limited to make an impact this year and going ALL OUT in the fourth quarter could have truly wonderful results for your business. You can use social media to get the word out, get in front of new people, and connect with power players in your industry.
Holiday Season
Let's be honest, the fourth quarter of the year is when most businesses make the bulk of their profits. This is not the time to sit on the sidelines or check out. We've found that most social media marketing strategies and promotions take at least 60 days to be effective. That means if you have a holiday deal for December, you need to have your ducks in a row at the beginning of October.
Yes, I know, you don't want to think about the holidays yet. However, by the time you are 'in the mood', it'll be too late to promote your deals/specials. Everything will have holiday brain and will already have plans or be making plans of how to spend their seasonal dollars.
You must get ahead and start planning your holiday marketing strategy now to give yourself plenty of time to promote your offers.
Overtime
Since you aren't going to want to spend your Thanksgiving planning your New Year, New You plan – go ahead and put together your January social media strategy now. Yes, technically, January is a first quarter game, but your customers aren't the only ones who will want or need to check out during the holiday season and focus on more important things.
***** Is it becoming more difficult to create content for your small business to use in social media? Is there just not enough time in the day to be as consistent and present as you'd like to be online? The Social Media Advisor team can create a custom editorial calendar for your posts, create messaging and images that are aligned with your brand and culture, and schedule posts so you can take social media marketing off your very busy plate. Hire us to do the work so you don't have to. *****
Be sure to Follow us and Let's Engage!
Hollie Clere of The Social Media Advisor is a "#BeAwesome" Developer, Social Media, Brand Builder, Content Manager, Trainer and Author in LinkedIn, Facebook, Twitter, Blog, Google+, YouTube, Pinterest, Instagram, and the tools to manage them.
Click here for Social Media Training, Speaking and Strategy Consultations.