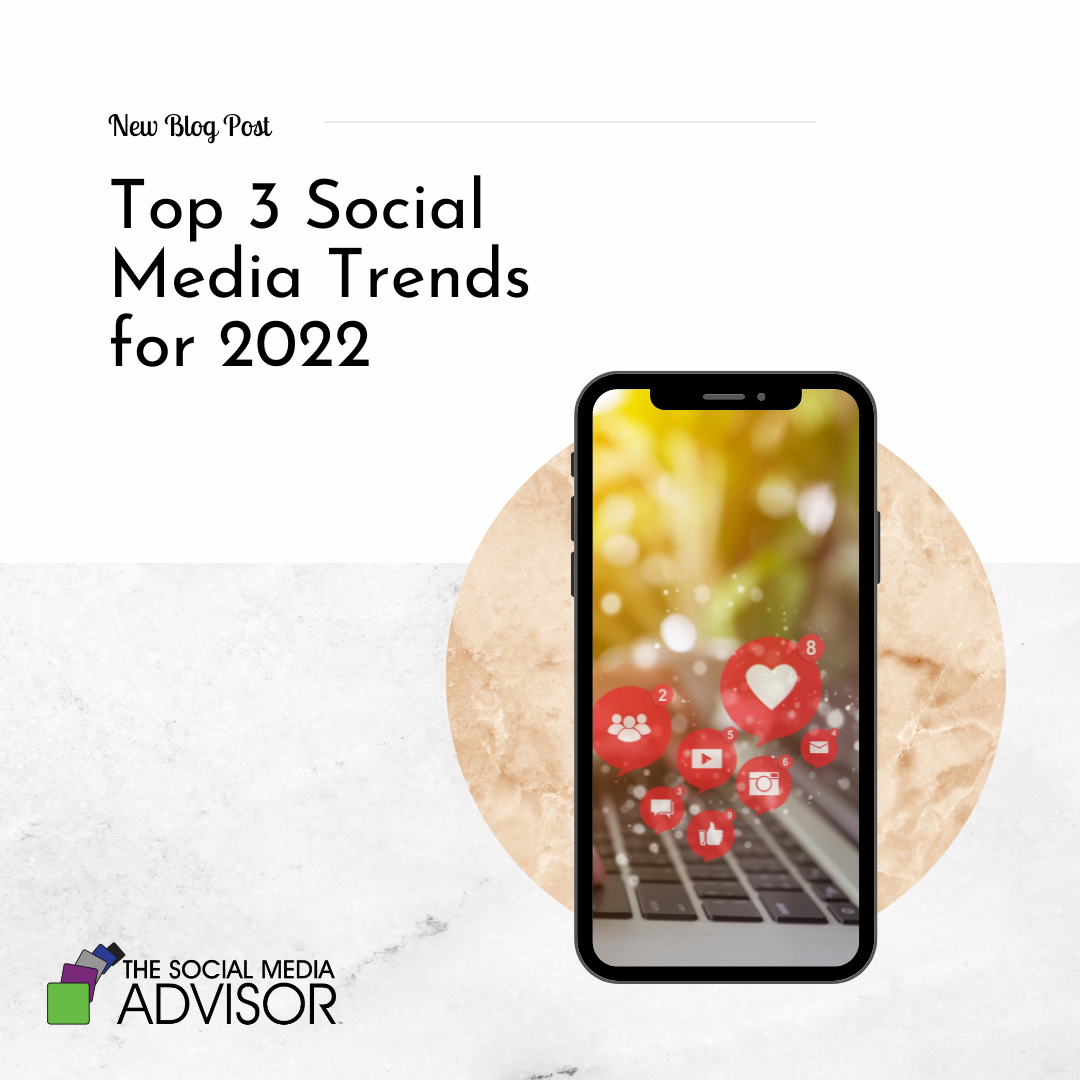 Top 3 Social Media Trends for 2022
Now that we are over half-way through the year, what social media trends have emerged? What is working for social media marketing today? Feeling like your stuck and need an inspiring new idea to reach people and increase engagement?
Here are the top 3 social media trends so far for 2022:
Social Listening

Every small business is trying to figure out how to get the most valuable thing in the world – the attention of their audience. Attention is the currency of online marketing. However, that means our audiences have exposure fatigue. All the brands are trying to get in front of them all the time, and it's exhausting. This is going to separate the really good content creators from the rest of the pack. How do you become a stand out on social media? You build a relationship with your audience and you ask them what they need. Why do they follow you? How can you help them transform their lives? Social listening is becoming a key component in the best social media marketing strategies and your small business should be doing that as well.
Short Form Video
Video isn't new. Video marketing has been the most effective form of online content for years long. However, long form videos are losing their shine. Unless you are building a YouTube channel, short form video is what people are consuming right now. Whether the videos are for TikTok, Instagram Reels, for Facebook – keep them short, entertaining, and engaging.
TikTok

Miss the early days of Facebook when organic reach and engagement was crazy effective? Yeah, everyone does. Unfortunately, the more popular a social media app becomes, the harder it is to achieve organic results. Right now, TikTok is newly popular and the organic reach is fantastic. So, everyone is jumping ship to try this new video platform. That means there is a short, narrow window before TikTok becomes the new Facebook. And businesses are not missing the boat. Does that mean you should join the TikTok bandwagon? That depends. Can you ramp up quickly? Are you ready to learn a new platform? Is your audience watching videos on the app? Are you willing to make a lot, seriously a ton, of short videos every week? If you answer isn't HECK YES to each of these questions, I'd recommend not spending the time and energy getting to learn a new channel that you can't be successful using. If it is a yes, stop reading this blog and starting using the app ASAP. The more you use it, the better you'll get.
Social media trends are just that… trends. They are no substitute for the long effective tactics of creating a social media strategy, building an editorial calendar, telling stories and building relationships with your audience. If you are already doing these things and want to amp up your efforts right now, these trends may be just the thing.
Be sure to Follow us and Let's Engage!
Hollie Clere of The Social Media Advisor is a "#BeAwesome" Developer, Social Media, Brand Builder, Content Manager, Trainer and Author in LinkedIn, Facebook, Twitter, Blog, Google+, YouTube, Pinterest, Instagram, and the tools to manage them.
Click here for Social Media Training, Speaking and Strategy Consultations.