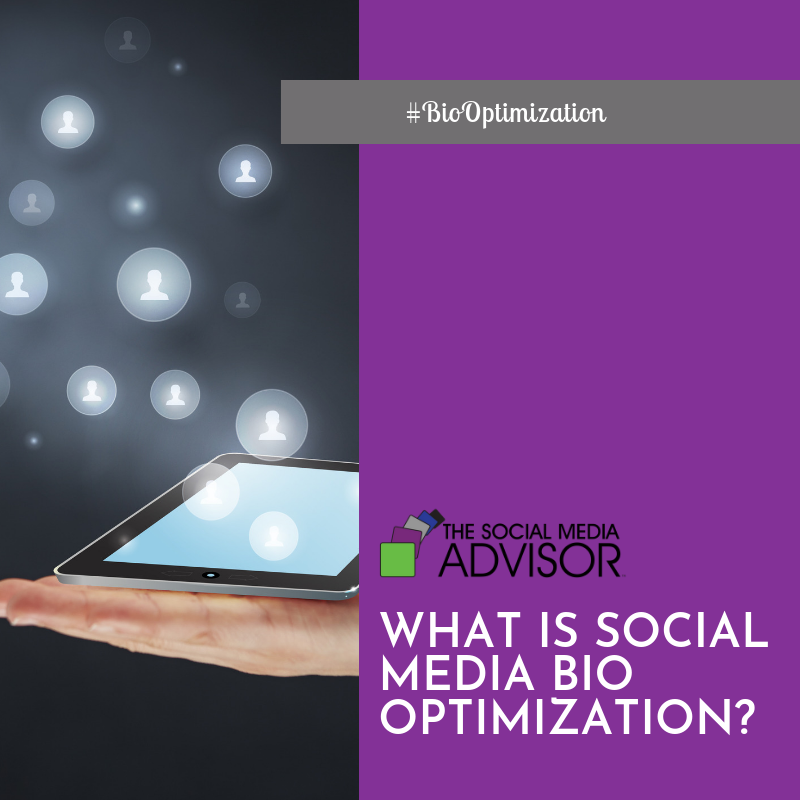 #BioOptimization – What is Social Media Bio Optimization?
You already know that your social media profiles are important because they're your best chance of making a good first impression. What you may not know, however, is that they can help you get found. In other words, they are searchable.
So how do you optimize your social media bios to ensure that they help you get visibility when someone searches for you or your company?
Here are five tips to help you make sure that when people are looking for you, they can find you:
Choose your words carefully: Like standard SEO, social media bio optimization requires that you choose keywords that sum up your brand. You don't want to overdo it, but you do want to make sure that you use keywords that will help you attract the kind of customers you want. Often you are limited in characters, so, be clear, concise and strategic in your copy.
Be consistent across sites: While some people use a variety of platforms, you may only get one shot to get your message out. Be sure that the information you provide tells a consistent story about your brand and broadcasts the same message no matter what platform your customers use to find you.
Use what you've got: Each social media platform has unique requirements and limitations as far as the length of your profile goes. You want to make the most of all the space you have. Twitter, for example, gives you 160 characters including spaces. That's not much room, but it does give you enough space for a pithy description. A little humor might not hurt either. The important thing is that people can find you and that you leave a good impression.
Use links where appropriate: Where you can, link to your website and other profiles. You want to make it easy on your audience to see whatever is essential all in one place if you can.
Put your best face forward: In addition to links and keywords, your bio should showcase your best content, media, and other information that will help to build your authority.
The point of optimizing your social media bios is so that people can find you and to make it easier for them to learn about you. Keep in mind that finding the right keywords and preparing a summary that shows you in the best possible light can be tricky. If you want to ensure that you are hitting the mark, consider getting expert assistance. The prepackaged services offered by the Social Media Advisor can help you build your social media and revamp your profile to guarantee that you get found.
Be sure to Follow us and Let's Engage!
Hollie Clere of The Social Media Advisor is a "#BeAwesome" Developer, Social Media, Brand Builder, Content Manager, Trainer and Author in LinkedIn, Facebook, Twitter, Blog, Google+, YouTube, Pinterest, Instagram, and the tools to manage them.
Click here for Social Media Training, Speaking and Strategy Consultations.