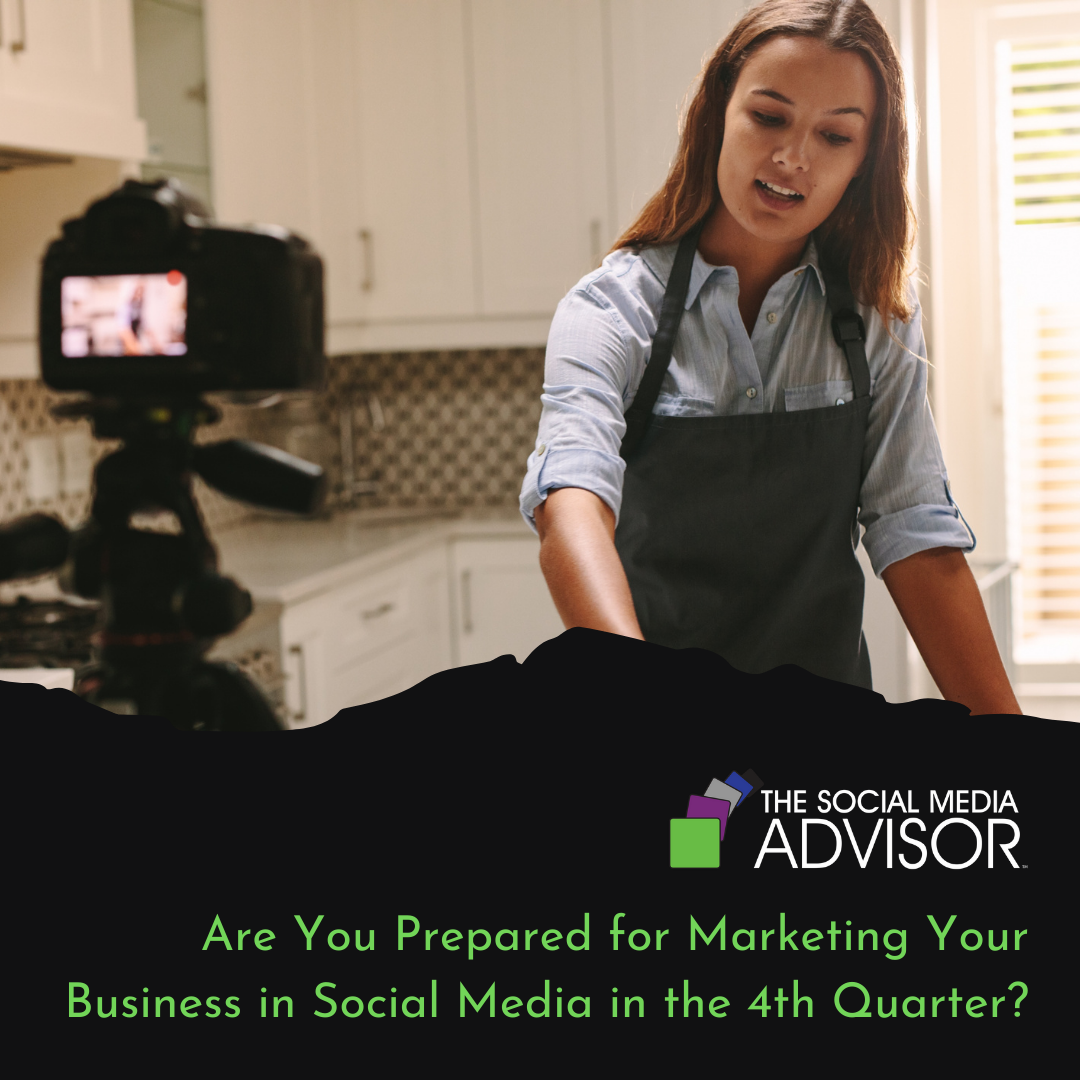 Are You Prepared for Marketing Your Business in Social Media in the 4th Quarter?
As it always does in business, the fourth quarter has snuck up on us! Now that the hazy days of summer are gone, it's time to revisit your business strategy for the last quarter of the year. The earlier you start this process, the better prepared you will be to tackle the rest of the year.
Here are some things you can do right now to ensure a healthy bottom line by year-end:
Check-In
People are back to work and their focus is renewed right now. It's a great time to check-in or follow up with leads, customers, and power partners. Also, check-in with your social media marketing efforts. Have you been consistent in your posting and showing up online?
Review Your Goals
Now that summer is in the rearview mirror, it's time to take another look at your yearly goals. Are you on track, behind, or are there goals you can push to next year or eliminate completely? This evaluation process will help renew your focus going into the fourth quarter and re-energize you to knock some of those goals out of the park this year!
Holiday Prep
As we look at the end of the year, if you haven't already created a holiday marketing strategy to carry you through – it's time to do so. What contests, giveaways, discounts or specials do you want to launch this holiday season? When it comes to promoting your holiday marketing campaign, it's key to start promotion early and not wait until the last minute to announce your Black Friday sales or holiday discounts.
Also, what can you do NOW to beef up your followers and lists heading into the holiday season?
Outsourcing Your Social Media Marketing
What do you have in place to support your business for 4th quarter? Are you running out of time to do your social media and blogs? Do you have a budget to bring someone in to do them for you?  When you don't enjoy doing something because don't have the expertise or you no longer have the time to it, it will actually save you more time and money by bringing in a specialist. Kick frustration to the curb and hire an experienced social media management team!
The Social Media Advisor team can create a custom editorial calendar for your business, create on-target messaging and branded images aligned with your culture, and get it scheduled each month – taking this huge task off your plate entirely! Ask us more about our Monthly Social Media Management service!
Be sure to Follow us and Let's Engage!
Hollie Clere of The Social Media Advisor is a "#BeAwesome" Developer, Social Media, Brand Builder, Content Manager, Trainer and Author in LinkedIn, Facebook, Twitter, Blog, Google+, YouTube, Pinterest, Instagram, and the tools to manage them.
Click here for Social Media Training, Speaking and Strategy Consultations.
monthly social media management, Social Media Management, Social Media Manager