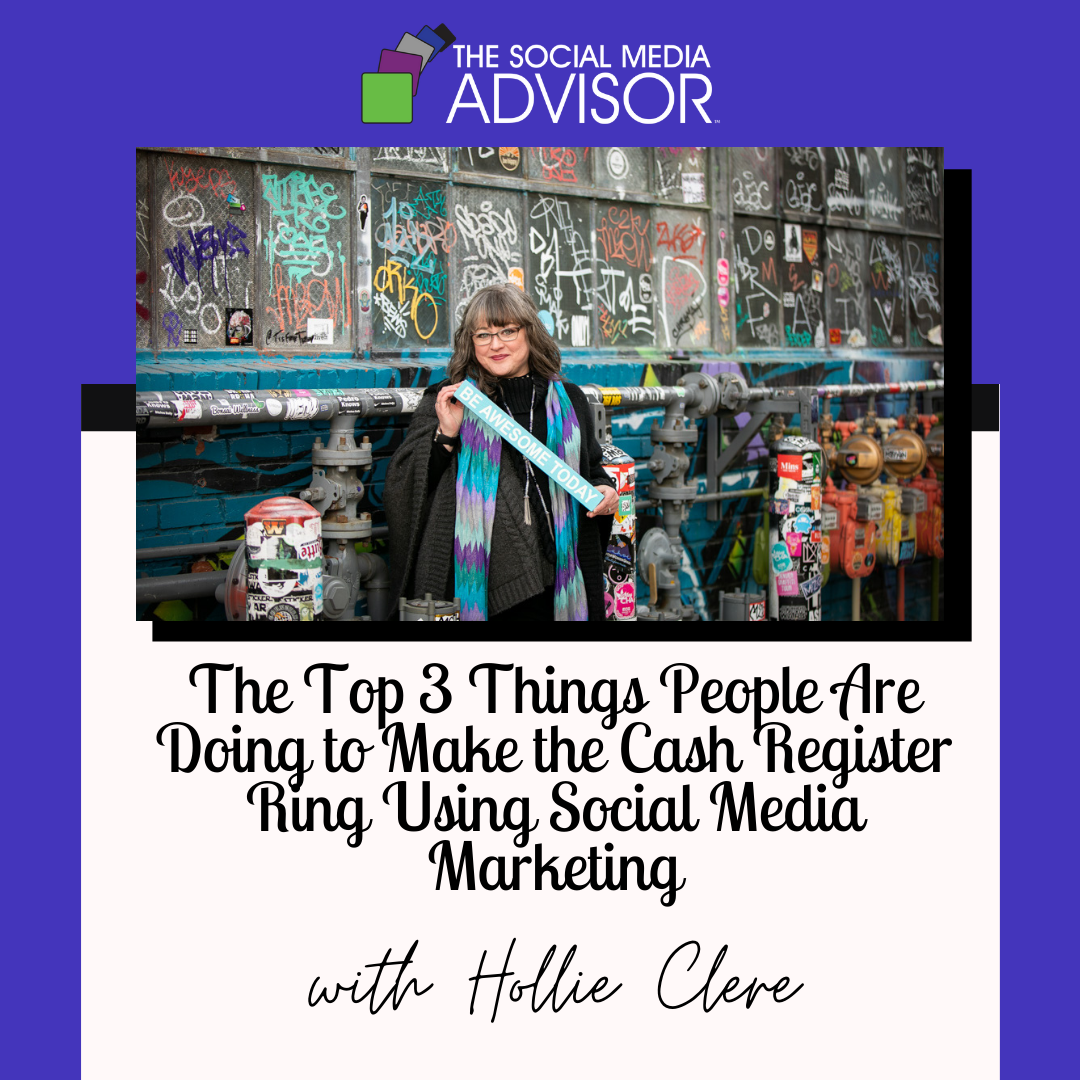 The Top 3 Things People Are Doing to Make the Cash Register Ring Using Social Media Marketing
The way marketing works today doesn't make a lot of sense to most business owners. Why? Because they are thinking about the sale – how to get the sale yesterday. Unfortunately, consumers are really turned off by this approach. People are tired of the hard sell. You have to warm up your prospects first by getting them to know, like, and trust you. This process takes work and time and doesn't always return immediate, obvious results – BUT it is the path to long-term growth and profit.
What can you start doing today to build towards warming up those prospects?
Valuable Content
"If you're not putting out relevant content in relevant places – you don't exist."
Gary Vaynerchuk
Your potential customers are going to Google you. What they do (or don't) find is often the determining factor in whether or not they move forward and approach you as a business. Creating and sharing valuable and generous content allows people to get to know you, your message, and your mission. It's important to build an online presence and even more essential to do it with content that your audience will want to consume. If your content isn't at least entertaining it should certainly be helping your potential customers to solve their own pain points.
The process of creating and sharing valuable content is what takes an individual from a stranger to a brand advocate. When done well, it will keep growing your audience and persuading people that you are the person to hire or purchase from.
Video Marketing
"Brands grow revenue 49% faster yearly by adding video to their marketing strategy."
Vidyard
While it's simple to scroll past regular content, an interest in your video content forces the viewer to stop, slow down, and really listen to your story and message. This process helps the viewer to get to know and like you – while earning trust for you and your brand. It's the perfect marketing tool for gaining the awareness and attention you need to convert followers into buyers. As a social media manager, I can honestly say that the clients that incorporate video into their social media marketing strategy get better reach and engagement than those who do not.
Want more sales? It's time to press record and start sharing your story and building relationships with your audience.
Event Marketing
"Credibility comes from results. Everything else is just marketing."
Richie Norton
One of the fastest ways to gain attention and earn trust is by working on growing your authority and credibility as a business owner. There are many ways to do this work but I've found that speaking and hosting events works well. The more you put your brand out there and help people solve their own problems, the more credibility you will earn. Credibility equals trust and word of mouth which results in profit.
Unfortunately, there's no one easy tip or trick that will make you money today. But if you want to ensure that the cash register will ring in the future, it's time to put your efforts into creating and sharing valuable content, showing up on video, and building your business credibility.
Are you struggling with not understanding how to use social media for your business?  Not sure when to post, how to post, or what #Hashtags even are? Over a 3-month period, we will develop a Road Map of exactly how to use social media for your business. During our Quarterly Strategy Road Map period, we will work on ads, reporting, creating posts for higher engagement, and breaking through fears and frustrations regarding social media marketing.
Be sure to Follow us and Let's Engage!
Hollie Clere of The Social Media Advisor is a "#BeAwesome" Developer, Social Media, Brand Builder, Content Manager, Trainer and Author in LinkedIn, Facebook, Twitter, Blog, Google+, YouTube, Pinterest, Instagram, and the tools to manage them.
Click here for Social Media Training, Speaking and Strategy Consultations.