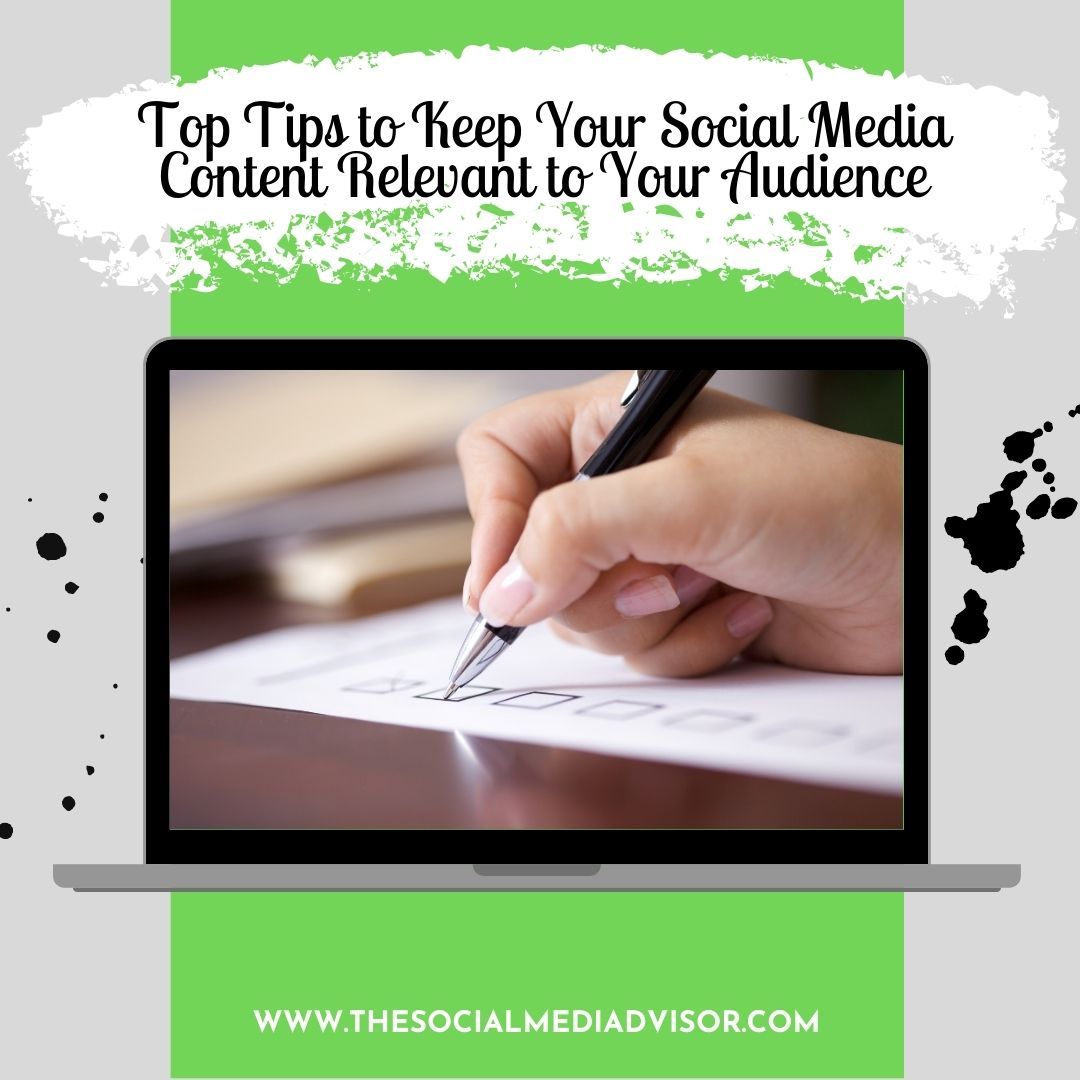 Top Tips to Keep Your Social Media Content Relevant to Your Audience
If you haven't gotten on social media to promote your business yet, it's not too late to start. Did you set up a profile once but have since abandoned it because you found the whole process overwhelming or didn't achieve the immediate response you expected? 
Like anything worth doing, staying relevant on social media takes work. It's nice to have a place where you can connect with your target audience in real-time, but that doesn't mean they'll be easy to find right out of the gate. There are right, and wrong, ways to use social media for a business and we've seen it all!
Here are our top tips for staying relevant on social media as a business: 
Creating Original Content for Your Brand
Anytime you update your website, create marketing materials, or post on social media – you are creating content. Content Marketing is a broad term describing any copy, design, or video elements you create for your brand and then share with your audience. Much of content marketing happens online via a company's website and social media channels. 
What tends to happen with small businesses, or businesses new to social media, is that they spend the bulk of their time sharing content that other people have created. The idea behind this strategy is to have a consistent presence on social, but it doesn't work well because you are not actually making an impact with your audience in regards to your own business or brand. Often you are sending your audience away – to some other brand creator's social media account. 
"To positively impact your audience and your bottom line, your content must be tied to your business." Christina Perricone, Hubspot
This means that you have to invest time, energy, and money into creating original content around what you do, why you do it, and who you do it for. What's the point of following you on social media if you have nothing original or interesting to say? 
To stay relevant on social, you need to be sharing informational, inspirational, educational, or entertaining posts, images, audio, and video to earn the attention and trust you need to convert your followers into customers.
How to Stay Relevant on Social Media
After 15 years in the social media marketing space, my team has noticed definite trends in what does (and doesn't) work well when it comes to social marketing. 
If you want to stay relevant on social as a brand, here's what you need to avoid:
Posting content that directs people away from your channel or website.

Focusing too much on sales and not enough on relationship-building.

Not having a clear call to action.

Neglecting to share your brand stories.

Only posting when inspiration strikes instead of being consistent.

Not paying attention to current events and ensuring your content is not insensitive. 

Not being responsive to people who engage with your posts.

Posting text only posts on visual platforms.

Not taking advantage of hashtags. 

Posting content that is overly personal OR posting content that is completely impersonal (this requires a somewhere-in-the-middle approach).

Trying to be everywhere all at once. 

Speed through setting up your social media profile(s).
While that's not a comprehensive list, it does cover most of the basics. To stay relevant, focus on the exact opposite when it comes to sharing content:
Invest in creating original content about and for your business.

Follow the 80/20 rule of posting only 20% promotional or sales content and 80% content that is entertaining, educational, informational, or inspirational.

Let your audience know what you want them to do next. Don't leave the next move up to their imaginations.

Know your brand stories and get comfortable sharing them in creative ways to help your audience get to know, like, and trust you.

Build an editorial calendar to help you stay consistent when posting on social media.

When something big happens in the world, double-check that the content you have created and scheduled isn't insensitive or untimely.

Create time to engage with people on your chosen social media platforms and respond to those who have taken the time to engage with you. People can tell if you are simply posting and walking away.

Social media is meant to be social.

We highly recommend using attention-grabbing visuals and video in your social media strategy.

Learn to love hashtags – what they are, how they are used, and how they can help your content get found!

You want to establish a connection with your audience by being the real, authentic you but remember that being too personal, too early is actually a turn-off for people. Keep your eye on sharing content about your brand and establishing relationships with folks.

No one can be a master at all the social media platforms at once. Pick 1 or 2 that you like using and start there.

Take advantage of all the characters and space a social media platform gives you on your profile pages. A robust profile will often convert strangers into followers and followers into customers – plus those added keywords help you get found!
Does this mean that you have to do everything yourself to stay relevant on social media? Of course not! You can absolutely hire an experienced social media manager to help you establish a social media strategy, create original content, and stay consistent on your channels. However, understanding how this works will help you stay relevant and on top of your own social media marketing success.
When to Shift Your Message
It seems like there's a new fire to put out every week anymore, but that's no reason to check-out. This is especially true if you have a social media presence for your business. It only takes one big news story to change your content from being humorous to being offensive and brands don't always see it coming. 
It helps if a business understands their BIG vision for their work and the impact they want to make in the world. This process gives a small business owner a compass for decision-making. It helps for that founder, and their audience, to know right away where the company stands on any particular topic. 
Since most social media crises happen out of the blue, it's important to establish a social media crisis response plan for your business. Create a social media policy, make certain your accounts are secure with strong passwords and an authentication process, and don't be afraid to pause your scheduled posts to ride out a potentially-damaging wave, if something troublesome arises.
When You Need Support
Every social media platform is searchable. Do you have the right keywords and information on your profiles? Is your messaging current? Did you take advantage of all the space available so that it's easier for your audience to find you and resonate with what you do? 
Now is the time to revamp your social media channels to get found by your people so you can make a bigger impact with your work. Every word matters. We help small businesses, like yours, maximize the potential of their profiles. Book a session with us to find out about our Robust Profile Optimizations for social media!

Be sure to Follow us and Let's Engage!
Hollie Clere of The Social Media Advisor is a "#BeAwesome" Developer, Social Media, Brand Builder, Content Manager, Trainer and Author in LinkedIn, Facebook, Twitter, Blog, Google+, YouTube, Pinterest, Instagram, and the tools to manage them.
Click here for Social Media Training, Speaking and Strategy Consultations.
Bio Optimization, Social Media Marketing, Social Media Strategy