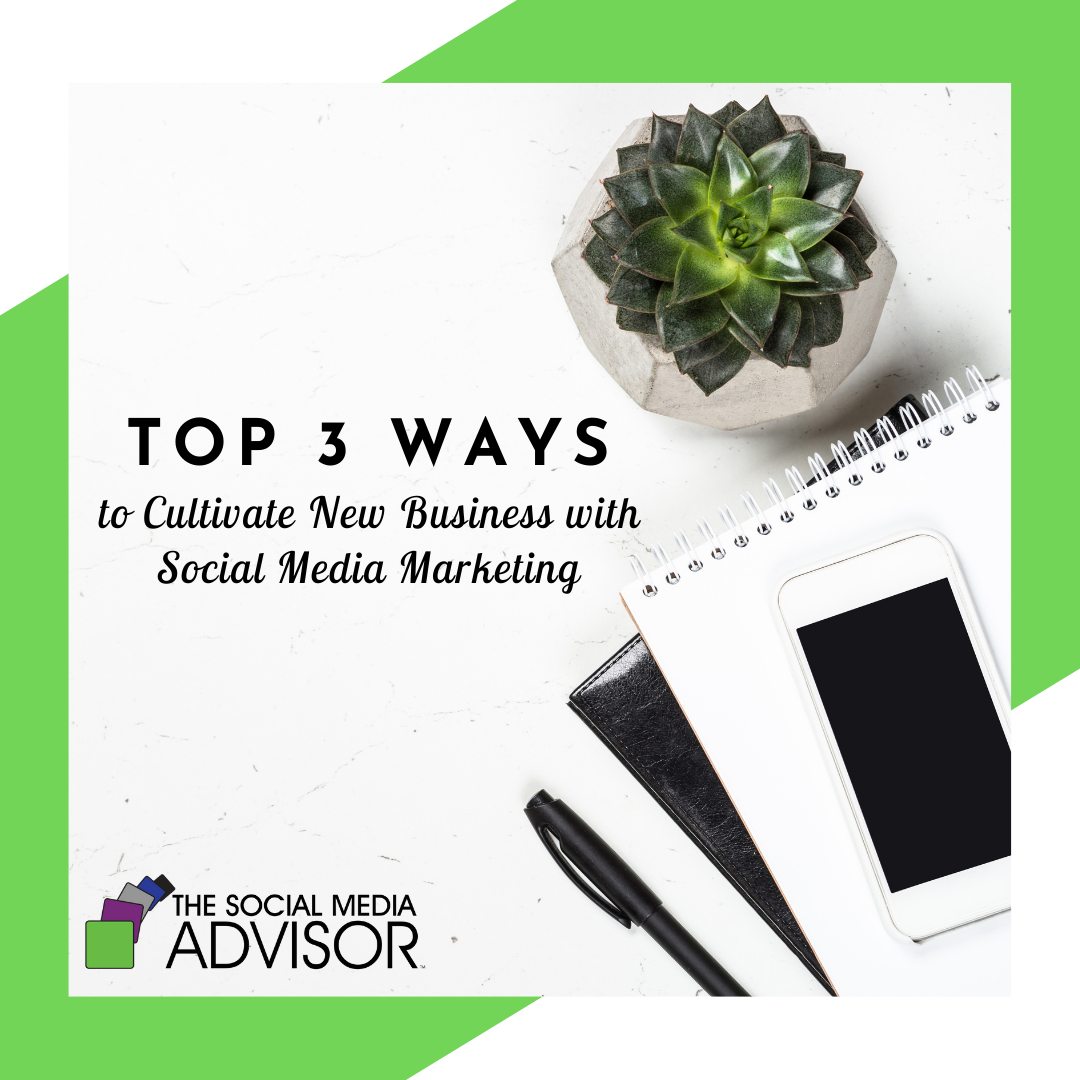 Top 3 Ways to Cultivate New Business with Social Media Marketing
You've probably been told that your business should be on social media but you've just not taken the time to figure it out OR you've tried your hand at social but just couldn't get it to work for you. Just know that you're not alone. Finding new business on social media is very possible but you may need a guide and a cheerleader to show the way and cheer you on!
Here are our top three ways to find new business on social media:
Consistency
Consistency is the most common piece of advice from social media marketing experts and the one small business owners find the most difficult to follow. Because there is not always an immediate benefit to sharing something on social media, it can feel like your efforts aren't valued and may be a waste of time. However, every new business on social media starts in the same place. You have to earn the right to have an engaged audience by showing up consistently and sharing content that your audience finds valuable. If you only post occasionally, or when you think about it, you are training people that you aren't dependable or reliable. You aren't giving them a reason to stick around. Invest in posting consistently for six months in a row. I promise you'll see a major difference in your results!
Trust
Trust is the #1 reason people choose to work with any small business. Purchasing is an emotional experience. Recent studies have shown that no amount of logic will convince someone to pull out their credit card or sign the dotted line. There is always an emotional reason behind why we purchase anything. Emotions = vulnerability. This is why trust is so key to the conversion process.
Here are some things buyers may consider before buying:
Have I heard of this company before?

Has anyone recommended this company before?

How does their brand make me feel?

Do they make a social impact?

Are they trustworthy? What sort of reputation do they have?

What can I find out about them online?

Where can I find out what other buyers think about them?

Does their website and social media grab my attention and, if so, does what they share resonate with my values and what I believe in?

What am I going to get out of this exchange?

Are they going to make it worth my time to pay attention or purchase?

Do I trust them? Will they do what they promise? Will this be a good investment for me?
These are just some of the things buyers consider when they are trying to make a purchasing decision. All of them are rooted in trust. The more you show up, the more you share your brand messaging, the more you interact with others online, the more opportunities you have to showcase that you are a trustworthy brand.
Interest
One of the biggest social media marketing mistakes is when a small business talks about what they are interested in without giving any consideration to the interests of their audience. This is why posting too much promotional content is bad news: no one wants to engage with someone who's clearly only there to get money out of the interaction. While we know that your marketing efforts are about converting followers into customers, it's essential that what you share is interesting to the audience first and foremost. Otherwise, why should they stick around to see more of your posts? Be interesting, be present, share ideas and information that are valuable to our audience – these are the paths to building the trust necessary for someone to choose to do business with you.
Are you struggling with not knowing how to use social media for your business?  Not sure when to post, how to post, or what #Hashtags even are? Over three months, we will develop a roadmap of exactly how to use social media for your business in our Quarterly Roadmap Sessions.  We will work on ads, reporting, creating posts for higher engagement, and break through the fears and frustrations small businesses experience with social media marketing. Let's chat.

Be sure to Follow us and Let's Engage!
Hollie Clere of The Social Media Advisor is a "#BeAwesome" Developer, Social Media, Brand Builder, Content Manager, Trainer and Author in LinkedIn, Facebook, Twitter, Blog, Google+, YouTube, Pinterest, Instagram, and the tools to manage them.
Click here for Social Media Training, Speaking and Strategy Consultations.
Social Media Management, Social Media Marketing, Social Media Strategy