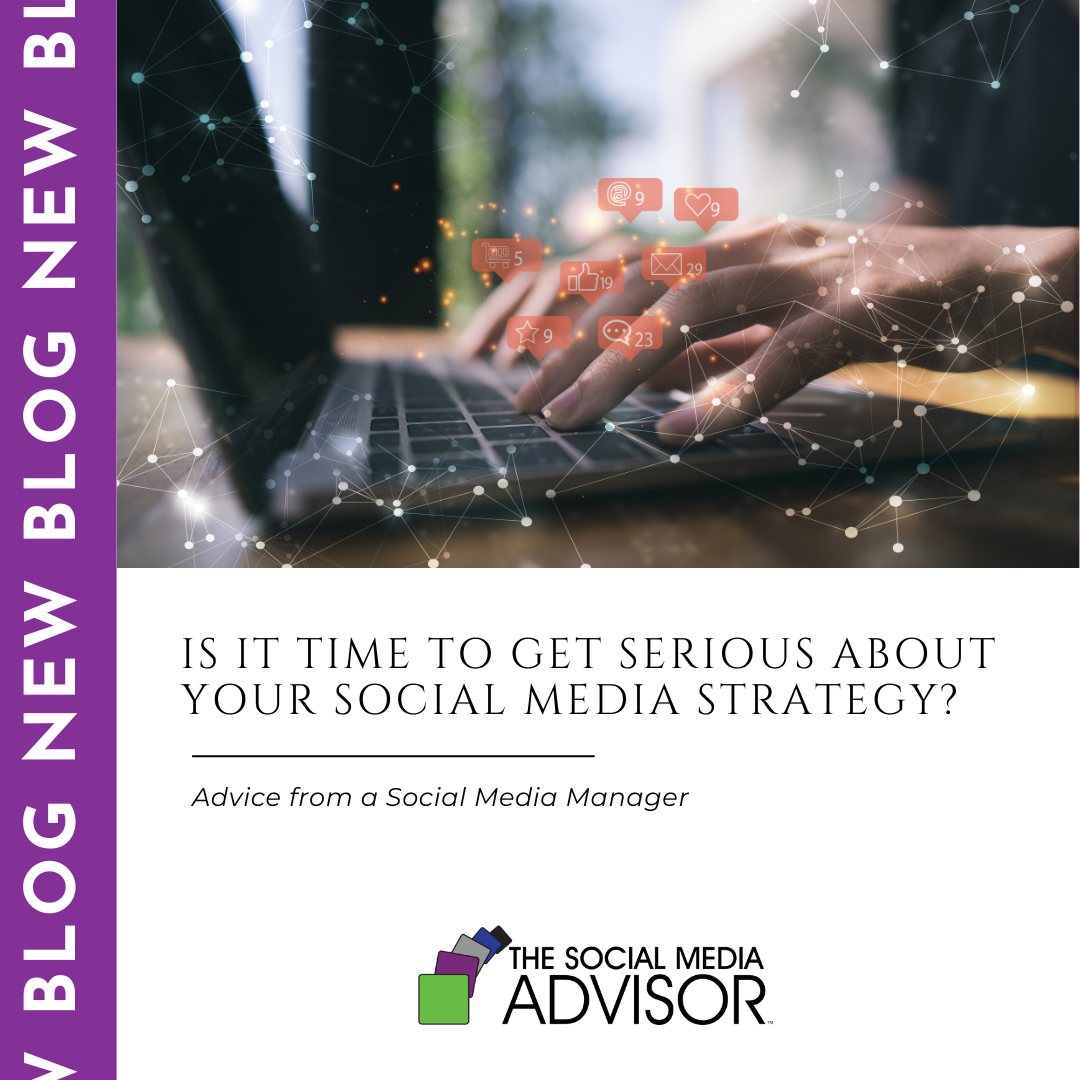 Is it Time to Get Serious About Your Social Media Strategy?
I've been in the social media marketing game for a long time (approaching two decades at this point), so few know better than I the potential that exists for small businesses who want to market their work on social media. However, many businesses don't have a social media marketing strategy at all. They post something when they have an idea, or when they remember to do so, but it's not a priority and it's, most likely, not effective.
A social media strategy requires putting thought and planning to what, where, and when you plan to post and what content you want to create.
If you are ready to finally get serious about your social media marketing, here's what I want you to do:
Keep the end in mind.
Just like an author writing a book, you are going to see more results when you start with the end in mind. What do you want to get out of social media marketing? What results would you consider a success? What do you want your followers to do once they've seen your posts?
Too many business owners don't have a plan. Even if you suddenly did have an audience's attention, what would you do with it? Where do you want them to go? What do you want them to do? Don't just assume they will figure it out on their own.
If you want to sign up 10 new clients a month, then your posts will be crafted around that end goal. If you want to grow your email list so you can market directly to your people when you launch something new, then your strategy is to provide enough value to convince people they want to sign up and then encourage them to do so by directing social media traffic to your sign-up list.
Suggestions:
Sign up for your email newsletter (marketing).
Visit your website for more information on your products & services (sales).
Sign up for your webinar, course, or in-person event (sales).
Engage with the post by asking them an interesting question and starting a conversation (encourages more social media engagement).
Tell a friend or write a testimonial (marketing).
There are many options to explore, but first you need to know your social media marketing goals and what you need your audience to do so you can encourage them to respond and react.
Who are you looking for?
In order to connect with people online, you need to understand who you are talking to. You can't simply talk to the void and hope it will respond. If you want your content and posts to resonate with an audience, you need to know stuff about them. Therefore, you can't be random here. You have to identify and define your target audience. Don't be afraid to weed out people during this process, with no target audience – you weren't really reaching them anyway. However, if you understand your ideal clients – their motivations, inspirations, aspirations, goals – then you can create posts that actually resonate. They will want to engage and come back for more!
Know your resources.
Understand that your resources are limited. If you are taking on all the social media work solo, there is only so much time and energy in a day. Schedule time for your social media management or you'll keep finding reasons why you can't get to it. Consistency is important. Your audience won't believe in you if you struggle to show up.
The fewer the resources, the less you'll be able to accomplish. If it's just you and 2 hours a month, don't try to be on six different platforms. You'll burn out and your content really won't be that good.
What other resources do you have available? Can you invest in a social media scheduler? Got a family member who would love to help out? Do you have time to learn new software? Got room in your budget to hire a social media team?
Your social media strategy will be dependent upon what sort of resources you have available to get the work done.
***** Is it becoming more difficult to create content for your small business to use in social media? Is there just not enough time in the day to be as consistent and present as you'd like to be online? The Social Media Advisor team can create a custom editorial calendar for your posts, create messaging and images that are aligned with your brand and culture, and schedule posts so you can take social media marketing off your very busy plate. Hire us to do the work so you don't have to. *****
Be sure to Follow us and Let's Engage!
Hollie Clere of The Social Media Advisor is a "#BeAwesome" Developer, Social Media, Brand Builder, Content Manager, Trainer and Author in LinkedIn, Facebook, Twitter, Blog, Google+, YouTube, Pinterest, Instagram, and the tools to manage them.
Click here for Social Media Training, Speaking and Strategy Consultations.