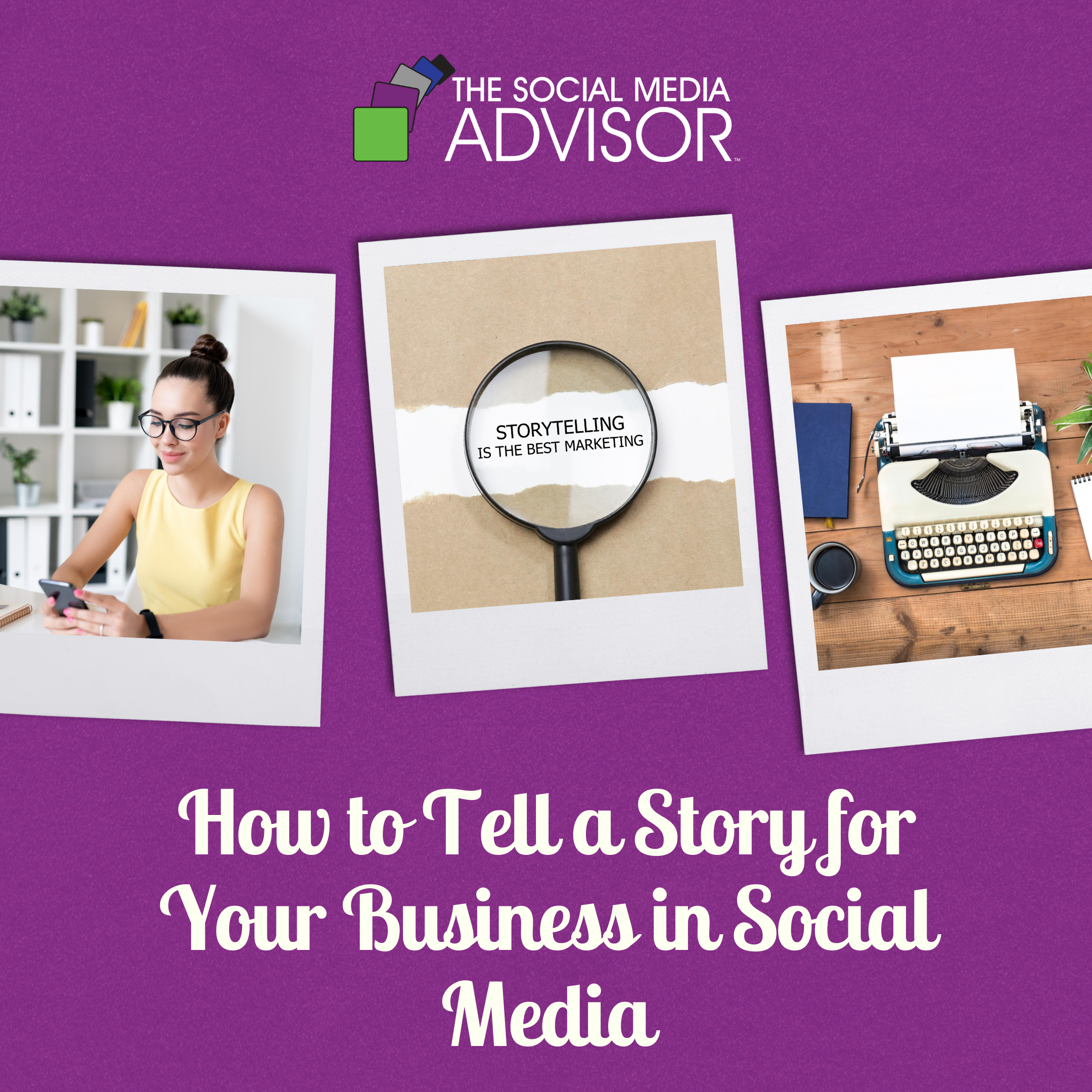 How to Tell a Story for Your Business in Social Media
Storytelling matters. It matters in our lives and it matters in our businesses. Human beings, since the dawn of time, have been drawn to stories. It's how we learn and it's how we relate to one another.
One of the reasons many businesses struggle with social media marketing is that they are using it strictly as a sales tool. However, people aren't on social media for that reason. They open up their social apps to connect with other people, to learn something new, to become motivated or inspired. If your content isn't doing these things, then it's falling flat.
If you want to garner attention and interest on social media, you need to create content that your audience actually wants – and often that involves telling a good story.
Here are some ways to tell a story for your business in social media:
Create an Editorial Calendar
It's difficult to weave together a consistent, relevant, and clear story if you aren't certain what you are going to post on social media on any given day. An editorial calendar is a compass for your social media content, outlining what type of content you will share on what days. Once you have a plan for sharing and promoting your content, you can use your editorial calendar as the structure for your storytelling.
Without a calendar, you could find yourself in a situation where you are talking about your service one day, your ideal client another day, sharing a motivational quote another, and then forwarding an article that caught your interest later in the week. What's ineffective about this approach is that there is no strategy involved. On any given day, you are posting content that isn't related to the other posts. While you get points for consistency, this method of posting is not telling a cohesive story that motivates people to act.
Here's a better example of utilizing an editorial calendar:
For the current month, you've chosen the theme of 'Sharing Our Business Origin Story.'
You know that on Tuesdays, you share your main piece of original content (this could be a video, a podcast, or a blog post). On Monday, you post a quote from that content and share it as a kind of teaser of what's to come. The day after you share your original content, Wednesday, you create a post that's promotional, tying in what you do with what you created. On Thursday, you share some behind the scenes photos of a past project, your workspace, or an inside peek of how you began your business. Friday is a great day to engage your audience by posting a poll or asking a question.
In this scenario, your editorial calendar looks like this:
Monthly Theme: Our Company's Why & Why It Matters
Weekly Theme: Our Origin Story
Monday – Quotes
Tuesday – Original Content
Wednesday – Promo Day
Thursday – Behind the Scenes
Friday – Engagement
For ease of use, keep the calendar the same every week/month, switching out only the content themes.
An editorial calendar is really the foundation of any successful social media strategy. It allows business owners to know exactly what type of content to create and also provides a structure around their storytelling and calls to action so that the output is easy to understand and has a natural flow (like a story).
Plan for Engagement
Any social media marketing plan comes with a word of warning: DON'T be one of those businesses that posts content and then disappears. Scheduling social media content is a great way to save yourself time and to stay on track with your messaging, but social media is meant to be… social.
Too many businesses use a post it and forget it strategy and then go around telling any other business that will listen that social media marketing doesn't work. The truth is… it doesn't work for absentee business owners. Have a plan for social media engagement. Even if it's only 15 mins a day, 3 days a week – some presence is better than none.
Your audience will quickly grasp onto the knowledge that you aren't there for them and they will take their time and attention elsewhere, leaving your story to be unseen by the people you want to attract.
Showcase Your Brand
We encourage our clients to share their personal and professional stories on social media as often as they can. It's important that, in your content, you are showcasing your personality, your business culture, and all of the things that make your brand unique. This helps your audience get to know you better which builds both interest and trust. No one is going to do business with you until they trust you.
When showcasing your brand and business on social, have your audience in mind. You want them to be inspired by the good you are doing in the world, but you also want them to feel motivated to strive for more so that they'll sign up for your product or service. How can you make your audience the hero of your story?
Not everyone is a writer and storytelling doesn't come naturally to all. However, mastering the art of sharing your story online is the most impactful way to build your brand and grow your business.
Are you looking for social media training you can participate in, right from the comfort of your home?  Join others utilizing our 40+ video training series that you can participate in, at your own pace, from your home.  We have a Private Facebook Support Group, Monthly Ask the Expert Mastermind Sessions, FREE Ebook and regular new videos to support your marketing. Learn everything from creating the editorial calendar, to creating custom branded images, to the best use of hashtags, to paid ads and reporting by joining the Social Power Program.
Be sure to Follow us and Let's Engage!
Hollie Clere of The Social Media Advisor is a "#BeAwesome" Developer, Social Media, Brand Builder, Content Manager, Trainer and Author in LinkedIn, Facebook, Twitter, Blog, Google+, YouTube, Pinterest, Instagram, and the tools to manage them.
Click here for Social Media Training, Speaking and Strategy Consultations.
Brand Storytelling, Editorial Calendar, Social Media Strategy, storytelling, storytelling in social media