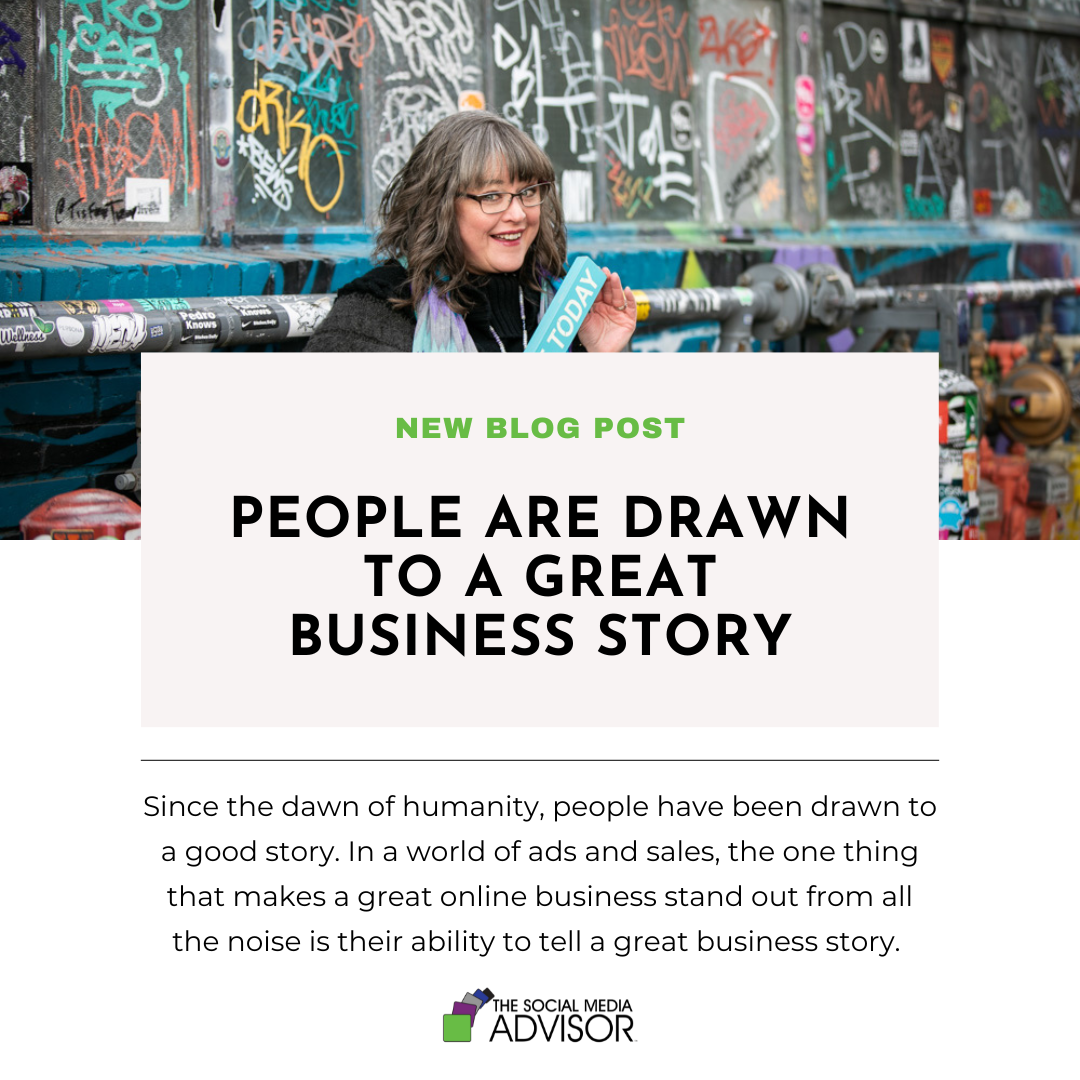 People Are Drawn to a Great Business Story
Since the dawn of humanity, people have been drawn to a good story. In a world of ads and sales, the one thing that makes a great online business stand out from all the noise is their ability to tell a great business story. Brand storytelling flips traditional marketing on its head. More than just advertising, a brand story grabs your audience's attention and makes them feel something.
If you want to really make an impact with your social media marketing, you must be able to tell a great business story!
Social media marketing was never about only posting promotional content and waiting for someone to open their wallet and buy your products or services. It was always about connecting with people online, in real time, and building relationships with your customers.
This endeavor is not for the company that wants to post about their work and then head out. That's not how building relationships works.
However, if you know your own messaging and can tell a great story about your mission, vision, and values – then you have the foundation of a great social media marketing strategy!
Storytelling does not come naturally to everyone. Some people are great storytellers and, for others, it's a skill that needs to be developed. However, you don't need to be born a storyteller to craft a brand story and create content for social media that shares that information with the world. It's really about getting personal, bringing your personality to the content, connecting with people, and showcasing that what you do makes an impact for others.
Ideas for your brand story:
Talk about your origins and why you chose to start your business in the first place.
Connect with people who have transformed in some way by working with you and share their story with your audience.
Do some behind-the-scenes content to show your followers insider knowledge on your process or operations.
Show how your small business is making an impact in your community.
Team up with your power partners and have conversations about the work that you do.
Share information about your mission, vision or values.
Break down the process for working with you and what that looks like for your customers.
This is just the beginning. There are so many ways to share your brand story on social media. If you get stuck, book a Discovery Session with us and we can talk about options for collaborating on your strategy and content.
Anyone can build a Social Media Page, but do they know how to build it correctly with the right social media marketing story and strategy for business, the right keywords and really target your ideal client?  We build brands, write searchable copy for your profiles and develop strategies to expand your reach and build relationships using solid Social Media Marketing techniques.  Since 2008, our team has provided support to clients Nationwide in online marketing. Find out more at our website.
Be sure to Follow us and Let's Engage!
Hollie Clere of The Social Media Advisor is a "#BeAwesome" Developer, Social Media, Brand Builder, Content Manager, Trainer and Author in LinkedIn, Facebook , Blog, Google+, YouTube, Pinterest, Instagram, and the tools to manage them.
Click here for Social Media Training, Speaking and Strategy Consultations.
#AwesomeStorytelling, Brand Storytelling, storytelling, storytelling in social media