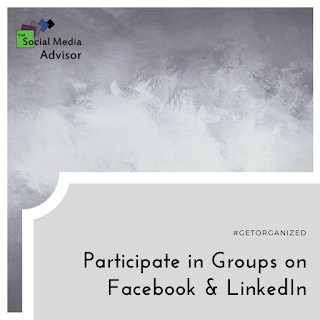 #GetOrganized – Participate in Groups on Facebook & LinkedIn
These days, no matter what business you're in, you have to pay attention to social media. Chances are you have spent a lot of time (and probably money too!) developing a great social media strategy. You work hard to make the most of your pages by keeping them up-to-date and relevant. You design your posts with engagement and collaboration in mind and you race to keep up with the latest trends. Even with all of that, you may not be taking full advantage of a key social media channel—groups.
The main difference between a page and a group is that groups are, by design, collaborative. The whole idea is to have conversations, build networks, and interact with people you have something in common with. Right now, the place to take part in groups is on Facebook and LinkedIn. Both of these platforms have made a big push to get their users to participate in these mini-communities. If you aren't already active in groups, now is a great time to get started.
So how do you get the most out of social media groups?
The first step is to think about your goals. You want to engage with others who are like-minded and may be interested in buying your products. You may also want to become established as an influencer in your industry space so that people will turn to you when looking for advice, insights, and trends. Being an influencer can help both your personal and business brand.
Do Your Research
Regardless of your goals, you need to do a little research to find groups that are appropriate and relevant to your business and your interests. Once that's done, jump in. It's easy to lurk – that is, sit on the sidelines and watch – but to make the most of groups, you have to really participate. That means commenting, contributing, and being a worthwhile part of theconversation.
Decide What Works For You
Once you become active in groups, you'll notice that all of them are not created equal. At first glance, a group may seem to be the perfect fit when, when it is really just a repository for spam, and there is no real give and take. You can scratch that kind of group off your list. Instead, look for groups that are truly interactive and at the same time allow you to get the word out about your products and services. Many groups now set aside a particular time to allow people to present what they have to sell to others in the group who may be interested. Put these promotional opportunities on your calendar and keep track of them. Otherwise, you may miss the chance to connect with someone who is already sold on you and your company.
So, take a fresh look at your social media strategy to make sure that you have included groups. These tools are a great way to make contacts, build your network, and improve your company image. You never know, you may just find that you make new friends and have some fun too.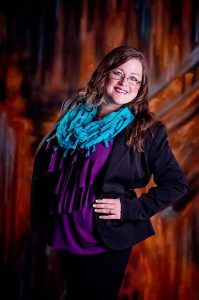 Be sure to Follow us and Let's Engage!
Hollie Clere of The Social Media Advisor is a "#BeAwesome" Developer, Social Media, Brand Builder, Content Manager, Trainer and Author in LinkedIn, Facebook, Twitter, Blog, Google+, YouTube, Pinterest, Instagram and the tools to manage them.
Click here for Social Media Training, Speaking and Strategy Consultations.