Finding the Real Currency in Business – The Rise of the Micro-Influencer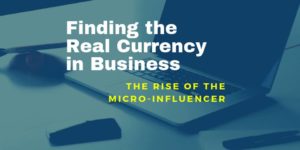 There is so much noise in all of your marketing. Every prospect needs 8+ forms of communication, gifts and traditional mail are becoming a treasured art and social media has made waves in the marketing community with the rise of Micro-Influencers! What does that mean anyway and how can YOU become one? Or … are you an influencer already? We will teach you the top skills you need to solidify your brand strategy to elevate your marketing to influencer level!
Join us Tuesday April 23rd, Aurora, CO 1-3p or Wednesday April 24th, Colorado Springs, CO 1-3p
***Early Bird Tickets: $57 ends April 12th
***Regular Price tickets: $97/person
Finding the Real Currency in Business – The Rise of the Micro-Influencer
Keeping Relationships the core focus of your online and offline strategy will keep you from getting lost in the crowd.
This talk will discuss the importance of integrating YOUR story, hand in hand with a marketing strategy both online & offline. These key components will help you establish your true "voice" and build a solid foundation. By using tangible components of traditional marketing in conjunction with your online marketing, you are able to build stronger relationships with your audience, making you the MICRO Influencer of your industry.
Take your marketing to the next level and become THE Influencer in your industry!
Walk away with:
– Editorial calendar so you know what yo post and on which days
– Strategies to multi-purpose your content so you never run out of items to post in your channels
– Tools to make posting easier and more streamlined
– Top tips to take your online marketing further with offline strategies
– Keys to becoming THE influencer in your industry!
We are so excited to host this one time – LIVE – event in Aurora and Colorado Springs!!
Early bird tickets end April 12th and there are only 30 spots available for each workshop!!
Reserve your seat today at: https://www.eventbrite.com/o/the-social-media-advisor-7132177193