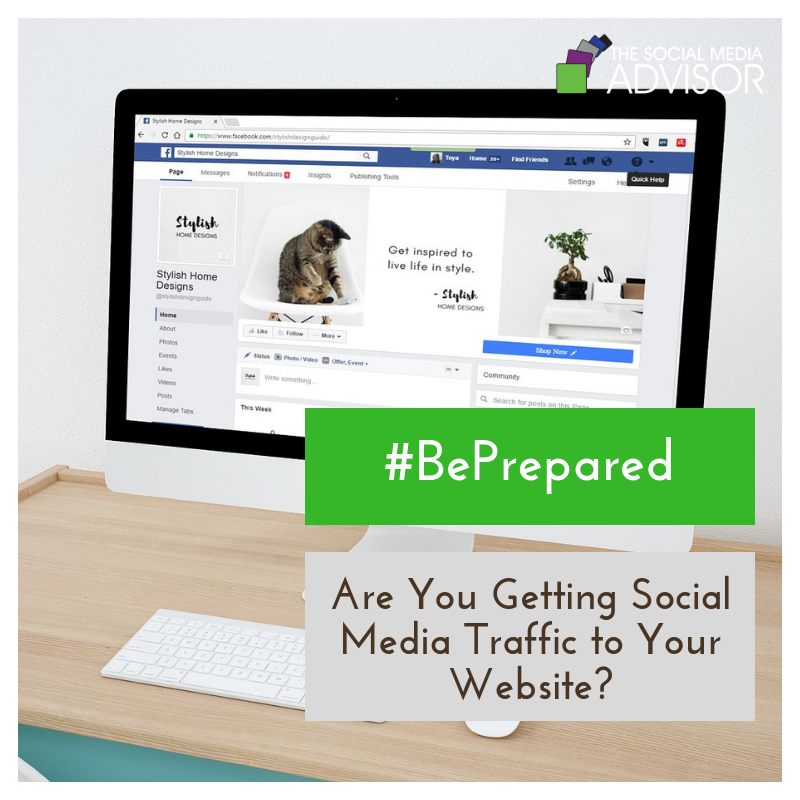 #BePrepared – Are You Getting Social Media Traffic to Your Website?
As a social media marketer, you spend a lot of time and energy making sure that you are posting high-quality content that engages your followers and customers. And if you are active in the social media space, you likely spend an equal amount of effort (or more) on your website.
But do you have a clear picture of how your social media and your site are working together? In other words, do you know how much of your website traffic is coming from social media?
The critical tool for finding out if your social media is creating traffic for your website is Google Analytics. If you are already using Analytics, then you know that there is a lot it can help you discover when it comes to site traffic sources. Best of all it can tell you in precise terms which social media platform is sending traffic to your site.
At the top level, Analytics can give you a simple breakdown of your visitors and whether or not they enter your site from Twitter, Facebook, Quora, Reddit, and others. This alone can tell you quite a bit and help you determine what you are doing right and wrong regarding converting social media users to website users.
While knowing which platform your users are coming from is great to know, there is much more you can do in Analytics to drill down into your data.
Goals & Conversions
You can set specific targets within Analytics to make sure you are accomplishing your objectives. A typical goal might be something like "sign up for the newsletter" or "subscribes to the email list." You can also keep track of whether or not your social media users have "converted" into buyers or some other metric that you'd like to track.
Segments
To better understand your users, you can define segments within Analytics. This will help you determine if certain groups of your visitors have common characteristics. Another way to think about segments is in terms of filters. Facebook might be a segment of your visitors.
Behavior
One particularly intriguing feature of Analytics is the ability to monitor what your visitors do once they come into your site, what pages they visit, and what actions they take.
Google Analytics is a powerful tool. It will take some time and study to learn how to use its numerous features, but it is well worth the time. Once you have your Analytics dashboard set up and have a plan for regular monitoring, you'll be able to make sure that you are maximizing the effectiveness of both your social media marketing and your website.
Be sure to Follow us and Let's Engage!
Hollie Clere of The Social Media Advisor is a "#BeAwesome" Developer, Social Media, Brand Builder, Content Manager, Trainer and Author in LinkedIn, Facebook, Twitter, Blog, Google+, YouTube, Pinterest, Instagram, and the tools to manage them.
Click here for Social Media Training, Speaking and Strategy Consultations.