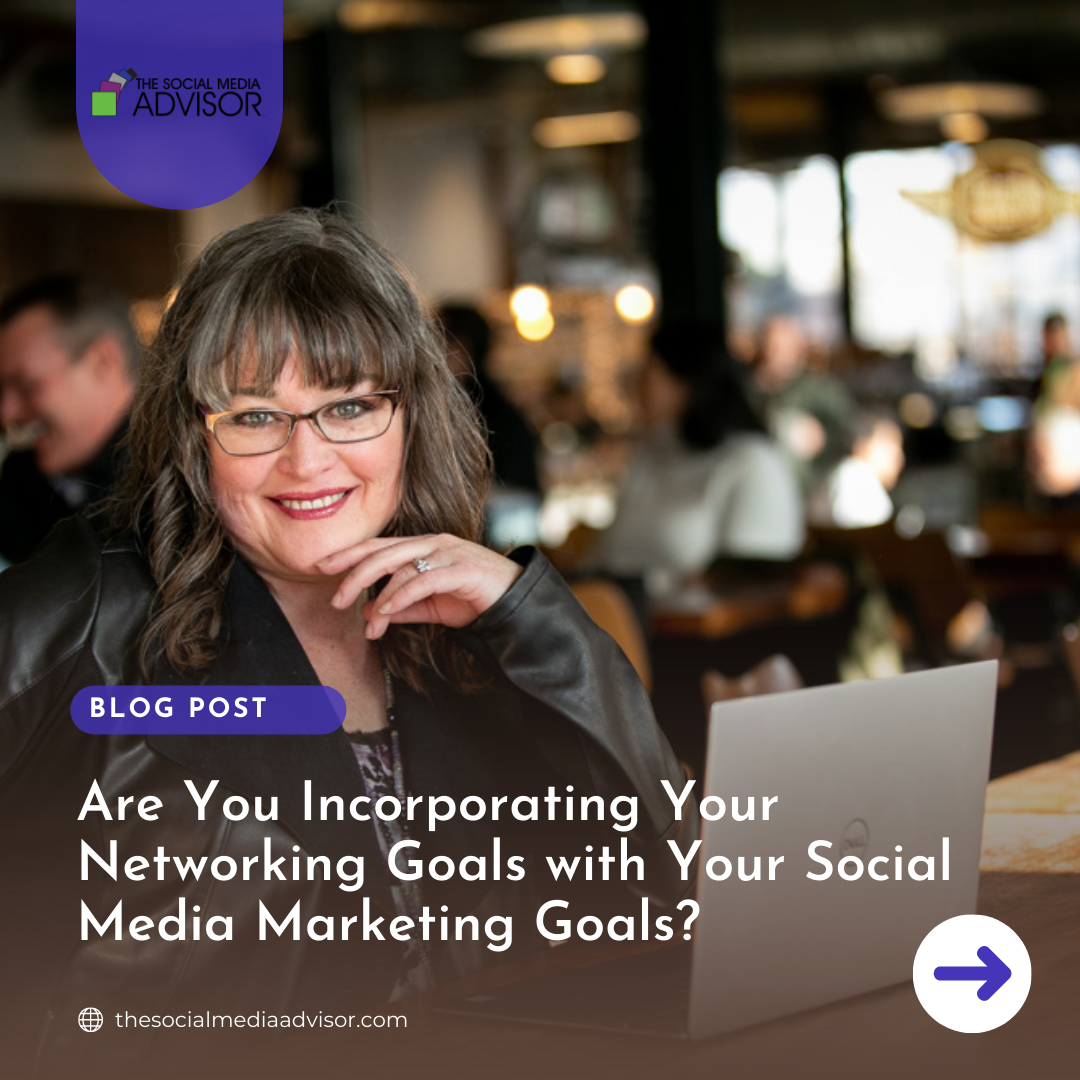 Are You Incorporating Your Networking Goals with Your Social Media Marketing Goals?
Networking, virtually or in person, can really enhance the connections you are building and support your efforts in social media marketing. I've been using networking as a marketing growth tool for the entire time I've been a small business owner and social media manager. While the groups have changed over the years, the benefit of connecting with other biz owners on a regular basis has remained the same.
Find New Followers
How does networking and social media connect? Exposure to any new group is an opportunity to find new followers for your social media channels. There are clever and engaging ways to encourage new people to follow you on social media and once you've identified how to do that, the sky's the limit! It's important to have 1-3 goals for any networking meeting, event or opportunity and one of those could be convincing 1-5 people to follow you on your favorite social media platform or channel. Give them a good incentive to go out of their way and hit the follow, like, or subscribe button to make this task even easier!
Invite Your Followers
Have you considered inviting your followers to your next networking event? You can build trust with your followers or customers by inviting them to connect deeper while networking.  How does inviting others to network with you enhance their own businesses and endeavors? This gets you valuable face-to-face time with them while they get the benefit of marketing their efforts with new people. Not only is this a win-win situation, if it's successful for them the trust you've built is likely to convert to success for your biz in the future.
Grow Your Followers
Additionally, networking groups can help you build your tribe of supporters and expand your social media audience through the supportive engagement and shares of the other businesses in your networking group. When you leave a networking group, take time to post about the experience on social media. Tag the group, other businesses that attended, or even people you think may benefit from the next meeting or gathering. Tell your audience your favorite takeaways, give shout-outs, or recommend someone new to you people (if appropriate). By extending your networking through the use of social media marketing, you amplify both your networking AND social media marketing efforts.
Where are you networking and what accomplishments has the group seen over the year so far? What groups have you heard good things about but haven't tried yet? Some business owners thrive when given the opportunity to connect one-on-one with other people each month. If that sounds like you, let's talk about how you can optimize your networking returns using social media. Give the Social Media Advisor team a call today to discuss options.
Be sure to Follow us and Let's Engage!
Hollie Clere of The Social Media Advisor is a "#BeAwesome" Developer, Social Media, Brand Builder, Content Manager, Trainer and Author in LinkedIn, Facebook, Twitter, Blog, Google+, YouTube, Pinterest, Instagram, and the tools to manage them.
Click here for Social Media Training, Speaking and Strategy Consultations.
Goals, Networking, Social Media, Social Media Marketing, Social Media Strategy