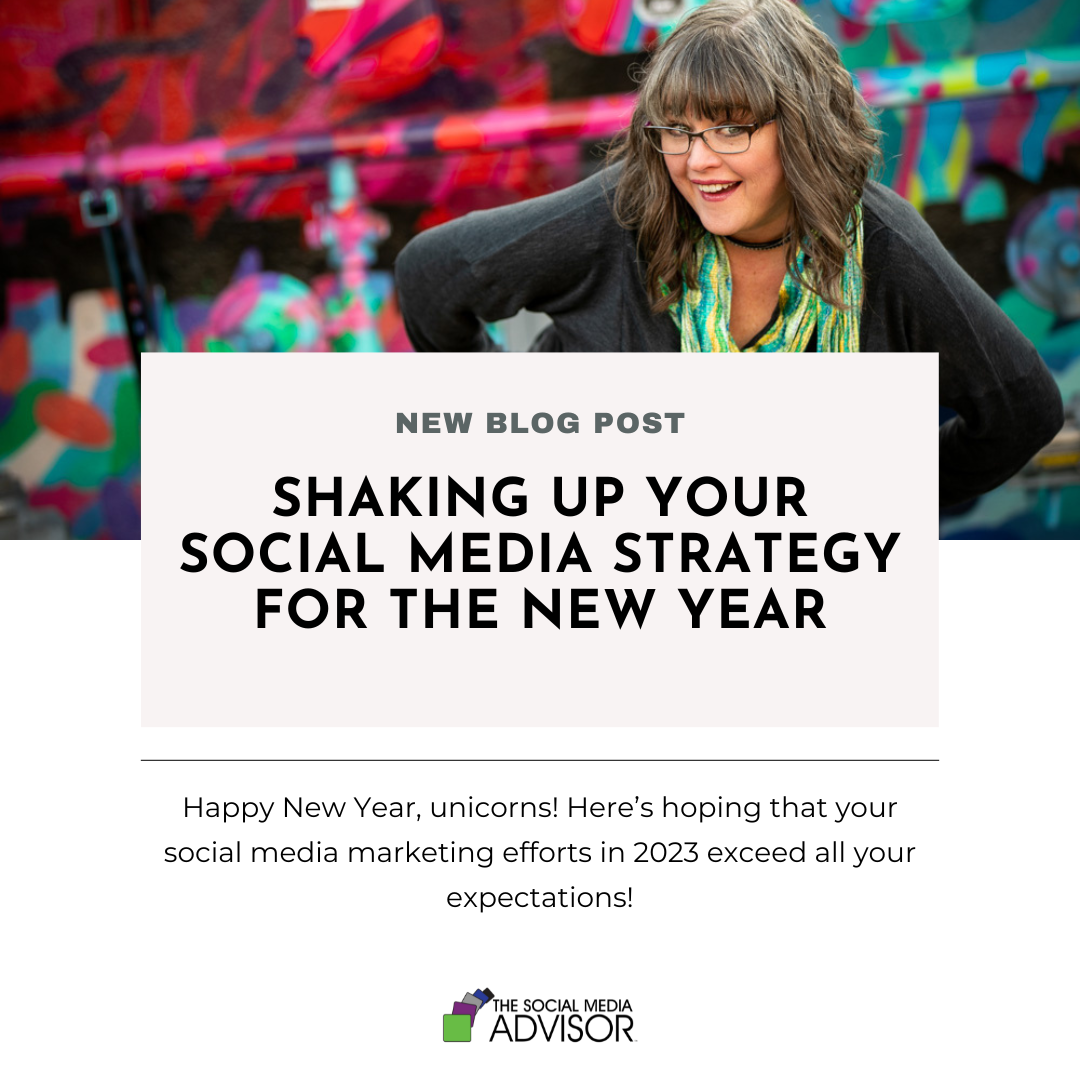 Happy Spring, unicorns! Here's hoping that your social media marketing efforts in 2023 exceed all your expectations!
With that in mind, here are our best recommendations for shaking up your social media marketing strategy for the rest of the year.
Freshen Up Your Templates
Even the most loyal brand advocates are likely to get bored with your content if you never change it up. This year is an excellent opportunity to freshen up your brand templates, newsletter template, review your favorite hashtags, and create creative new ways to grab attention and connect with your audience. You don't want to change things so drastically that your audience doesn't recognize you anymore, but some new touches, learning new skills, and designing new creative approaches may be just the thing to improve your reach and encourage more engagement.
Use Your Data
Perhaps you've finally put together a social media and content strategy and you are posting consistently now. You are seeing some successes but you are wondering how to reach more people? This is a great time to use that friend available to all social media business accounts – your analytics! The new year is a great time to dig into what the numbers are telling you. This will help you uncover which platforms or channels are doing better than others, what time(s) of day you get the most engagement, what types of posts spark the most interest, and any possible gaps or opportunities you could be missing.
Social Video
Video is one of those amazing resources that can showcase your brand personality, but also authentically show your audience who you are. The emotions behind your eyes, your emotions regarding a topic, the fun culture you have in your business – these are all the personal touches that followers crave in a social brand.. Whether pre-recorded or Live Video, your audience will get a feel for who you really are as a business.
Today, there are more opportunities than ever to get started with video on social media. Whether it's YouTube Shorts, Instagram Reels, TikTok, Podcasts or Facebook Watch – there is no shortage of possibilities for those looking to get into video marketing this year.
Anyone can build a Social Media Page, but do they know how to build it correctly with the right social media marketing story and strategy for business, the right keywords and really target your ideal client?  We build brands, write searchable copy for your profiles and develop strategies to expand your reach and build relationships using solid Social Media Marketing techniques.  Since 2008, our team has provided support to clients Nationwide in online marketing. Find out more at our website.
Be sure to Follow us and Let's Engage!
Hollie Clere of The Social Media Advisor is a "#BeAwesome" Developer, Social Media, Brand Builder, Content Manager, Trainer and Author in LinkedIn, Facebook,  Blog, Google+, YouTube, Pinterest, Instagram, and the tools to manage them.
Click here for Social Media Training, Speaking and Strategy Consultations.