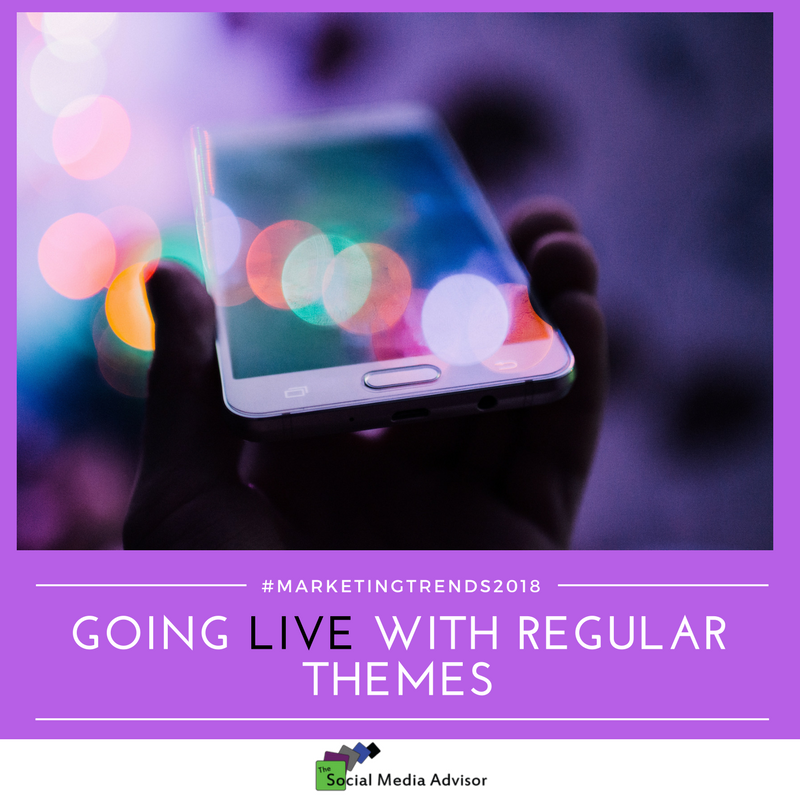 2017 was the year of live video and there's every reason to believe that the trend will continue through 2018. While the final statistics for 2017 aren't yet available, it's estimated that last year live video accounted for nearly 75% of all online traffic. YouTube surpassed 1 billion viewers, and 500 million people watched video on Facebook every day.
With numbers like those, it's a given that video should be a key element in your social media content strategy. The problem is, how do you determine the most effective way to incorporate it? The solution – make it part of a weekly or monthly social media content theme strategy.
Let's talk for a minute about social media content theme strategies. You may not have one. If not, the new year is the perfect time to start one. It doesn't have to be fancy or complicated, just a roadmap of the type of content you'll include each month across your social media platforms. By following a weekly or monthly theme for your content, you'll avoid the trap of taking a scattershot approach and trying to be everything to everybody. Having a sharp focus will make it easier for you develop content and increase the chances that you'll follow through on your plan.
The exact focus of your theme plan will depend on your goals and your industry but here's an example. Say you're an online seller of fitness products. January is easy since it's time for fresh starts. For February, how about 'showing a little love to yourself'? You get the picture.
Ideas on how to incorporate video are limited only by your imagination but here are a few ways you can get started:
Whether it's a product demonstration, a feed from a tradeshow or a behind the scenes look at how you do your work, Facebook is the perfect place to get started. Facebook also now gives you the capability of replacing your static cover photo with a video.
Video blogs are a great way to establish your authority and engage with your followers. Covering an industry topic or fielding a common question are popular approaches.
Share Snapchat or Instagram Stories
You can use video to showcase a day in the life of your business or of a key team member.
Take Advantage of YouTube
Whether you use YouTube to go live or to act as a repository for your archived videos, this channel is rich with possibilities.
If you've never used live video, take some time to learn the basics, practice, and jump in. It's no longer a matter whether or not you should use it, it's a question of how. You'll quickly find out that it's not just your users that love it, you and your team will too. It gives you the chance to stretch your creative wings, think outside the box, and more fully engage with your community.