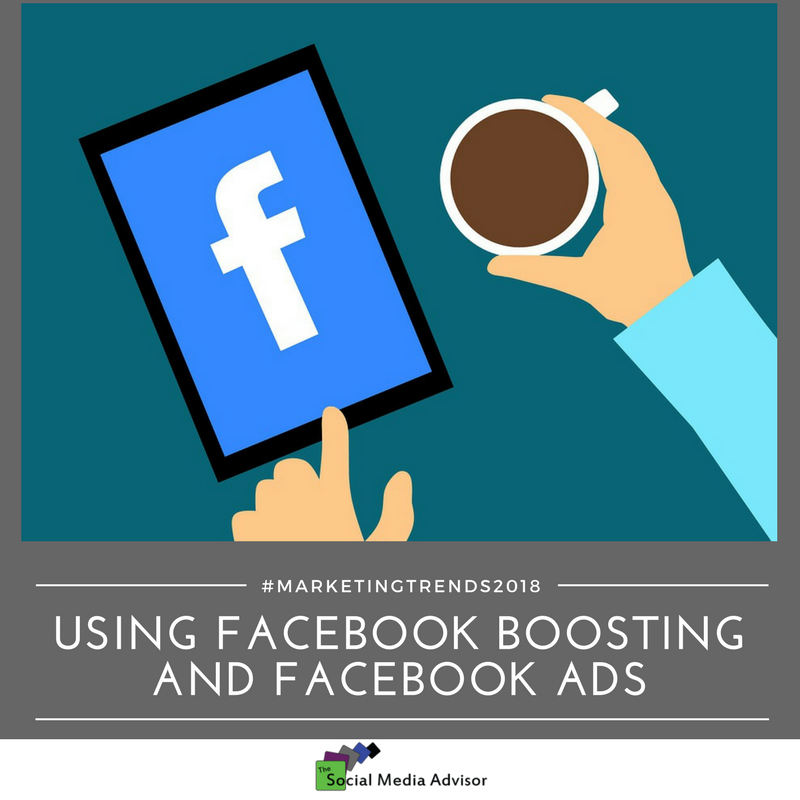 It might surprise you to hear that Facebook ended 2017 with 2 billion monthly active users and is still growing. That's a lot of people. So it's no wonder that 93% of social media advertisers use Facebook advertising. That's not even close to the next most popular platform for ads, Instagram (owned by Facebook) which weighs in at 24%.
If you are a social media marketer with an advertising budget, you are probably already on Facebook. But are you meeting your goals? If not, maybe you aren't focusing on the right tool to get your Facebook content seen and, even better, converting.
When it comes to advertising on Facebook you have two choices—news feed ads or boosted Facebook posts. Understanding the difference between the two can be a little tricky, but it's SO important to choose the right type of advertising!
Knowing which route is best for your business objectives means you're using your money wisely, and your advertising is in front of the right people.
Simply put, a boosted Facebook post is a type of ad that takes content that you have developed for your news feed and shares it with a larger audience. Status updates, photos and videos, and special offers are all popular types of content that people choose to boost. When you boost, you are paying to have the content you posted show up in people's news feeds. You go through Facebook's ad manager to do this and you have the option of selecting the audience you want to target.
Facebook ads work the same way except you have more options for narrowing down or expanding your audience. You also have the ability to include a call to action. Depending on your goals you can have users "Like" your page, visit your website, or take some other action. Since you can target users by very distinct characteristics such as age, gender, and hobbies, ads can be more effective than boosted posts for a planned campaign with well-defined goals.
A key difference between boosting a post and placing an ad is that with boosting, you can only focus on visits and engagements. If your objective is simply to build a greater awareness for your brand, then boosts may be just what you need. If, however, you hope to do more than that, your investment will be put to better use with ads.
For most social media managers, developing a plan that incorporates both boosting and ads is the way to go.

 

But if you are trying to accomplish something a bit more specific, like sell a certain product or push the audience toward engagement with your page, then your dollars will work harder with ads. The exact combination will depend on your objectives and your business but both have a part to play.
Much like traditional advertising, Facebook is a sandbox where – if you haven't built up a loyal community yet – you're going to need to pay to play. Thankfully, Facebook ads are affordable and their targeting system so refined that, if done properly, the financial investment is worth it.
If you want help navigating Facebook ads, or simply want to hand the process over to an expert, schedule a Discovery Session call with me at
hollieclere.youcanbook.me

.
Be sure to Follow us and Let's Engage!